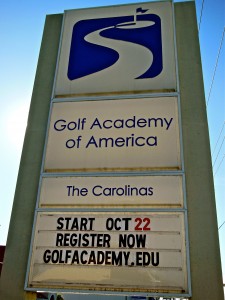 You are a man or woman and a high school graduate between the age of 18 and whatever – and you enjoy golf. Want to work in the industry?
Do you want to learn the business of golf? Would you be interested if you had unlimited practice balls included in your tuition?
Maybe you're not a good enough player to earn a living playing the game, but how about teaching it, administering, retailing, or perhaps working for golf company in a sales or financial capacity. There is a college for you and it's called The Golf Academy of America. Our Myrtle Beach Road Warriors contingent visited The Carolina Campus of this accredited 2-year Associate Degree program that goes a long way toward giving its graduates the competitive edge needed to gain employment in the highly competitive golf business.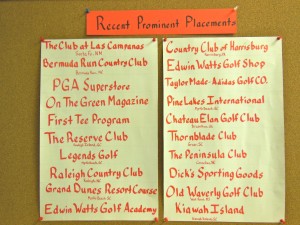 This job placement notice was posted at the Carolina Campus.
The Myrtle Beach facility is the largest of five campuses serving approximately 300 students with the others being in Dallas, Phoenix, Orlando, and San Diego and previously known as the San Diego Golf Academy. For a tuition of $34,000 (students secure their own housing), students attend attend 14 to 16 months of classes in everything from club-fitting, legal issues, technology, and golf history to teaching the game and operating a golf operation. Just as important to the curriculum, Valerie Pimentel, Director of Admissions for the Carolinas campus indicated, is the networking with fellow students, instructors, and area golf industry personnel.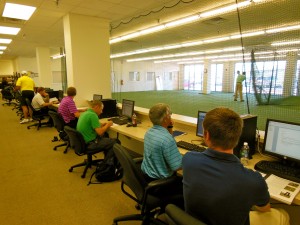 Students working between classes.
Campus President Jim Hart, himself a former golf course owner/operator and Carolina Section PGA Executive Director, indicated that 83% of their graduates find positions within the industry – a healthy success factor given today's economy. Furthermore, Hart shared that his school provides a smooth transition for those more mature candidates making a second or even third career transition, and that not all jobs involve working in a golf shop. Some may opt for golf equipment sales or perhaps finance within the industry and that some of sporting goods retail shops are among their most interested employers.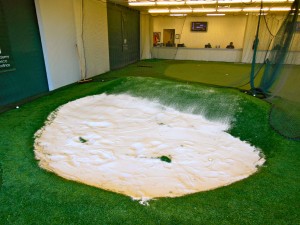 There's even an indoor bunker to practice your technique.
Golf ability is not a prerequisite to attending or graduating, but enough academic ability to master the subject matter is critical – this is an intensive journey. Touring the facility, it was most impressive to see the breadth and depth of the curriculum, the tools and subject matter experts available, and the interest of the students. With The Golf Academy of America preparation, the golf industry should be in good hands!
For more information, refer to:  www.golfacademy.edu.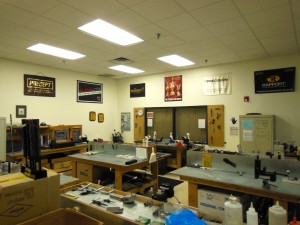 The club repair laboratory.