I hope it's true that a book is judged by its cover because the cover of Dream Golf is a stunning photograph of the 7th hole at Old Macdonald.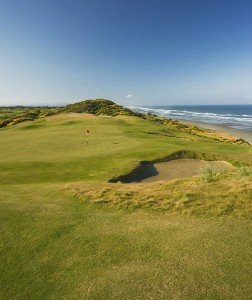 The 7th hole is one of the most dramatic holes at Old Mac, and one of the few that takes the golfer up onto the dune ridge high above the Pacific.  This hole didn't appear on any of the original routing plans, which had the seventh green located at the foot of the ridge.  Mike Keiser wanted to locate a turnstand at the top of the ridge to provide golfers with a view of the Pacific.  During a walk-around, he and Tom Doak went on a reconnaissance mission up to the top of the ridge.
Eureka!  Within half an hour, the decision had been made to move the 7th green to the top of the ridge.  As a bonus, Doak — looking at the property from a new perspective — had spied a piece of land that looked like a natural Biarritz green.  Finding the right site for a good Biarritz hole had been a pesky challenge, but that day on the ridge the last piece of the routing puzzle dropped into place.
The photograph was taken by Wood Sabold, a Bandon resident who has been taking pictures of Bandon Dunes Resort since the earliest construction. Because of its seaside, ridgetop location, the 7th will surely be one of the most photographed holes at Old Mac.  It has all  elements that visitors expect to find at Bandon Dunes — the  blue sky and blue sea, the clumps of gorse and beach grass, the natural-looking bunkers and green, the the sense of glorious, windswept isloation.  
Wood Sabold didn't set out to become a golf photographer; he honed his skills and talents as a fine art photographer, and his
beautiful images of the Pacific Northwest
— including the majestic rock formations, or sea stacks, that define the Oregon coastline — are posted on his website.   More of his golf photographs can be seen on the
Bandon Dunes Resort website
, and enlarged photographs are available at the resort gift shop.