Located on the shores of Lake Michigan, Ludington offers excellent golf, beautiful beaches, spectacular sunsets, a nice variety of food and brews, lighthouses, boating, charter fishing, specialty shops and more.
Start with three fun and affordable golf courses – Hemlock Golf Club,  Lakeside Links and Lincoln Hills Golf Club.
Ray Hearn's Hemlock Golf Club is tucked into the woods, just north of town on West Decker Road. With virtually no signage leading you there, you'll need your GPS or directions committed to memory to find it.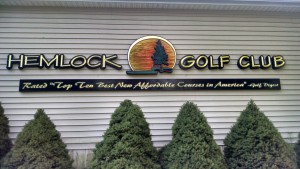 Hemlock Golf Club, which plays 4,328 to 6,965 yards, offers seven sets of tees, including gold and white markers that are often in close proximity, if not the same, with the gold or white plates, but providing generous forward relief on the most difficult holes.
A true Northern Michigan resort course, with only one house on the entire track, Hemlock offers a grand golf experience. While there's plenty of sand to get you in trouble, they are all waste bunkers, and there are some very dramatic ones at that, as the course winds through sand dunes, wetlands, lakes and forests.
Playing the back nine first, my husband and I were told we faced the course's toughest challenges from the get go, but their interest and intrigue pumped the adrenaline required for us to meet them with relative ease.
Favorites on the back were hole #12, a double fairway, par 5, with yardages ranging from 351- to 584 yards, and the par 4, 14th, with an enormous waste bunker running the length of the hole on the right, which makes the landing area visually small.  Once there, a small creek comes into play right in front of the green, guarded by three additional bunkers.  In addition, #18 is a great par 4, 298- to 401-yard finishing hole that doglegs left, to a peninsular green.
On the front nine, the enormous marsh on the par 4, third hole requires a forced carry to a blind landing area. Your view is giant dunes with a pin atop. An accurate tee shot will reward nicely with an easier second shot to the green.
The par 4, #4 , is a 230- to 363-yard par 4 with a gold marker set at 144 yards. All of the tees are on islands of grass nesting on a sea of sand. Hitting to the left fairway requires a forced carry to the green over a large waste bunker.  Hitting to the right fairway requires a longer tee shot, but then a clear shot to the green.
Hemlock's par 4 ninth hole is also aesthetically amazing and fun to play. Its waste bunker begins behind the 424-yard championship tee and wraps around the back of the green.  Enough said.
Lakeside Links is a 27-hole facility that combines interest, with good playability to provide for an easy-going golf round. Fairly open, it has a few wooded holes, but  be ready for windswept golf.  The day we were there, the bright sun was shining, but the wind was so fierce, we thought we were at the British Open, which was on TV in the clubhouse.
Although its design is open, Lakeside Links has some challenging topography and wooded sections that are surprisingly dense. Playing the South 9, which measured 2,634 to 3,556 yards, favorite holes included the par 4, #2 with its valley landing area that leaves a blind uphill second shot to a well-bunkered, wooded green.
The 5th, par 4, plays 226 to 435 yards. Even a perfect drive requires the golfer to execute a long second shot left, or for risk-takers, a forced carry over the swamp to the green in two.  Amazingly my husband and I parred this monster and loved it from start to finish.
The 6th hole is a dramatic downhill, par 4, to a picturesque green backed by beautiful of Hopkins Lake.  One regular patron and his family loved the view from the next elevated 7th tee so much, it became the place where his daughter exchanged vows with her husband.
Located on West Chavez Road, Lakeside Links has a nice clubhouse and snack bar, and offers a friendly welcome, thanks to Head Golf Pro Scott Ashley and his staff.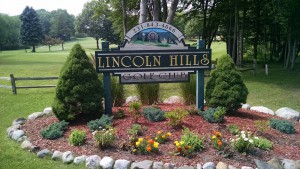 The semi-private Lincoln Hills Golf Club, on North Lakeshore Drive, is one of Michigan's longest established golf clubs. Brainstormed in the early 1900s by its first president, W.T. Culver, Tom Gatke, and Henry Haskell, inventor of the Carrom game board and founder of the Haskelite Company, Lincoln Hills looks and plays like classic city golf course – park-like with lovely well-established greens.
The par 72 course is routed through artillery fields of 1915 and Lake Michigan sand dunes and features four sets of tees, ranging from 5,086 to 6,520 yards. It also is a walkable course, which is increasingly rare in the resort world.
Because of its proximity to the lake, Lincoln Hills is typically windy, said Erica Reed, director of golf. And while golfing in the wind requires added control and strategy, be ready for a wee bit of Scottish feel in the fall.
Playing only the back nine when we visited, our favorite holes included the two par fives. Offering totally different challenges, the 552- to 434-yard 11th with its double fairways headed out to the dunes, while the 16th, playing  518- to 416 yards, depending on tee choice, was an up and down gentle roller coaster through the woods.
While golf and social memberships are available, and members are given priority, daily fee golfers are warmly welcomed.
Besides Golf – Where to Eat, Sleep and Play
Families, golfers and non-golfers alike will love the Ludington area. Its miles of accessible beach front are like no other. Calm waters bring out a steady stream of walkers on North Breakwater Pier to the lighthouse at the end.  The pier also is a prime spot, in addition to Waterfront Park and a few others, from which to watch the daily arrivals and departures of the S.S. Badger car ferry which crosses Lake Michigan between Ludington and Manitowac, Wisconsin, twice daily in the summer, and once daily in spring, beginning May 12, and fall, until Oct. 16.
Ludington State Park is a popular camping spot and among its amenities, features river tubing to the river's end at Lake Michigan. It also hosts the trail head for the 1.8 mile hike to the Big Sable Lighthouse. Reachable only on foot or by bike, it's a long walk (good shoes and appropriate protective gear, depending on weather, are recommended), but it's a worthwhile hike to the beautiful lighthouse.  If hiking when the lighthouse is open, be sure to bring some money for water, beverages and snacks.  If closed, be sure to bring plenty of on-trail refreshments. There was no working water fountain at the end the day we hiked, so carrying enough for the 3.6 mile round-trip journey is smart.
Ludington also has a fine array of great restaurants. The Jamesport Brewing Company, on South James Street, is a personal favorite, with its excellent beers and wonderful menu. The seasonal Blueberry Wheat brew is especially delightful with its dancing fresh blueberries – try it. You'll love the taste and the show!
An adjoining trio of restaurants, Barley &Rye, Mitten Bar and Sportsman's Irish Pub, on West Ludington Avenue, is an interesting catch-all that gives patrons a choice of three uniquely different atmospheres and two vastly different menus. And while the walk-up counter at The House of Flavors, with its ice-cream made on site, has customers regularly queued up outside the door, its sit-down restaurant is well worth a stop.  In addition to its fun 1950s décor, The House of Flavors has a good menu of food as well as ice cream concoctions.  Unexpectedly, it features delicious rotisserie turkey as a plated item, but also on sandwiches, including a tasty turkey Rueben.
Chef John's European Bakery is another not-to-be missed spot. Its kitchen-table-style décor, each with unique retro salt and pepper shakers, friendly waitstaff and daily specials complement great breakfast and lunch menus.  The breads, desserts, soups –everything fresh and homemade, are exceptional.
Finally, Ludington has a big variety of lodging options, from an unusual variety of bed and breakfasts, to motels, hotels and camping. Two different but appealing recommendations are:  Summer's Inn, a motel with trendy shabby chic sleeping rooms, homemade  breakfasts, a Florida-style library, outside cabana,  Zen garden and great hosts/owners, Suzette and Keith Kolfage;  and the newly renovated Holiday Inn Express.   Located outside of downtown, near the expressway, the Holiday Inn Express offers comfy modern accommodations, including lounge sofa, and indoor pool and whirlpool, evening cookies and a large breakfast area, where a free hot breakfast bar is available daily.
For more information about the Ludington area, visit PureLudington.com or call 1-800-542-4600.