Like a fireside chat with a good friend, Shirley Spork's autobiographical From Green to Tee (Shirley Spork@2017) is an engaging tale of this LPGA Co-Founder and legendary golfer's journey.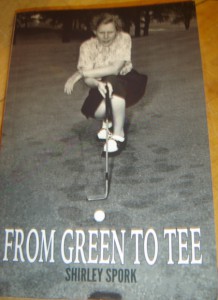 A Detroit native, Shirley's story begins in Michigan as the only child of two working parents. Resourceful, curious and full of spunk, she entertains with her story of growing up with an early golf interest, purchasing a putter as her first club, golfing with neighborhood boys and adult players, and sharing how living adjacent to a public golf course influenced her career path.
Clearly guided by a passion for the sport, there is no question a life steeped in golf would be her destiny.
Her story takes you matter-of-factly to and through her college days and her maverick journey to win the Women's National Collegiate Golf Championship in 1947. It then connects the dots between her playing prowess and collegiate teacher training that not only led her to become a charter member of the LPGA, but set her squarely on a path to co-founding the LPGA Teaching Division.
"I remember telling the girls," she writes, "'Someday you're not going to be able to play the Tour anymore, and you're going to have to learn how to teach. You'll need to find a job.'" And in response to those who thought their LPGA fame would land them a job, she said, "'You're nuts. You've got to have credentials. You can't just walk in and teach! You have to know how to teach. We have to teach women how to teach golf.'"
In addition, Shirley gives brief insights about each of her LPGA co-founders – their playing strengths, their personalities, their relationship to her and in many cases remembering when they passed. She also talks about women players whom she met through golf and knew or still knows as lifelong friends and associates, celebrities she's met and taught, her hobbies, likes, awards and accomplishments.
Often saying a lot in relatively few words (perhaps guided by her two journalist co-writers, Nancy Bannon and Connie Kuber), the book is to the point and easily glides through each chapter or 'Hole' from start to finish. It's a must read for those who love the game, its history and the women who participate as professionals and amateurs.
Available now on Amazon http://amzn.to/2uiSHY9