Remember the rockin' 70s tune, 'Still the One' by Orleans?  Today, that song resonates as the perfect anthem for the 30th Anniversary of the Gaylord Golf Mecca.
Since 1987, there have been some dramatic entries to Northern Michigan golf and some courses that have made quiet exits, but the Gaylord Golf Mecca is 'still the one' for true Midwest golf enthusiasts. Its dramatic, natural beauty, the quality and challenge of the courses – many designed by legendary architects, and the fact that all 15 comprising the Mecca are either in, around, or in easy driving distance of Gaylord make it a premiere golf destination. Often branded as America's Golf Mecca, Golf Digest has ranked it 11th in its list of Best Golf Destinations.
The Gaylord Golf Mecca was formed by the Gaylord Tourism Bureau in 1987, under the leadership of Paul Beachnau, executive director of the Gaylord Area Chamber of Commerce, and Dick Weber, who at the time, was general manager at The Otsego Club.
"He was new to the area and we started working really closely together," Beachnau said. "With the six golf courses we had, we thought we had something pretty special. In addition, the first golf course at Treetops was being built by Robert Trent Jones and that really gave us a name. Kind of like the perfect storm, the right people, the right courses, the Treetops course, everything came together at the right time.
"Preliminary research showed the Midwest states had really high numbers of golfers and high participation rates, and that if we just got our message out in Ohio, Michigan and Indiana, we could be pretty successful," he said.
Little did they know how right they would be.
Originally, the group was composed of seven courses – Otsego Club, Treetops, Michyawe, Gaylord Country Club, Wilderness Valley and Garland, which had two courses. Since then, the Mecca has had as many as 22 members, including The Rock at Drummond Island, which for a short time, even flew golfers to and from Gaylord, but the 15 mark seems to be the Mecca's sweet spot.
Gaylord Golf Mecca courses include:
Black Lake Golf Club
Designed by Rees Jones, Black Lake Golf Club in Onaway is both challenging and playable.  With its wide, tree-lined fairways every hole plays with undistracted focus. Carved through beautiful hardwood and evergreen forests, it is scenic and rolling. With five sets of tees, it plays from 5,058 to 7,030 yards.
In addition, the course makes fine use of the natural topography yet adds dramatic and exquisite bunkering throughout.
Since opening in 2000, Black Lake Golf Club has received numerous recognitions. It was ranked 34th in Golf Digest's "100 Greatest Public Courses in America" in 2009-2010 and placed ninth in Best Value. The course also was named one of the Top 50 public golf courses for women by Golf for Women magazine.
In addition, the 773-yard Little Course at Black Lake is a fun, walking nine that offers excellent short game practice.  While the tees are mats, the greens and the approaches are professionally maintained.  Grab a pitching wedge and/or nine iron and putter, a couple of balls, a bottle of water and have some fun!
The Loon Golf Resort
A long-time member of the Mecca, the Loon Golf Resort has golf and lodging opportunities and three distinct courses: The Loon, which has evolved into a wonderful track since it opened in 1994, with generous fairways, tall trees, large greens, ample bunkers and magnificent views; The Lakes, with its front nine meandering through pine forests and hill country, while the homeward nine plays around enchanting Lake Michyawe;
and, The Ridge (the former Marsh Ridge), sporting dramatic elevation changes, natural surroundings, roller coaster fairways and stunning views. Together, the varied designs and natural splendor offered by these three courses make staying and playing at the Loon Resort a favorite in spring, summer and fall.
Along with exciting and superbly maintained championship golf courses, the Loon Golf Resort has excellent food and guest accommodations, including newly constructed guest townhouses. It is also home to the Butch Harmon School of Golf.
During our last visit to the area, we played the par 72, Loon course, which ranges from 4,890 to 6,367 yards (red to blue tees), with the black championship tees listed at 6,677 yards. The Loon requires accurate shot placements to negotiate its water and sand hazards. There also are trees and woods everywhere. A scenic place, it easy to get lost in the solitude that is northern Michigan.
Fairways are generally rolling and generous, and the greens are large. Traps are well maintained and overall course conditions are impeccable. There are a few forced carries over water or wetlands, and the approach to the signature 18th, which must carry the lake, is as exciting for the golfer as it is for spectators watching from the clubhouse deck.
Regardless of skill level, golfers will enjoying playing this course.
Michyawe Pines Golf Course
A founding partner in the Gaylord Golf Mecca, Michyawe has long been a staple of northern Michigan golf. Opened in 1972, the course is classic, fairly level and very playable. In order to help keep the course competitive and to facilitate maintaining its great course conditions, Michyawe Pines underwent renovations and upgrades in 2004. The course is as beautiful as ever, and plenty challenging with tee sets that range from 5,200 to 7,000 yards. It also has a youth caddie program, which adds a nice element to the golf experience.
Michyawe caters to and supports a large residential community as well as seasonal golf enthusiasts, so it comes as no surprise that its restaurants vary from casual to fancy. Choices include the upscale Inn the Woods restaurant, Schneider's Pub and Jack Pine Grill.
The Otsego Club & Resort
Located just east of downtown Gaylord, on a pristine tract of land that features a 20-mile view across the Sturgeon River Valley, the Otsego Club is often thought of for its private ski club memberships, offered since it opened in 1939.  Still a year-round resort, guests enjoy skiing and golf along with unique dining experiences and a variety of fabulous lodging options.
The Otsego Club and Resort features two golf courses: The Classic, a very traditional layout designed by William Diddle, and a founding course of the Gaylord Golf Mecca; and The Tribute, the flagship course built on 1,100 glorious acres of private wilderness along the headwaters of the Sturgeon River. Designed by Rick Robbins and former PGA Tour Professional Gary Koch, the Tribute offers a northern Michigan golf experience like none other. The 20-mile vistas, breathtaking views, incredible topography, expansive greens and wonderful bunkering make for an unforgettable golfing adventure.
The lodges at Otsego Club are spectacular, with rugged hewn timber construction and folk art furnishing and décor. If you like the ambience of alpine log-style accommodations, and nouveau wilderness furnishings, this is the place for you.  Award winning dining options are also featured at The Duck Blind Grill, which has gourmet offerings and culinary imaginings, and an amazing panoramic view for the Sturgeon River Valley. For lighter fare and beverages, the cozy Logmark could be one of the most beautiful rustic pubs in all of Michigan.
The Otsego Club & Resort also features a conference center (accommodates 500), and a four season outdoor thermal pool, lighted tennis courts and a 1,200 acre wildlife preserve.
Treetops Resort
Often referred to as "Michigan's Most Spectacular Resort," Treetops has 81 holes of exhilarating golf, with its five courses comprising one-third of the courses in the Gaylord Golf Mecca. Along with championship golf and the phenomenal Threetops, there is a golf academy that offers workshops and lessons, a full spa, conference center, facilities for banquets and weddings and wintertime downhill and cross country skiing.
The five courses located at Treetops and Treetops North include: The Masterpiece, the final Michigan golf course design by Robert Trent Jones, Sr., a masterpiece which he called "his crowning glory."  The Masterpiece is a wonderful design that fully utilizes the steep valleys, ravines and plains created by the headwaters of the Pigeon River. The Signature, rated a Top 50 course for Women by Golf Digest, is an upland course with large contoured greens and undulating yet wide, forgiving fairways. Its large undisturbed natural areas enhance its beautiful setting. The Tradition, a links-style course that features wooden pins and pennant flags, pays homage to golf's origins. The course design follows the higher ridges and hilltops, making it Treetops' only walkable course. Also, holes one through 9 loop back to the starter house, so nine-hole play is possible if time is limited. The Premier takes full advantage of drastic elevations changes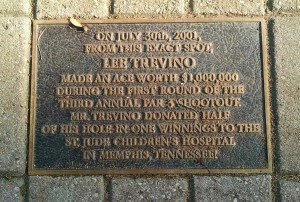 as it cleaves its way through northern hardwoods forests. It is a nice balance of length, challenge and forgiveness with a few holes leaving the woods for the open plain. Renowned golf course architect Tom Fazio only designed one course in Michigan – this is it. When asked to name a signature hole, Fazio replied, "All of them." Finally, of course, is the magnificently imaginative design by Rick Smith of perhaps the greatest par three course in the country – Threetops. The innovative course has been receiving national accolades since it opened in 1992, and is still rated as the #1 par three-course in America by many golf publications. Threetops received national attention during the years it hosted the ESPN Par 3 Shootout. You simply have to play this course while you're here!
Gaylord Country Club
Founded in 1924, Gaylord Country Club is one of northern Michigan's oldest golf clubs, although it moved to its current location, just west of Gaylord, in 1975. This semi-private club meanders through the hills and hardwoods and is a classic city park-style design, much like early 20th century courses. With four sets of tees, the course plays 5,171 yards from the front tees to 6,472 yards from the tips.  Home to about 150 valued members, Gaylord CC welcomes the public to its private-course ambiance.
Indian River Golf Club
Gaylord Golf Mecca's newest edition, Indian River Golf Club, was established in 1922. The course is a challenging, yet walkable track with a variety of tees for all levels of golfer. The course also offers plenty of diversity with elevation changes, water and tree lined and open fairways.
The Natural
 The Natural at Beaver Creek Resort, located on the west side of Otsego Lake is a championship 18-hole golf course designed by Jerry Matthews. Golfers of all abilities can enjoy exciting challenge amid a beautiful landscape of oak, maple, birch, and pine; rolling terrain and beautiful wetlands. The course is said to be a perfect example of how golf and wetlands can coexist in a harmonious manner.
For more information on Gaylord Golf Mecca packages, call 1-800-345-8621 or visit gaylordgolfmecca.com