Michigan's Upper Peninsula is a combination of miles of beautiful shoreline, pure lakes and streams, pristine wilderness, stunning mountains and public lands, along with vacation homes and resorts, small cities and towns with family-owned restaurants and bars, craft breweries, casinos and good ol' fashioned country living. It also is home to three renowned state universities, a private university, three community colleges and a culinary institute.
As a result, Michigan's Upper Peninsula, or 'U.P.' as it's called, attracts a wide variety of residents and visitors. There are shades of Portland-style funky cool in the college towns. There's the natural wilderness for hikers, cyclists, hunters and winter sports enthusiasts. There's an abundance of lakes, including easy access to three of the five Great Lakes, for boaters and kayakers, sailors, ship/lighthouse lovers, swimmers and anglers, and there's some amazingly beautiful, and just plain fun, golf.
The northernmost part of the U.P. – the Keweenaw Peninsula, which extends into Lake Superior – is sometimes called 'the U.P. of the U.P.' At more than 500 miles from Metro Detroit, it is actually closer to more of Wisconsin than it is to most of Michigan. The peninsula is really an island separated by a shipping channel – the Keweenaw Waterway and Portage Lake. The two land masses are connected at the cities of Houghton and Hancock by the Portage Lake Lift Bridge. From Houghton, north to land's end, you'll find increasingly sparse signs of urbanization, but within that same space you'll find three fun-to-play golf courses – Portage Lake Golf Course, Calumet Golf Club and the Keweenaw Mountain Lodge Golf Course.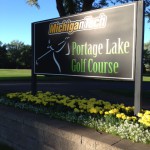 Portage Lake Golf Course is a lovely, traditional urban-based golf course. Its first nine opened in 1902, and it wasn't until 1972, that its current front nine was added. Since 1945, the course has been owned by Michigan Technological University, or 'Michigan Tech' as its commonly called.
Portage Lake is a par 72, that plays 6,320 yards from the tips and 4,906 yards from the forward tees. Golfing only the back nine, we enjoyed the stately feel of the oldest part of the course, with its rolling, treed fairways bordered by a long-established neighborhood. We were a bit amused by the plethora of small fairway mounds throughout, however. Whether part of the original construction or added later to create a bit of challenge, they made for a nearly amusement park style, bumpy cart ride at times.
Overall, the course is well maintained and has nice target greens that putt true. There's a big and well-stocked, clubhouse/proshop facility and grill, and the club has a friendly, college ambiance. My only suggestion would be for the course to provide better tee signage, or a course map on the scorecard, as a couple of times, the next hole's tees and/or the cart path to them were not clearly marked.
Calumet Golf Club is a more rustic and pastoral nine-hole golf course. Located about 14 miles north of Houghton (the peninsula's last vestige of city living, retail chains and fast food restaurants) you wouldn't expect or want 'fancy' anyway.
The Calument course has five sets of tees and measures 3,308 yards from the farthest,
black, tees to 2,622 yards from the forward-most red tees. It's a rolling, open layout with trees, ponds and creeks. As a matter of fact, there's water on six of the nine holes. Hosting regular leagues, it seems to be the home course to the peninsula's year-rounders and regular summer residents.
Calumet's gentle elevation changes offer some scenic views and moderate challenges, but most of all, it's just fun to play.
Finally, 33 miles northeast of Calumet, and less than 5 miles from the small, end-of-the-road resort town of Copper Harbor, where passenger boats to Isle Royale National Park launch and return, is the Keweenaw Mountain Lodge Golf Course.
This 3,120-yard (2,525 from the reds) nine-hole course begins with the best golf hole on the peninsula. Perched atop the mountain, the view from the first tee is spectacular. The 390-yard, par 4 plays down the mountainside, and then it's up and down valley golf. Although there are no more dramatic spectacle holes, the beauty is all around and it's a fun track. There's even an unexpected double-dogleg par 5.
With all of its other unique and natural features to lure your interests, most wouldn't necessarily make the Keweenaw Peninsula a top choice golf
destination. But if you're looking for fun golf and a fantastic wilderness getaway, where cell phone service can even be spotty, it's a number one choice.