On August 19-20, Kent Country Club in Grand Rapids will host the 7th GAM Senior Four-Ball Championship, bringing together Michigan's best senior amateurs (men) in a 36-hole competition. As Michigan's oldest golf club (1896), and one of the oldest in the Midwest, Kent offers a treasure trove of history and impressive highlights from the past 107 years. In chronological order, here are my 18 favorite things, divided into two nines, you should know about Kent Country Club, its roots and its members:
Front nine:
1. The idea of a golf club for Grand Rapids originated with founder Edward Lowe, a successful financier and business owner, who first heard about the Scottish game from a fellow passenger on a transatlantic ocean liner in 1895. He then visited St. Andrews, Scotland and the Royal and Ancient Golf Club and was immediately impressed with the game and its growing popularity. A year later, Lowe and a group of friends formed the Golf Club with Lowe as its first president.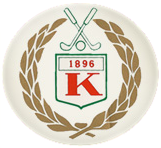 2. The original property of the club was at the corner of Wealthy and Plymouth streets in East Grand Rapids overlooking Fisk Lake. (Today, it sits across the street from Spectrum Blodgett Hospital.) It was a nine-hole course on a leased parcel and shared the clubhouse of the existing Country Club which offered tennis, archery, croquet, a boathouse and swimming beach. The original nine-hole, par-27 course was designed for $25 by Chicago Golf Club's golf pro Jim Foulis. Born in St. Andrews, Foulis was one of the eleven players who took part in the first U.S. Open in 1895, and he came in third. The next year he won.
3. Christened the Grand Rapids Golf Club in 1897, the officers wrote Tom Morris in St. Andrews and asked him for recommendations for a golf professional and teacher. The club decided on David MacIntosh who arrived from St. Andrews with fellow Scotsman and designer Donald Ross to improve the course. With an additional ten acres and new greens, the new nine-hole course represented a walk of a mile and a half and at the time was deemed one of the best in the country.
4. Wanting a larger golf course, the club, now renamed Kent Country Club to broaden its appeal, relocated to its current site in Grand Rapids in 1901. Originally, it was a 129-acre dairy farm of Martin L. Sweet, a successful businessman in the latter half of 1800s. (Incidentally, today a small city park—named Sweet Park—abuts the driveway to the Maintenance Department of the club.)
5. One of earliest members of the Western Golf Association (1899), several key KCC members in late 1903 traveled to Chicago and the WGA and offered to host and sponsor the 1904 Western Open. A harbinger of sports marketing, the offer was made to  bring added publicity and recognition to the club. Truly a major golf championship in its day—holding its own with the U.S. Open—the Western Open was bid on by other clubs in St. Louis and Kansas City. Largely due to amenities offered by the GR Boat and Canoe Club and the GR Automobile Club, KCC's bid was accepted.
6. In June 1904, 32 golfers, including four amateurs, traveled to Grand Rapids and KCC for the Western Open and its purse of $400. With scores of 78-76-77-73, 24-year-old Willie Anderson of Rye, NY, won by three shots over his archrival and defending champion Alex Smith. Anderson claimed $150 (nearly $4000 in today's dollars) and his second Western Open title which nicely matched his two National Open (as the US Open was then commonly referred to) titles. The following week, Anderson won his third of four National Open crowns.
7. Although the 1904 event at KCC was generally well-received by players and supporters alike, critical remarks written by Chicago InterOcean newspaperman Joseph E.G. Ryan caused a stir among KCC members. In a column, he blistered the course for its lack of bunkers and wrote that the existing hazards of a windmill, fencing and its famed earthen mounds along the 17th hole were better suited to a "humorist" than a golfer. Embarrassed, the club within three years removed the windmill and fencing while adding several bunkers and numerous trees to the open linksy expanse.
8. The inaugural Michigan Amateur in 1906, conducted by the Michigan Golf League, was held at KCC and was won by Saginaw's James Wylie who defeated member Phil Stanton. Stanton turned the tables on him the next year, defeating Wylie in the finals at Wylie's home club, Saginaw CC.
9. Buoyed by its course improvements (no windmill, no earthen mounds, improved turf etc.), KCC hosted its second Western Open in late June 1911. It again attracted the best players—pros and amateurs—in the Midwest and beyond. After 54 holes of medal play, the four low players paired off in 36-hole matches. Kenosha's Bob Simpson beat Boston's Tom McNamara in the finals, 2-up. Unlike in 1904, the press was universally pleased with the course, the member hospitality and the gallery.
Back nine:
10. 1911 was a banner year for the club as President William Howard Taft—the first sitting President to play golf while in office—visited the club and made a speech inside a packed clubhouse. Afterwards, he stepped outside in a hard rain and wind and hit two drives off the first tee. Only the sour weather prevented him from playing a round.
11. In 1914, Kent hosted its first Western Amateur, one of the premier championships in the nation, and attracted a stellar field including: 56-year-old George Lyon, the '04 Olympic champion held at St.Louis; Pacific Coast champion Jack Neville who later became famous for co-designing Pebble Beach; two-time champion Chick Evans; and Detroit's James D. Standish Jr. who defeated member Phil Stanton on the 36th hole in the semis. In the finals, Evans thrashed Standish 11 & 8, a Western Am record that held up for the 36-hole finals mark until 1960. Evans went on to a Hall of Fame career and in 1929 asked the WGA to establish a caddie college scholarship in his name. A four-time Michigan Amateur champion, Standish helped to establish the U.S. Public Links Championship in 1922 and later served as President of the USGA from 1950 to 1951, and again from 1952 to 1957.
12. In 1923, Kent hosted the Michigan State Open drawing sixty players to the 72-hole medal play event. Rochester's Harry Hampton, with a final round of 68, finished at nine over par for the week, three shots better than Redford's Dave Robertson. In the separate Michigan State Amateur, Ann Arbor's Carleton Wells defeated Lansing's  B.L Hewitt Jr. in 40 holes.
13. In 1924, the Michigan Women's State Championship was held at Kent. It was won by defending champion and Detroit's Dorothy Higbie who beat 17-year-old Virginia VanWie on the first hole of sudden death in the finals.
14. With a record field of 200 players, the Michigan Amateur returned to Kent for the final time in 1928. Ann Arbor's John Malloy won his second of three consecutive titles by a scorching 12 & 11 margin over Detroit's Howard Lee.
15. The largest golf gallery in GR history—3500 spectators—swarmed over Kent in 1942 to witness an American Red Cross/USO benefit exhibition featuring Bing Crosby, Jimmy Demaret (1940 Masters winner), Michigan Open champion Chick Harbert and Oakland Hills pro Al Watrous (formerly a pro at nearby Highlands CC) who was a last minute substitute for an ailing Byron Nelson, the reigning Masters champion. The team of Harbert-Watrous won 1-up over Crosby-Demaret when Watrous holed a 35-foot putt on the 18th green. For the day, Demaret shot 69, Watrous and Harbert shot 71 and Crosby carded 78, incurring an OB and taking a seven on 15.
16. A Kent member since 1941, Gerald R. Ford married Betty Bloomer in 1948 and they held their wedding reception at the club. A few weeks later, Ford was elected to Congress, thus beginning a remarkable political career capped off by the Presidency in 1974. Years later, another President and his wife, George and Barbara Bush, played Kent as guests of David and Judy Hooker.
17. 21-year-old Dick Norton, Kent member and a recent graduate of Purdue University where he co-captained the golf team, caused a sensation by reaching the finals of the 51st Western Amateur held at Blythefield CC in nearby Rockford. The youngest finalist since Chick Evans in 1909, Norton reached the last match by beating such notables as: reigning Michigan Amateur champion Reggie Myles; Chicagoan and current Western Junior champion Henry Loeb, 18, who earlier had dispatched Harvie Ward, the foremost amateur of the time; Chicagoan John Levinson by finishing eagle, birdie to win 1-up; and in the semis a 4 & 3 win over the tourney's medalist Frank Strafaci, a former North & South champion, when Norton played 33 holes in seven-under par. In front of over 4000 spectators, the tall and lanky Norton faced 32-year-old Dale Morey in the 36-hole finals. But Morey's sizzling eight under par stretch over 29 holes ended Norton's local hero quest in an 8 & 6 result. Grand Rapids Press sports editor Clank Stoppels summed up the tournament by writing: "It was a storybook week of golf and the one the American public which loves the dramatic touch, will not soon forget."
18. Well said, Mr. Stoppels. Touching upon the roots of the game in America, its earliest majors and champions, notable state players, guests of honor and members alike, Kent Country Club remains one of Michigan golf's unforgettable storybooks.
Sources: special thanks to Kent's superb history, The First One Hundred Years, written for its Centennial celebration in 1996 by Richard Harms.  Other sources for this article included the Western Golf Association, golf writer Tim Cronin, the Chicago Tribune, Grand Rapids Herald and The Grand Rapids Press. Photos courtesy of the  USGA, the WGA, Gerald R. Ford Library, Michigan Golf Hall of Fame.