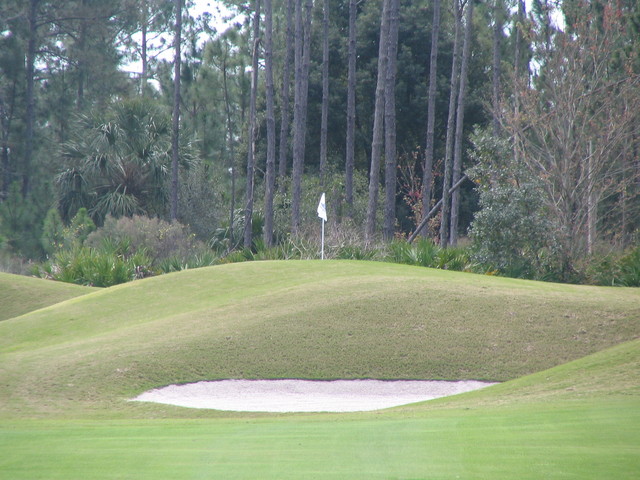 LPGA International provides a good lesson why resorts and clubs should hire different architects when building more than one course. First, why not offer variety? Second, it's insurance against the original course becoming out-of-date, as it did here.
It isn't often in a golf lineup that an Arthur Hills product isn't fingered as the goon, but compared to Rees Jones' Champions Course, Hills' Legends Course is absolutely sublime. In fact it's one of Hills' better Florida public designs, one of the better public designs on the east-central coast (not saying much), and it's interesting enough that I've returned to play it several times.
The routing follows no real pattern and shoots out into some pretty dark and undeveloped wilderness. Getting to the woods requires a number of wetland crossings through areas of dense barrier vegetation, including numerous forced carries over the marshes. It's not ideal. But compared to the Jones course across the way, the holes feel tied into their environment and are much more in scale with their surroundings. Hills' slender, biased greens, so often annoying, actually work in this environment and set up angles of approach.
Many of the greenside bunkers are oddly out of place, but there are some fine holes here like the par-4 11th with a centerline bunker and a blind, canted green, and the par-5 eighth that also uses a centerline bunker to create high and low sides of the fairway. (86)
LPGA International—Legends Course
Daytona Beach
Architect: Arthur Hills
Year: 1997