It's one of the most frequently asked questions in golf. Whether for a conference, convention or family vacation, you're going to find yourself there, eventually asking it: "Where should I play golf in Orlando?"
There's no clear cut answer, which is why it so frequently comes up. Orlando and its surrounds account for some of the most abundant and affordable public and resort golf in America. Unlike vast swaths of the Northeast (or South Florida, for that matter), private clubs here are the exception, not the rule, and outside of a handful (Islesworth, Lake Nona, CC of Orlando) they're rather undistinguished.
The wealth of public access golf is a tremendous draw, but don't expect a lot of variety. Most courses are flat, swampy, cart ball accompaniments to housing developments with uninteresting greens and repetitive bunkering. If a course can break free of any of these stereotypes it automatically qualifies it for consideration. The territory north and west/southwest of the city, in fact, features some quite unexpectedly hilly and sandy terrain, and most of the good or at least interesting golf is located there.
Unfortunately the overall standard of excellence in Orlando is low, but that doesn't mean there aren't places you'll enjoy playing. A few courses even have the potential to grab your attention and make you remember. I'll guide you to the courses I believe are the most stimulating and unique as well as a few that possess some quality or quirk that will make a lasting impression, for better or worse.
The First Five
ChampionsGate, International Course (Greg Norman Golf Course Design, 2000)–There are really no points to be earned for subtle, indigenous golf design around Orlando, and ChampionsGate's International Course is not alone in using a theme to prop up the design. In this case, some of the holes are fashioned as Irish links, at least if you buy into the parallel "dunes" planted with long border grasses. The less contrived holes at the center of the property are far stronger, with nice pacing, strong green contour and scatterings of bunkers large and small. The routing is a bit odd and all the water is out of character, but individually most of the holes possess character and variety.
Grand Cypress, New Course (Jack Nicklaus, 1988)–Nicklaus's first three nines here (North/South/West) made a big splash in the 1980's when they opened, but it's his later homage to the Old Course at St. Andrews that remains the most strangely authentic and one of the most interesting course in greater Orlando. None of it makes sense–an interpretation of some of the most famous links holes planted with spongy bermuda grass on a flat, landlocked orange grove–but somehow it delivers a believable facsimile of the scenes and shot-making setups of the home of golf.
Mystic Dunes (Gary Koch, 2001)–I haven't met too many players who like this course as much as I do, but if you think great golf begins with great greens, we've got something to talk about here. "Great" may not be the exact word for these putting surfaces, but some combination of fascinating, outlandish and exasperating is. The vertigo-inducing short game situations are worth the price alone, but you'll also find nice ground movement, spacious fairways, environmental variety and only minimal intrusion of homes and condos. [Note: the club has recently been struggling to maintain the greens. Call ahead to inquire about course conditions.]
Orange County National (Dave Harman/Phil Ritson, 1997)–The late Harman hit the jackpot with his clifftop design for Kauri Cliffs in New Zealand, but he made his name around these parts with OCN, one of the country's most well-rounded daily fees. Most people think the Panther Lake course is the better of the two designs here, and it is pretty solid even if it borders on 1990's maximalism with muscular shaping, sectioned greens and numerous shots over wetlands and water. I prefer the Crooked Cat course, a more natural, low-to-the-ground course with a prairie feel through the first nine followed by a more amplified second nine that serves up a succession of heroic propositions.
Reunion Resort, Watson Course (Tom Watson, 2004)–The (Arnold) Palmer and Nicklaus courses at this resort on the southwest I-4 corridor (across the interstate from ChampionsGate) are visually dramatic and strategically cerebral, respectively. The Watson Course, however, is combinations of both. A little of everything was thrown into this stew, with steep mounds, buckshot bunkers, waste areas and rippling greens. Yet there's a method to it all and ultimately you feel like you're being psychologically propelled rather than tricked by all the incontinent-looking shaping in front of you.
On The Margin
These courses are as good and in most cases better than the First Five, but require a slightly longer commute from central Orlando.
Sugarloaf Mountain (Bill Coore and Ben Crenshaw, 2008)–Though widely assessed in the lower half of the estimable Coore and Crenshaw design portfolio, Sugarloaf Mountain, about 45 minutes north of downtown Orlando, is still easily one of the three or four strongest courses within driving range. Routed over the dome, and down the sides, of one of the highest piles of sand, er, pinnacles in peninsula Florida, the course wends through native scrub, oaks and carved-out sand pits en route to sublimely contoured greens. [Note: Sugarloaf Mountain is permanently CLOSED.]
Black Bear (P.B. Dye, 1995)–Even though he went to school here (Rollins College) Pete Dye hasn't done much work around Orlando except for a now defunct course for Disney. But Black Bear, located north of Orlando in some peaceful scrub country outside of Eustis and designed by son P.B., is a good make-do with small, fiercely guarded greens and slinky holes that jostle against pot bunkers and grassy embankments.
The Deltona Club (Bobby Weed, 2008)–Weed and associate Chris Monti transformed a hilly, run down 1960's-era course into a gorgeous and whimsical up-and-down adventure of shortgrass and deep channels of bordering sand. The green fees are inexpensive ($37-$47) and maybe that's why maintenance can sometimes be an issue, but there's something almost erotic about all the sleek contours juxtaposed against the rough sandy white buffers.
Victoria Hills (Ron Garl, 2002)–Located just north of Deltona in the town of Deland, Victoria Hills is a beautiful composition of holes set amid pockets of pine here, oak there and open field over there. The design incorporates a sometimes unnecessary array of bunker styles and green shaping, but each is painted expertly into the ever-evolving scene.
Mission Inn, El Campeon Course (George O'Neal, 1917/Charles Clarke, 1926)–Part of the story is that this is one of Florida's oldest courses, and it feels like it hasn't moved much the nearly 100 years it's been here. Another part of the story are the uncharacteristic elevation changes the course possesses, with several of the holes plunging up and down off a prominent ridge.The architecture and routing are classic rather than dynamic, and the course feels at home amid the sleepy citrus groves in a part of Florida most tourists and fly-ins never get to see though it's just 45 minutes from Orlando International Airport.
Southern Dunes (Steve Smyers, 1993)–Would Pebble Beach be Pebble Beach without the ocean right there? Who knows, but the question really asks whether we can evaluate a golf course strictly by the golf, or does the context matter. If we can do the latter, Southern Dunes, south of Orlando in Haines City, is one of Florida's strongest with strategy galore, breathtaking bunkering and sophisticated green complexes. If it's the former, you'll have a hard time getting past the housing that can sometimes seem invasive.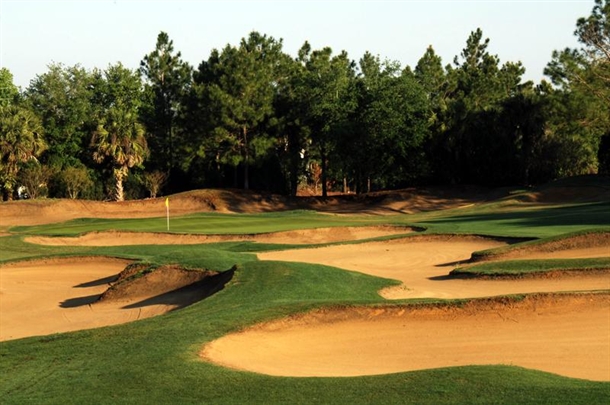 And Now For Something…

Sanctuary Ridge (Terry LaGree, 1999)–Contrary to popular thought, Florida does have some elevation changes, particularly to the west of Orlando. Sanctuary Ridge proves it with wild holes that sling golf balls off slopes and down steep hills while making you do a rare thing around here: factor both distance and height. The housing development has crushed all the charm the course used to have, but check it out just to say that you saw a golf course that wasn't flat.
Swiss Fairways (Steve Nugent, 1991)–Imagine a hardscrabble country golf course that's also a water skiing school. Could be the setting for a zany golf comedy, but it's really Swiss Fairways. Several holes cross over the water skiing track, but the rest are raw and rustic and kind of lovable, just like the characters in our would-be movie. Warning: the routing is insane, maintenance is often a liability and service can be temperamental, but if you want a real slice of rural Florida quirk, this is your place.
A Few Words About:
Bay Hill–There's absolutely nothing wrong with Bay Hill, and certainly many look to it as one of Orlando's best. But take Arnold Palmer and the PGA TOUR away and there are a dozen courses in the region just like it. Play it for the above reasons, by all means, just don't expect to get anything all that unique.
Walt Disney World–I just can't get into the resort's three primary courses–Magnolia, Palm and Lake Buena Vista. While usually in great shape they're dated and repetitious, the essence of offend no one "resort" golf. The resort plowed under its most interesting Pete Dye course, and Tom Fazio's Osprey Ridge is pretty but I wouldn't choose to play it over others on this list.
Grande Lakes–If you're already staying at the Ritz-Carlton or adjoining J.W. Marriott I can see playing Grande Lakes, a low-profile Greg Norman design that spins through a natural preserve. But there's not much that's really engrossing, and the holes near the hotels are near total zeroes. Factor in the price, and I can't recommend it.
Waldorf Astoria Golf Club–The Waldorf Astoria and the golf course outside it are recent upscale additions to Orlando. I haven't visited yet, so I can't include it on any list. The property is very tight and Rees Jones routed almost all of the holes running north-south, which has to be a drawback. I would expect to find quality conditioning, elevated green platforms with bunkers subset into their bases with grass faces, and lots of amoeba-shaped framing and flanking fairway bunkers. Actually, maybe I don't need to play it after all.
All That Said…
Here's where I'm playing, in order, next time in Orlando.
1. The Deltona Club. If the conditions are on, the course has everything I want.
2. Sugarloaf Mountain. So much to absorb, great setting and a fun driving course.
3. The New Course at Grand Cypress. Where else are you going to get anything like it?
4. Southern Dunes. For focused, repetitive, high-level play, it beats almost anything.
5. Mystic Dunes. Assuming the greens have grass.
6. Victoria Hills. Almost every hole offers something different.
7. ChampionsGate International. Strong, strategic holes in a (mostly) uninterrupted setting.