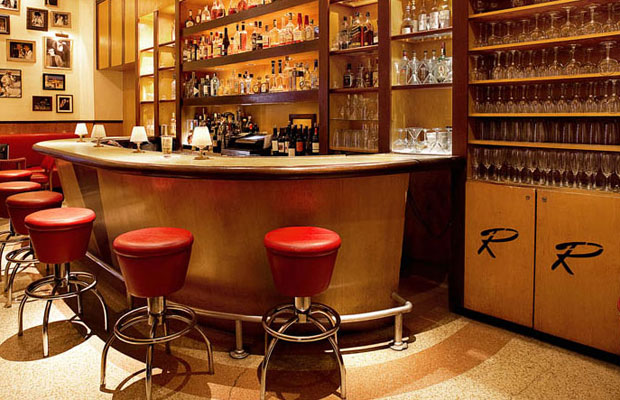 You have to admire a drinking establishment that simply announces itself without affectation or cliché. In a South Beach cocktail carnival awash in gilt, pomposity and hipper-than-thou swank, the Martini Bar in the Raleigh Hotel rescues you with exactly the chill you want in a gin joint: low lighting, intimacy (as in, eight stools and not much more), earnestness and immutability.
Located through a small door in a narrow corridor just off the lobby, the terrazzo floor, mahogany bar, vinyl accents and Art Deco lines haven't changed since the bar and hotel opened in 1940. The tiny room should be all the inspiration you need to settle into serious drinking mode but just in case you need reassurance, your muses—Jagger, Davis Jr., Sinatra—offer silent inspiration from their own times here as they stare down from photographs on the wall, letting you know you've come to the right place. Foot for foot, the Martini Bar has more brass than any bar on the beach.
You've got a wide range of drinks to choose from but ask Mitch, the affable mainstay behind the bar, to make you the room's namesake, an almost overly generous but perfectly chilled gin martini, preferably with something as authentic as the setting like Tanqueray or Beefeater. It's not complicated, but neither was Deano, and this is where he'd be drinking if he were still swinging around these parts today.
1775 Collins Avenue
Miami Beach, FL 33139