Ridgemont Reserve 1792 Kentucky Straight Bourbon Whiskey, Warehouse 7
93.7 Proof, Barton 1792 Distillery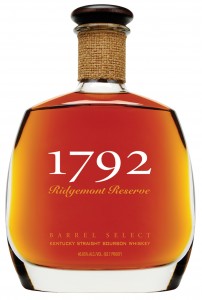 If you ever go online and read whiskey reviews, you'll find a tremendous range of opinion about the Ridgemont 1792. Quite a few who comment on it say it's lackluster and boring, while others find it remarkable. It's smooth; it's not exciting; there's too much barrel; the finish lasts forever; it's a good thing it was on sale.
Such is the nature of online reviews: it's hard to know what to believe. Even the quote-unquote professional tasters don't agree on what a whiskey tastes like. Check out these two reviews of an older bourbon from two of the world's best palates.
Clearly it's not about being correct in your assessment of a whiskey (or any other product, for that matter), but rather about building a relationship and gaining trust. Obviously we hope we're doing that here.
I've tasted the 1792 comprehensively on three different occasions (meaning I've blown through three different bottles in short order). I've liked it each time, and sometimes I've really liked it. I don't get the criticisms.
What I do get is a voluptuous, thick mouthfeel that borders on sheer power. The nose bends toward the citrus end of the scale, followed by spice, caramel and a slight sugar sweetness before finishing long and dry. This is a well-made, classic if not quite profound style of bourbon with much more seriousness than its $25 price tag indicates. Trust me?
Score: 5