Wild Turkey Kentucky Straight Bourbon Whiskey Barrel Proof
108.6 Proof, Austin Nichols Distilling Company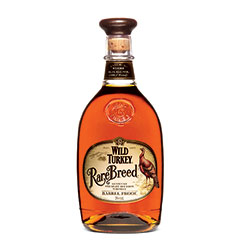 Sometimes I worry that my love for powerhouse bourbons and triple-digit proofs is burning out my palate, and that I'll have to keep going higher and higher up into mid-120 barrel proofs to continue to sense that elevated level of flavor and richness.
Thankfully there are bourbons like the Rare Breed. Despite its big alcohol content, this is not a searing, water-it-down heat bomb. It's a 100+ proof bourbon that integrates the alcohol into a seductive, creamy, mouth-filling package bonded by gorgeous swings of spice, vanilla, wheat (I know there's no wheat in the bill), custard and mint. The nose offers tantalizing prospects of flowers and prune, and it finishes long and with a hint of paprika.
Though it may lack a little refinement, this is bourbon lover's bourbon, a steady performer that gives you all you want for $35-$40 price.
Score: 7