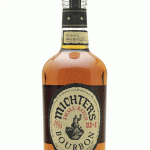 Michter's US-1 Small Batch Bourbon Whiskey
91.1 Proof, Kentucky Bourbon Distillers, Batch #10F-86
I occasionally read here or there that Michter's has won some best bourbon and whiskey award. I don't get it.
These products came into the market about a decade ago, at a time when there was space and demand for new blood, and the prospects were intriguing. But on the several times I've invested in various bottles they've come up well short of not just expectations but also short of simple enjoyment.
The marketing suggests that this Pennsylvania whiskey dates to the 1700's, but the whiskeys today are actually sourced and for now the name is just a co-opt of a once historic distillery. Michter's has since built its own distillery and will be interesting to see if their own product is an improvement once their aged bourbons and ryes mature.
But as of now I find their line, generally, a bit thin and austere. The small batch bourbon, particularly, is light in color and has caramel, orange zest, wood and alcohol on the nose with a waft of potpourri coming in on the end. Dried fruits and vanilla ride on a sherry-like palate with a hint of sweetness and spice. It turns a little floral at the end, stops a bit short, and overall is pretty ordinary.
Score: 3