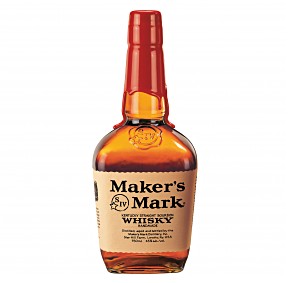 Maker's Mark Kentucky Straight Bourbon Whisky
90 Proof, Maker's Mark Distillery
One thing I love about bourbon, as opposed to gin or vodka or tequila, for instance, is the local lore behind it. Not that these spirits don't have stories–we've all got stories–but bourbon is an American story rooted in the hills and rivers of Kentucky, Indiana, Pennsylvania and other rural, behind the scenes places. Behind the bottles are stories of family legacies, booms and busts, big personalities and grass roots entrepreneurship.
Maker's Mark is one of bourbon's great success and marketing stories. The Samuels family had been in the whiskey business for generations when they launched a new, solitary product in 1959, at a time when bourbon was largely considered a bottom shelf libation. Contrary to conventional wisdom, they priced Maker's Mark considerably higher than almost everything else on the market in order to distinguish their whiskey from the competition and to create the impression of luxury.
Results were mixed and sales were often sluggish as Maker's Mark always seemed an anomaly in the bourbon world, although a recognizable one. But the Samuels persisted with this singular product and message, and by the 1980's sales finally began to rise, and today it's fair to say that Maker's Mark not only successfully elevated its own image but helped elevate the perception of bourbon overall. In the 1960's the notion that bourbon could be a widely popular hand crafted luxury good would seem preposterous. Today, not so much.
On to the taste: I'm a fan. Maker's is the market's most popular wheated bourbon (the traditional rye component is substituted for softer red winter wheat) and is a reliable staple (and often a fallback for me) at almost any bar, party or wedding. Spice, caramel, sour cherries and cranberries show up on the nose. The texture is lush and creamy on the palate with nut and white chocolate notes. It falls apart a little at the end and lacks the pointed intensity that might make it truly luxurious but it's nevertheless tasty and delightfully drinkable. The bourbon world owes much to the vision and tenacity of the Samuels family and the rest of us owe a tip of the hat because its popularity means we'll rarely have to settle for lesser whiskeys, no matter where we might find ourselves.
Score: 4