Bernheim Original Kentucky Straight Wheat Whiskey Small Batch
90 Proof, Heaven Hill Distillery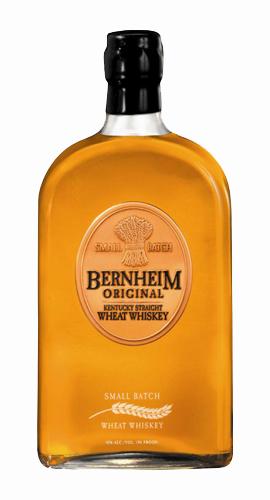 Bernheim is a relatively new whiskey, named for an old Kentucky bourbon-making family (founders of the I.W. Harper label) and long-standing distillery. It was created as a niche product, the only "wheat whiskey" made by a major distillery in the U.S., perhaps in an attempt to siphon off Makers Mark drinkers who enjoy that brand's mellow wheat accents.
First things first: Bernheim is a "whiskey" and not a bourbon. And though it's a niche whiskey, it's a good whiskey and not a gimmick.
To be legally called bourbon, a whiskey must be made from at least 51% corn (most producers use around 70%–the remainder of the mash is typically split between rye, for flavoring, and malt). Makers Mark is one of a handful of bourbons that substitutes wheat grain for rye in their mash. The wheat gives the bourbon rounder, softer flavors and textures. Think of the difference between wheat bread and rye bread.
Bernheim takes this approach one step further. It abandons the bourbon label entirely by using wheat as the base grain instead of corn. The remaining grains in the mash bill are malt and corn (I'm not sure the breakdown, but the wheat constitutes at least 51%). Hence, "wheat whiskey."
The broad, voluptuous Bernheim shows wonderful clarity and depth. It's a bit quiet on the nose with light spice and caramel notes accented by the soft grain. Coming onto the palate it's rich and layered and shows a slight sweetness. Creamy caramel and butterscotch flavors flow in along with a little more bread and spice.
What most intriguing is the texture. This is an unctuous, almost buttery whiskey. It would be ideal for Jack Daniels and George Dickel drinkers who want to cross over the border into Kentucky for a whiskey that approaches the complexity and guts of a traditional bourbon without sacrificing their beloved Tennessee smooth.
Score: 4