The question of how to shape courses in mountains or otherwise heavily wooded properties is an interesting one, I think. Beyond structural issues like the cuts and fills that all courses of the like share, just about every architect since golf courses moved inland has had to make distinct decisions about how to present unnatural sites, including what the style, shapes, and depths of bunkers should be; the size of greens and the degree of slope; and just how polished or rough to make the overall look of it.
Unlike links courses, there's never been much of a template for how to design mountain and forest golf, and just about every architect handles it differently.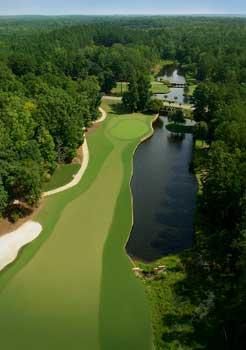 Scenery and simplicity are implicit in the Harbor Club design.
The eight courses surrounding Lake Oconee in central Georgia—where the forested land isn't prototypically mountainous but does cant to various degrees toward the water's many coves and inlets—span the spectrum of architectural imagination. On the extreme is Jim Engh's flamboyant Creek Course at Reynolds Lake Oconee full of muscle bunkers and post-expressionistic green shapes, followed by Rees Jones's labored Oconee Course. On the opposite end you have the genteel Harbor Club from Moorish and Weiskopf.
The course slides smoothly up and down the property's long slopes and lies softly on the ground, almost too softly. There are several beautiful, strategic holes including the Cape-style 7th with a sharp diagonal
drive over a finger of lake (and at 345 yards and downhill, potentially drivable in some conditions), the downhill 312-yard 15th and the par five 14th with an alternate route to the green on a risky line across a marsh.
But for every really interesting hole there's a rote one. The property is too evocative for the first four holes on the second nine to feel this underdeveloped. The nicely staggered hole lengths should create great rhythm in the routing but in too many places (the modest green contour; fairway bunkers that are more protective than strategic) the individual holes come off as passionless.
All of which probably doesn't help its reputation in a market full of golf courses designed for maximum visceral impact. It's a fine line between sleepy and sublime, and the Harbor Club has its moments of both. Sometimes less is more. And sometimes it's just less. (87)
The Harbor Club at Lake Oconee
Greensboro/Lake Oconee
Architects: Jay Morrish and Tom Weiskopf
Year: 1991