Four Roses Kentucky Straight Bourbon Whiskey "Small Batch"
90 Proof, Four Roses Distillery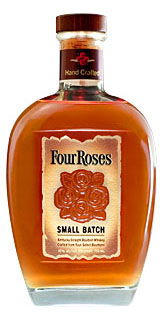 If you like this bourbon—if you like any of the bourbons made by Four Roses—thank the Japanese.
In the 1940's and '50's Four Roses was one of the highest-selling whiskeys in America. When the "bourbon plunge" of the 1970's set in, Four Roses' domestic sales collapsed along with everyone else's. Many labels and distilleries changed hands or were consolidated while others simply shut down.
But Four Roses found an international market for its bourbon, anchored by strong sales in Asia and particularly Japan, which basically kept the label and distillery operational. In fact, so popular was the bourbon that its Asian distributor, Japanese conglomerate Kirin Brewing Company, purchased Four Roses and continues to operate it today (it's still distilled in Kentucky). Several years ago, when the American market turned its taste to premium bourbon, the company re-introduced Four Roses domestically along with a handful of new specialty and single barrel products.
The "Small Batch" bottling is one of the more unique bourbons in its class (it can usually be found for around $35 or less). There's a very captivating and original nose that at first shows a spicy cinnamon complexion that segues into almond/maraschino liqueur scents. On the palate I get a brush of vanilla and sugar inside a medium bodied but vivid mouthfeel. The 90-proof is hidden well.
But then—then!—comes the signature. After it opens a little, on comes an intense dry fruitiness, then sour stewing apples, caramel and pie crust–a gooey pie crust that's been sitting under a layer of moist, baked apples.
I'm not sure where that puts this bourbon. It's at once fascinating and slightly bewildering, and I guess I'd recommend sipping it on its own pre-dinner or even alongside braised pork shoulder. I know, strange.
Score: 4