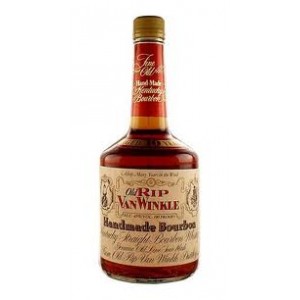 Old Rip Van Winkle Kentucky Straight Bourbon Whiskey 10 Year
107 Proof, No. C2861, Old Rip Van Winkle/Julian VanWinkle
In my early bourbon-sipping days I believed the Rip Van Winkle family represented the pinnacle of the American whiskey world because they were family owned and produced, production was small and they were highly regarded, but mostly because I couldn't get it where I lived in Florida. I finally tried one–the 10-Year 107-proof–at a friend's house in San Francisco. It nearly blew my mind, not because it was so excellent because it was so powerful.
Nevertheless, that early faith in greatness lingered, and when I moved into a market that sold the Van Winkle's I became an ardent acolyte. I expected each bottle would be a liquid deliverance–the 10-year 90-proof, the 12-year Reserve Lot B, even the vaunted (and expensive) Pappy Van Winkles–but that was rarely the case. I'm better equipped now to admit that the Van Winkle line has never been what I thought it was.
The 10-Year 107-Proof is a big whiskey that shows little finesse. That's surprising since it's a wheated bourbon, which you'd think would run a downier complexion across the palate. Notes of mint, cocoa and cinnamon start things off, leading to caramel, pepper and spice on the palate. The alcohol is right there and the texture is surprisingly lean, oily and disjointed. The finish is quite interesting, long and complex with touches of apricot, clove, earth and smoke–one of my notes even compares the finish to an Islay single malt.
I've had the 10-Year 107-Proof several times over the years (obviously different bottlings) and always come back to the same slight sense of disappointment. But this and the other Van Winkles have earned their reputation at the top of the class even if they are a little too direct and piercing to be my preferred dram of bourbon. I'll still visit them on a regular basis when I see them.
Score: 5