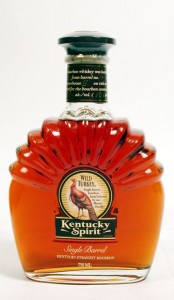 Wild Turkey Kentucky Spirit Kentucky Straight Bourbon Whiskey Single Barrel
Bill 4, Warehouse 8, Rick 20; Dumped 12-13-07
101 Proof, Austin Nichols Distilling
In every subject worthy of study there are touchstones and lampposts, examples of styles and substances that don't just throw light on the entire field but also quantify the merit of competitors. If you're opening a fine dining restaurant in New York, you'd better know what's going on at Le Bernadin and Daniel. In the world of bourbon, Wild Turkey's Kentucky Spirit is a touchstone in the same way.
When it comes to claims of explosive flavor, all other comers need to first test their mettle against the WTKS. The Spirit is one of the most dynamic and complex bourbons on the market and the reigning heavyweight in its price point. In fact, at around $50, it might be the best value in bourbon.
The concentrated, perfumed nose shows box spice and bakery seasonings like nutmeg, brown sugar, allspice and ginger that intermingle with green apple and ripe pear notes. The first impression on the palate is powerful, sweet and tantalizing, something like a mandarin orange and chocolate liqueur that morphs into a heavy funk of black fruits, baked plums and poundcake. A massive dry, rye-pepper backbone finishes things off. When you add it all up, there's almost too much going on to really grasp it.
In many ways the WTKS is like a young first or second growth Bordeaux that has almost too many impressive but disjointed components to harness. I wrote down the words "unrelenting" and "taskmaster" in my notes–you need to be on your toes to sip this one–and while this is a thrill to drink, just like that baby Mouton, the one thing keeping it from rating a point or two higher is some element of composure that binds all that power and emotion together.
Score: 8