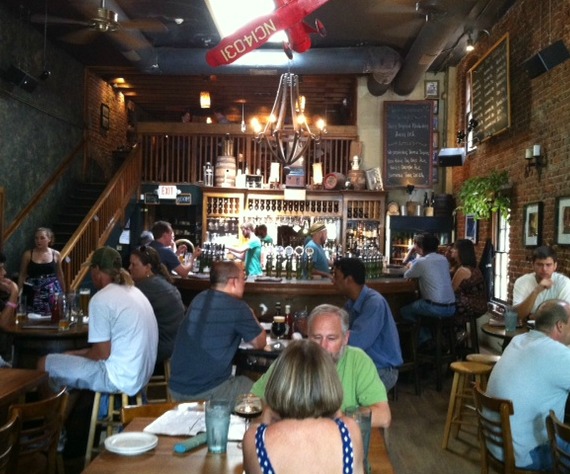 It's not hard to be a good beer bar. First find a place with lots of wood and brick accents that's not too clean or polished. Get a line up of 20 or 30 taps of primarily craft beer–heavy on the locals–with an earnest selection of Belgian, German, English or other international varieties. Pour them into appropriate glassware (as in, not everything goes into an American pint glass). Offer an interesting bottle list with a few more Belgians on it. Turn the lights low, the music up (doesn't hurt if it's Deer Tick, Velvet Underground, Beach Fossils, Leonard Cohen, etc.) and wait for the 20-somethings to fill you up. Bonus points: lots of beards and tattoos on the staff.
I tend to seek out these places when I'm traveling, especially when stuck in second- or third-level towns. But as much as I would get on my knees and thank every deity who listens if I found a place like the one above in Huntsville or Orlando, they usually lack a certain je ne sais quoi.
It takes more than a wall of taps to be great. Very few beer bars develop to the point where they define the category, to where they become a destination. Brick Store Pub in Decatur, Georgia is one.
BSP predated the craft beer boom by nearly a decade, opening in 1997 when, in fact, the craft beer segment of the market was a black hole. When the craft movement began blossoming in the mid-2000's, and Georgia's restrictive beer laws were changed, Brick Store was already functioning as one of the few places in America that elevated the status of beer and the beer drinking experience.
The Brick Store experience became almost religious when, in 2004, it opened The Belgian Bar, a cozy, low ceilinged hovel–up the stairs and to the left–with seven lines dedicated to Belgian beers. Last year they debuted their impressive beer vault and menu loaded with rare and aged bottles.
Within the beer community, Brick Store is something close to hallowed ground (ratebeer.com, for instance, ranks it the 9th best beer bar in the world), which is all the more remarkable because it has "only" 18 taps (not counting the ones upstairs). But you'll find beers here that other bars can't get and a level of precision and presentation that's unparalleled.
Try as many do, you can't buy or build what BSP has: care, relevance, point of view and gravitas. Throw in outstanding service from bartenders who know beer and who are also courteous, and you see why BSP is a beer bar archetype. Other beer joints might have more taps, but almost no place has as much soul.
125 E. Court Square
Decatur, GA 30030