The Checklist isn't woebegone, and we aren't even particularly nostalgic. We do, however, lament the societal loss of the tie as casual and social wear.
We know the tie will never make its way back into sportswear, Ryan Moore's noble efforts to resurrect it in golf notwithstanding (perhaps because pairing it with a billed cap reduces the look to neo-punk skater uniform?).
But ties today are almost exclusively relegated to formal occasions and for men in certain professions–attorneys, politicians, bankers, those in hospitality management positions, etc.
Even then, sadly, it's little more than the last piece of armor donned each morning before the bloodying of the troops begins.
One of The Checklist's most heeded rules when it comes to attire is this: it's always better to overdress than underdress. You'll never be ridiculed for wearing a suit or even black tie to a formal evening engagement. You will, however, be looked upon if you wear shorts, or a polo shirt, flip flops, or sneakers to the wrong occasion while everyone around you has dressed with care.
The Checklist prefers to extend this rule beyond formal situations–we elect to try to look smart and put together in most situation. Taking the wife, girlfriend or partner out to dinner? Wear the tie. Neighbor's outdoor cookout? Tie. Kids birthday party? Why not–set an example.
What kind of tie? Don't overstress it, but you can't go wrong with something seasonal from Alexander Olch (wool in winter, seersucker in summer), something linen from rag & bone, a classic bar stripe from Gitman, or a knit from Polo or, if you live in the South like we do, Sid Mashburn. Hell, even J. Crew, H&M and Urban Outfitters have very fashionable options.
Whatever it is, here are a few basic guidelines. 1) Narrow, not wide. 2) Don't wear it too long. 3) Don't be a slave–stripes on checked shirt, plaid on stripes, it's OK, it can work. 4) Personalize it: with jeans, sleeves rolled, tie bar, under a sweater, make it your own.
The world has two kinds of men. Those who have to wear ties,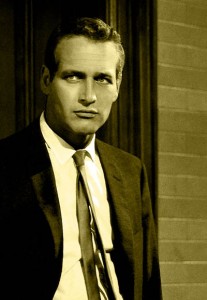 and those who choose to wear ties. Be the latter.