Woodford Reserve Kentucky Straight Bourbon Whiskey
Batch 379, Bottle 00376
90.4 Proof, Woodford Reserve Distillery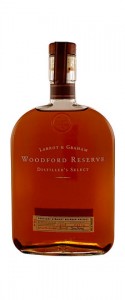 I confess to not having tried many other barrels of this bourbon—I definitely wasn't taking notes—so I'm not sure if barrel 379 is a little underwhelming or if I just don't appreciate what Woodford serves up. Either way, this particular bottling is a stroll in the park, a nice way to pass time but certainly not a destination.
The nose is more interesting than the palate, serving up enticing promises of apricot, clove, graham and coconut. It's a Trojan horse, however: once inside everything becomes a little one-dimensional, with some barrel spice and rye grassiness predominant. It's just a very traditional bourbon, nothing of particular interest.
Woodford seems to have done a nice job of positioning itself as one of the most widely available (I say ubiquitous) upscale bourbons on the market, but based on this bottle and their prominence on every back bar and liquor shelf I wonder if they've ranged a little too far afield. But the price is generally right (around $30) so there will be other bottles.
Score: 3
6/30/17: A re-review, 7 years in the making…
Label Batch 2380, Bottle 406
90.4 Proof
I've recently come around to the Woodford. I still consider this standard bottling slightly boring, but given the upheaval in the bourbon market and the scarcity of bourbons once considered peers, I appreciate the consistency and availability.
I usually get a little more cocoa on the nose than I used to, along with white fruit and vanilla. It's easy and fresh in the mouth where the spice begins to show along with caramel and wood, and the finish in mild and easy, slightly dry with rye grassy notes coming on.
I harbor no ill-will to this easy sipper, and from time to time it surprises with burst of unexpected complexity, depending where my palate is. A good solid bourbon, and we need more of this, not less, in the chaotic and watered-down environment of American whiskey.
Score: 4