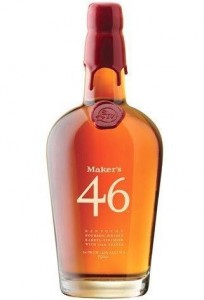 Maker's Mark "46" Kentucky Straight Bourbon Whisky with Oak Staves
94 Proof, Burks/Maker's Mark Distillery
Maker's Mark has always been unique. While many distilleries and producers feature more than one bottling in order to hit different price points and age expressions there has been just a single product under the Maker's Mark name since it was introduced in 1959 (the Samuels family, who created Maker's, oversees the bourbon though the brand is currently owned by Beam Inc.).
That changed a few years ago when the company introduced a new premium product, Maker's Mark 46. The 46 starts out as the original Maker's but then is exposed to charred French oak staves that intensify the toast and caramel flavorings. Then it goes back into the barrel for additional aging.
As expected, there's more going on here than in the original. It opens with orange, spice, candy corn and warm bread scents. The big, sweet mouthfeel leads to notes of spearmint (I often get this from wheated bourbons) spice/coffee cake, hints of fudge brownie…and there it is–massive caramel, candy caramel, caramel apples.
It's a little like an all-star team with so many different parts and personalities–a sight to behold but you're not always sure they're all working together. A step up in sophistication, however, and a whiskey that's very, very lush and drinkable.
Score: 5