Elijah Craig Small Batch Kentucky Straight Bourbon Whiskey
94 proof, Heaven Hill Distilleries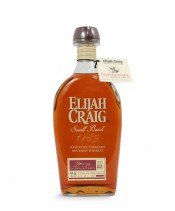 This is the new bottling of Elijah Craig, rolled out in full in 2017 and replacing the 12-year age statement bottle, one of the most iconic and greatest value bourbons of the last 25 years.
The "new" EC, repackaged in a taller, thinner bottle with screen printing, is said to be aged 8-12 years. Whatever. It's disappointing.
It's particularly so compared to the older 12-year age statement, but even on it's own merits it seems terribly flawed. Something's gone wrong here. There's an almost cloying sweetness from the nose through the finish. The bourbon tastes candied, filled with unbalanced and overripe vanilla and butterscotch as well as those foul cola notes that occasionally crept forth even in the old 12-year bottling.
Apparently pulling the whiskey out of the barrel a few years early changes this bourbon's flavor profile. Maybe EC at a young age is so out of control it needed a full 12-year maturating to tame it, but it seems like something else is going on here.
Here's a tip: for at least a little while longer you can still find the 1.75 ml old (paper) label EC bottles. If you come across one in a lesser-trafficked store, look on the back label and you might be lucky to see the 12-year age statement listed in fine print. If so, buy all you can.
Even if it's a later bottling and the 12-year age statement is gone, the bourbon in the large, old format bottle is still some version of the "old" bourbon and not the newer product. You still want to buy this iteration of the EC while it lasts.
Note: Tasted through three bottles with consistent notes.
Score: 3