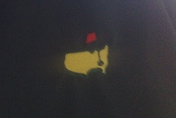 You can bet Rory McIlroy had a tough time sleeping last night, as well as the night before although be it for an entirely different reason. Had he been hoping for help to take his mind off his Masters Sunday collapse when he got up this morning, he was certainly in for a disappointing surprise to find himself stuck in an airplane with the latest green jacket owner Charl Schwartzel for most of today while traveling to the Malaysian Open.
Assuming that Schwartzel is wearing the garment that the champion gets to keep for a full year, to prevent it from being stolen from his checked-in luggage, we can only hope for Rory's sake that the South African has it packed in his hand-luggage.
Read all of the great stories on The Masters by TheAPosition.com writers. We've created a directory to all of them here.