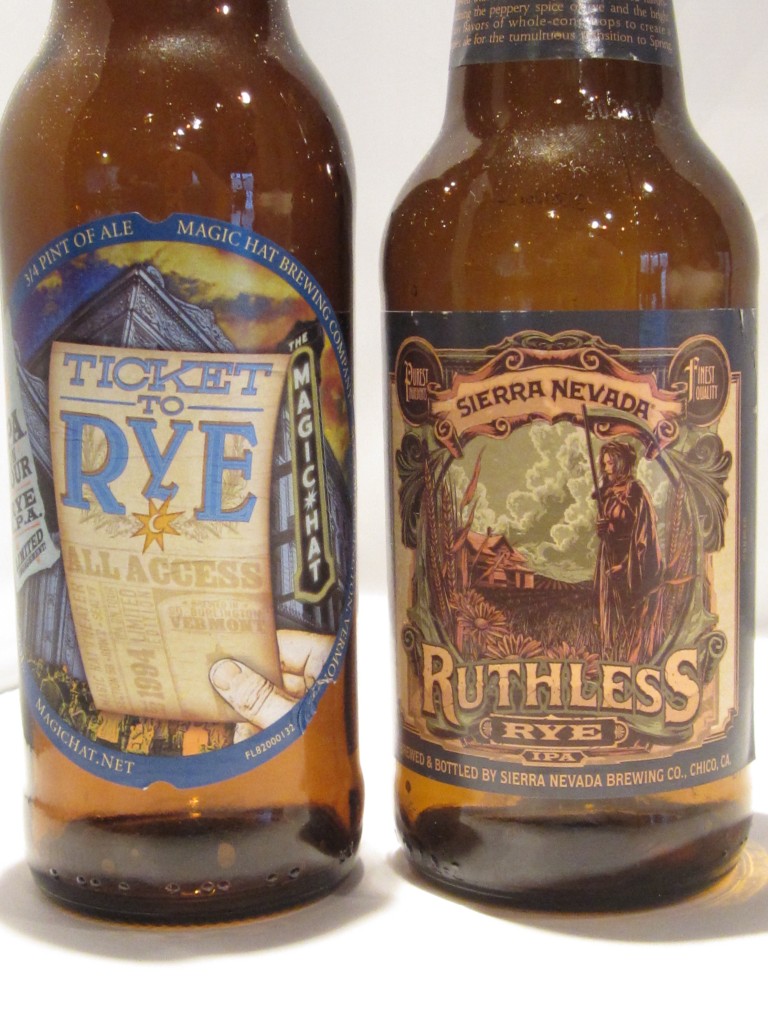 Gauging by notices elsewhere, Magic Hat was generous in sending out samples of three new beers included in its recent Spring Fever Variety 12-pack, along with the inexorable No. 9 (an enormously popular beer that I could happily forego forever). I've yet to try either the Pistil (made with an addition of dandelion leaves) or the Saint Saltan (with salt and coriander), though they sound intriguing.
But when Sierra Nevada's Ruthless Rye showed up on local shelves I thought it was a good time to take these two to the mat in the occasional "versus" series.
I honestly didn't think it would be much of a contest. In my experience Sierra Nevada pretty much walks on brewing water, while I've had an equivocal history with Magic Hat (last seen here wearing a Wooly sweater for Christmas).
And in truth, I prefer the Ruthless Rye, but only because it's hoppier than Ticket to Rye. The Magic Hat is a tasty beer, too, and certainly a bolder effort than I've come to expect from them. At 7.1% ABV it's a tad stronger of the two brews, and the strongest in its rotating "I.P.A. on Tour" series of four seasonal IPAs.
Ticket to Rye follows Encore, which was an agreeable wheat IPA, and should remain on the shelves until the end of the month, when Blind Faith will return.
In general rye malt can be expected to add some spicy and peppery notes to beers, along with a crisp, dry quality, and that's certainly the case here.
These two are barely distinguishable in the glass, though Ticket to Rye is a shade darker. The similarities end there. Ticket to Rye leans toward malt, its bouquet swirling notes of toffee, biscuit, grass, hay. The malt bill includes pale, rye, wheat, caramel and chocolate, leading to a sweet and lightly viscous sensation, not unpleasant.
The finish is fairly mild but it seems to me that this where the rye is most noticeable, combining with Apollo and Nugget hops to contribute a light spiciness that lingers nicely. The beer seemed to flatten out as it warmed up, so I'd dispatch this one while still cool.
The brewing notes say a California Ale yeast was used. Hmm.
The Sierra Nevada notes allude only to an "ale yeast," but it may well be a similar strain. Ruthless Rye is also a seasonal, having replaced the no-longer brewed Glissade.
Ruthless does without any wheat malt, using pale, rye, caramel and chocolate. It's bittered with Bravo hops, while Chinook, Citra and an experimental hop called X-366 are used for finishing and dry-hopping.
Predictably, the nose is wildly floral, quite citrusy, which follows through in the flavor. There are bready notes, and a tangy, mildly puckering finish. There's definitely more of a peppery, almost briny edge than in the Ticket to Rye. Call it more ruthless if you like. It's certainly delicious.
Name: Ticket to Rye
Brewer: Magic Hat
Style: Rye IPA
ABV: 7.1%
Availability: Through March in about a dozen states
For More Information: www.magichat.net
Name: Ruthless Rye
Brewer: Sierra Nevada Brewing Co., Chico, California
Style: Rye IPA
ABV: 6.6%
Availability: Through March, nationwide
For More Information: www.sierranevada.com