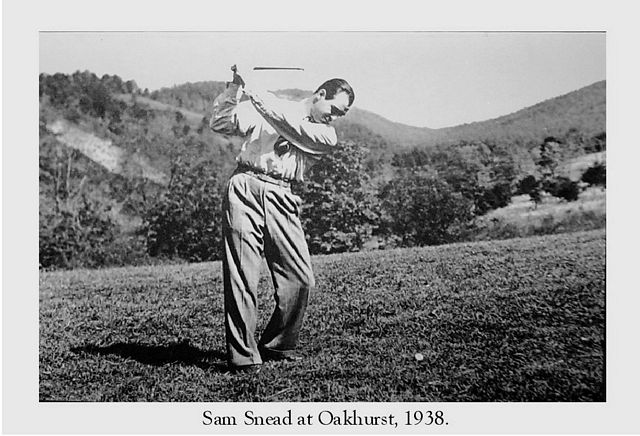 I was sorry to hear in 2008 that, over ten years after I had visited it, the Oakhurst Links golf course was closing for general play and was up for sale. As my resurrected piece below indicates, my rounds at Oakhurst were about as refreshing as any golf endeavor I'd ever had.
But now I'm happy to report that the course itself is resurrected once again, and will open for play May 1, 2010, and will again host the National Hickory Championship, June 10-12. I was also happy to chat with Lewis Keller, Sr. in January, and to hear him sounding hale and hearty just weeks before his 87th birthday. When in Florida in the winter he still plays daily, sporting about a 12 handicap. "I know I can shoot my age, anyway," he said.
The property is still for sale, however, and at the under $4 million asking price, it seems like a steal to me. (There have been nibbles, so those interested should contact Keller directly at 304-536-1451.)
There didn't seem to be much point in changing the particulars of this piece, so I haven't. Obviously, Sam Snead is sadly no longer with us; but the spirit of it all is unchanged:
Visits to shrines don't often lead to hilarity. But then the 1884 Oakhurst Links golf course is unlike other shrines. Oh, there are ghosts on the property, all right, but they're pretty benign, watching over those engaged in sport, rather than some graver exchange.
True, my regular golf game–depending upon who is considering it–is not a laughing matter, but during the first round of my golfing pilgrimage to White Sulphur Springs, West Virginia, I was constantly chortling, liberated from my usual frustrations.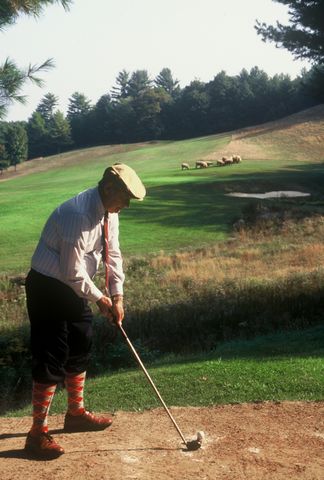 But then I wasn't playing my regular game. And I wasn't playing on a typical course of the 20th Century. What I was doing was hiking up and down the rolling terrain of the first golf club established in the United States. I carried four hickory-shafted clubs common to the golfing gentleman of the late 1800's. I approached the dirt teeing grounds, where I dipped my hand into a bucket of water, and then into another bucket of sand, so I could construct a small tee.
I would set my gutta-percha golf ball on the packed sand, survey the hole ahead, wondering whether my shot might scatter the herd of sheep grazing contentedly unaware on a hillside. I would waggle my driving club, let go a smooth, slow, gentlemanly stroke, and watch the gutty soar a full 150 yards, rolling another 15 in the high grass of the fairway, a mighty blast. And I would be chuckling the whole time, suffused with delight.
Playing at Oakhurst adds to what modern golf offers by subtracting much of its effluvium: There are no yardage markers to hunt down, no cart paths to contend with because there are no golf carts, or even golf bags. There are just the antique nine holes, the four clubs a player carries from hole to hole–five for those who want to take along a rutter club, which resembles an ice-cream scoop on the end of a stick–the rolling hills, and the livestock.
Local rules allow a free drop should a ball land in sheep castings. There's also a permissible mulligan on the first tee. But should one's ball be blocked by another on the green, tough luck, because the stymie rule is in effect. And should one's ball break during play, the larger piece must be played until holed out.
Because the link to the game's past is so direct and vibrant, and because it's sheer folly to have great expectations of playing well with such antiquated equipment, a round at Oakhurst is a virtual elixir for the jaded. Golfers prone to take their game too seriously, the club throwers, the violently obscene, the merely boorish, should be sentenced to play here. They might rediscover the joy at the heart of golf.
Indeed, Oakhurst is golf's field of dreams. In the few days I loitered around the course in July players arrived from Texas, Illinois, Missouri, California and Winnipeg, all with the sole intent of playing at Oakhurst. "It is a spiritual notion of sorts," said Lewis Keller, the proprietor and presiding numen, though it wasn't really necessary for him to build anything so people would come. The course was already here. It merely had to be reclaimed.
Men in Knickers
Two bits of history are useful. The first concerns Russell W. Montague, Harvard class of 1872, who also studied in England and golfed in Scotland. He practiced law in Boston, but moved to West Virginia for health reasons in about 1878. Why he picked the White Sulphur Springs property is a matter of mild dispute–he either had a royal land grant for the spread or, as family legend has it, his granddaughter closed her eyes and put her finger to a spot on the map. Either way, the Montague family moved in about 1878, constructing their house–the current clubhouse–in stages.
Montague paled around with a few Scottish expatriates, the brothers Roderick and Alexander McLeod, and George Grant. In 1884, Grant expressed his concern to the group that his nephew, Lionel Torrin, a crack golfer in the home country, was due for a six-week visit, a long stretch to go without swinging the sticks.
That set the group in motion to construct a course on Montague's 35-acre spread, and even draw up club bylaws and tournament rules. When Torrin came and play was underway, golf was officially established in the United States, if still considered peculiar: it was not unusual for locals to take a trip to the country estate to watch these eccentrics engaged in their bizarre ritual. One story goes that after Montague sliced his tee shot on the first hole, he turned the air blue (some things never change) in earshot of a Virginia clergyman, R.N. Mason. The minister said the game looked like child's play, so Montague handed him a club. One hundred strokes later, Mason holed out on the first green, and promptly gave up the sport forever.
But the Oakhurst gang was hooked, and in 1888 began what is now thought to be the first annual tournament, played on six successive Christmas days for the first golfing prize, the Oakhurst Challenge Medal. Inscribed with the ancient golfing motto "Far and Sure" and a crest of crossed golf sticks, the first was won by Montague himself.
Lewis Keller, now 75, also came to West Virginia for health reasons. Originally of Virginia but living in New York in 1958, where he was a scratch golfer at Winged Foot, Keller was feeling poorly, and decided a golfing trip south might help. He wound up playing some rounds with golf legend Sam Snead, still the professional emeritus at the famed Greenbrier Resort up the road a few miles. Keller did the rare thing–he won a bet from Snead. That would never do–Snead was unused to having another man's hand in his pocket. He suggested that Keller move down to West Virginia: "We can play a lot of golf together."
The two have been fast friends since, still playing on an almost weekly basis–Snead now with his hand comfortably in Keller's pocket. More importantly, it was Snead who suggested Keller look over the Oakhurst property.
"I met with Cary Montague, Russell's son," said Keller. "He was 82 then, nearly blind, and the first thing he asked me was, 'Do you play golf?' We had a deal in about 15 minutes, though restoring the course was not part of it. Still, he then took me by the hand, walked me outside and showed me where the first tee had been. He described the whole course to me, showed me what he called the finishing hole. It was fantastic, just standing there hearing all that. Then we shook hands, and that was that. "
The Oakhurst club had disbanded by 1904, since Grant, the McLeod brothers and Torrin had returned to Scotland. Keller often thought about resurrecting the course–he and his sons had found old gutties on the property, and one of the original cups, still in the ground. But it wasn't until 1992, at the urging of the late golf sportswriter Dick Taylor, and golf architect Bob Cupp, that the wheel began turning. Cupp, a chief designer for Jack Nicklaus before hanging out his own shingle in 1984, finally dove into the project all the way, gratis.
In early March of 1994 Cupp and Keller began walking the old pasture, using past writings, measurements, descriptions in an effort to find the archaic contours, bunkers, greens. It took all of eight days to reconstruct the course, since it was merely slightly buried. No dirt was moved, no bulldozers were required. "It's right on the ground, right on the same earth Montague and the others played on," said Keller.
After 82 years of slumber, the old course awoke in October of 1994, the first tee shot launched by Sam Snead.
Real Golf
Keller is only the third owner of the property, and if he had had his way, the next and last would have been the United States Golf Association. But he and the USGA have never been able to work out an agreement. So the genial proprietor of the links is looking into creating a foundation that would maintain the property as a living museum of how golf used to be played.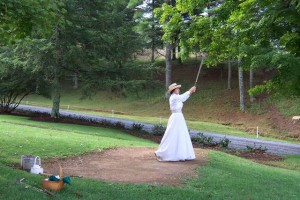 Exhibits in the restored clubhouse offer further proof, and Martha Asbury serves as the resident docent, leading visitors on a brief tour and then supplying them with the necessary sticks and balls. The intrepid can even don the plus-fours and antique golfing caps available. Martha doesn't play herself, but she hospitably leads the unwary to the elevated first tee, a blind shot over a small pond to a green a mere 226 yards away. She's seen her share of foozled drives. My first hit was an impressive slice. I said to Martha, "It's just like real golf."
But then it occurred to me: This is–was–real golf. The course is a compact 2,235 yards, but by 1880 standards, it's a considerable test. Montague and the rest were no wimps. I was thrilled to shoot a 45 in my first round, especially when I heard that Lee Trevino had shot a 47. But the next day I discovered the one anachronistic concession Cupp and Keller had made on the course–forward tees, and I had played from several the previous day. From the back tees, I shot a more unwieldy 53. Just like real golf.
There is no par on the course; holes are described as requiring one, two or three shots to reach, each one bound to be an adventure. The second and ninth fairways intersect, but the course is never so crowded that this really matters. Keller hasn't advertised Oakhurst, but people come nonetheless, and are scheduled to tee off at a leisurely pace. (The course is not yet non-profit, merely no-profit: "Family-supported," Keller notes with a grin.)
I never had to contend with sheep castings or split gutties, but I did manage to lose a ball right in the middle of the fairway, not that hard to do. The grass is cut to about one and 7/8″, compared to the Greenbrier courses, manicured to 1/2″ to 5/8″. The 35 sheep do their part, but according to course superintendent–and shepherd–Mark Waid, he does have to mow from time to time: "We'd need a herd of a 100 to do the course solely by natural grazing–and a way to keep them in the fairways." The greens are cut to 3/8″ (Greenbrier–5/32″ or shorter), meaning a putt can be rammed pretty firmly.
The view from the fourth green and elevated fifth tee is majestic, with the entire course spread out in its deep green glory, and the swelling Alleghenies in the distance. Hard by is an old graveyard where Keller and Cupp have toyed with the idea of being buried, which would only increase the spiritual feel of the place.
I'm a skeptic in these matters, but I felt a decided presence near the seventh hole when I was the sole player on the grounds one late afternoon. I wasn't playing well, so I'd stopped keeping score. With the heat cooling, the colors warming, the course was peaceful, silent. I'd hooked a driving iron shot into some brush. Lucky to find the ball, I was still in a pickle, in a deep tangle without much room to swing. But I picked up my pitching iron, managed to punch the gutty right out of trouble and rolled it onto the green. I swear I heard a murmuring that sounded like, "Well struck, lad," in an admiring Scottish burr. And I had to agree.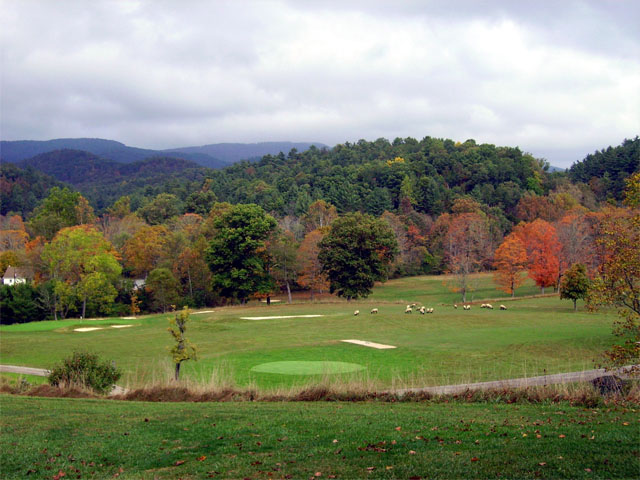 More on Snead:
Glory Days
Happy 100th, Sam Snead
In the Virginia Territories