Here at The A Position we're given a topic to address (or not) each month for The A List feature, and the April challenge was to rhapsodize about our favorite golf island. We even cornered Perry Dye, one of Pete's designing sons, and put the question to him. Since he worked for four years on Roatan, completing work on the Black Pearl course at the Pristine Bay resort in Honduras, it's not hard to guess his pick. (Although he seems more taken with the bonefishing than the golf.)
My colleagues and I have about 20 islands of different sorts covered from Australia to Sardinia and around the world, including one mythical one if I read Casey Alexander's contribution correctly! Click here to see where we've roamed.
I stayed a little closer to home, my old New York home that is. The round I refer to at the end was the subject of a longer piece now buried somewhere in the archives. I'll excavate it here one of these days, Lord willing and the creek don't rise.
***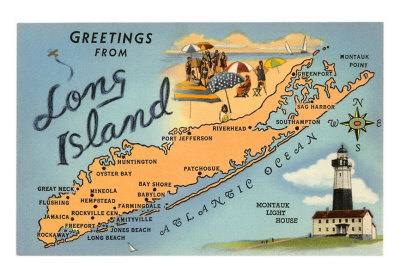 At 118 miles it's the longest island in the contiguous U.S., and the biggest: by size Long Island is larger than Rhode Island; if it were a state its 7.5 million people would rank it 13th in population.
It also packs in two major airports and five U.S. Open sites. (No points for naming Bethpage Black and Shinnecock; a tip of the cap for coming up with Fresh Meadow, 1932; Inwood, 1923, and Garden City, 1902.)
To me, it was just home, a fence separating us from the third hole of the Hempstead Golf & Country Club, where my parents were members. This partial A.W. Tillinghast design was my young playground, and where I developed a love/hate relationship with the game.
By the time I'd moved from New York to Vermont, I discovered it was all love, and returning to the old course years later to play with another born again golfer–my brother–was one of the finer things I've ever done.