By the time Hurricane Irene slammed into New England on August 28, 2011, it had actually been downgraded into a tropical cyclone. But for the residents of western Massachusetts and Vermont, Irene was still an apocalyptic fury, with devastating damage from the winds and, particularly in Vermont, from flooding. The rivers in Vermont became raging torrents that swept away lives, damaged or sluiced through hundreds of roads, carried off century-old covered bridges, and isolated whole communities.
The recovery effort and united community response has been quite extraordinary, but there is still work to be done, roads, homes, bridges, businesses and lives to repair. Precisely the reason for the two beers in our glass this evening, both of which will divert money to recovery efforts.
As the accompanying video shows (and explains), Waterbury, Vermont about had its heart ripped out, and for those who had visited the lively and popular Alchemist Pub and Brewery the news that it had been flooded was further dismal news.
Subsequently, owners John and Jen Kimmich decided to let the pub go, and amp up activity at the production brewery and canning facility they had started nearby. (We'll eventually try the initial offering, Heady Topper.) (And see comment below.)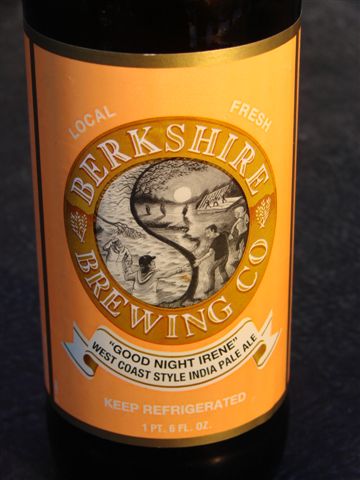 Stone Brewing's Mitch Steele had heard about the Alchemist's plight, and he invited John out to San Diego to collaborate on a beer with him and Jamie Floyd of the Ninkasi Brewing Co. from Eugene, Oregon, with the profits to go to the Waterbury Good Neighbor Fund.
Meanwhile, Deerfield, Massachusetts was hit hard as well, though the Berkshire Brewing Co. wasn't damaged. But with many accounts in Vermont, BBC owners Chris Lalli and Gary Bogoff brewed up "Good Night Irene" as a one-off, with $15 from the sale of every case earmarked for local recovery efforts.
Both beers first appeared in the area in late December and may now be hard to find. But if there are any still on the shelves pick some up–good and interesting beers supporting a good cause.
But while both are 7% ABV IPAs, the similarity ends there. Though "Good Night Irene" is called a West Coast Style India Pale Ale, it seems a bit mischaracterized to me. When I think of a west coast IPA I'm expected a beer with a lot of immediate hop aroma and flavor, and a rousingly bitter finish. "Good Night Irene" may be amply hopped, but the character is skewed to the malt. Or, to the recovery side, if we take the brewer's description that the beer has, "… the assertive bitterness of a hurricane and the subtle malty sweetness of recovery." I'm open to poetic and brewing license in this case, so okay.
John Kimmich earned his brewing stripes at the Vermont Pub & Brewery in Burlington, under Greg Noonan, the late and great patriarch of Vermont craft brewing, credited by some (like John) as the originator of the Black IPA notion.
Nonetheless, More Brown Than Black is really a west coast IPA, brewed at Stone, and far more radical in terms of the hopping. As Mitch Steele notes in the video, the hops used were Super Galena, Nelson Sauvin, Delta, Galaxy and Citra. In short, a hop bomb. Non-hopheads need not apply.
There is such a concentration of hops in the beer that not all of it was filtered out by bottling time. Both bottles I had were rift with greenish floaters. This didn't stop me, however; I loved the beer, and felt righteous drinking it, too.
Name: More Brown Than Black IPA
Brewer: The Alchemist, Waterbury, Vermont; Ninkasi, Eugene, Oregon; Stone, San Diego, California
Style: Dark IPA
ABV: 7.4%
Availability: Better chances in New England, but time running out
For More Information: http://blog.stonebrew.com/?p=2885
Name: "Good Night Irene" West Coast Style IPA
Brewer: Berkshire Brewing
Style: IPA
ABV: 7%
Availability: Better chances in New England, but time running out
For More Information: www.berkshirebrewingcompany.com
The Hurricane Collection:
Sandy: TAP Beer(s) of the Week: Stocking Up for Sandy
Ike: Ike and the French Lick Maneuver