Return to Turnberry 5: May 14, 2008
Even without the "Golf With a Hangover" program, most of us wobbled over to the Colin Montgomerie Links Golf Academy in the morning for a few tutorials, practicing some shots in the excellent short game area, as well as attempting links golf knockdown shots.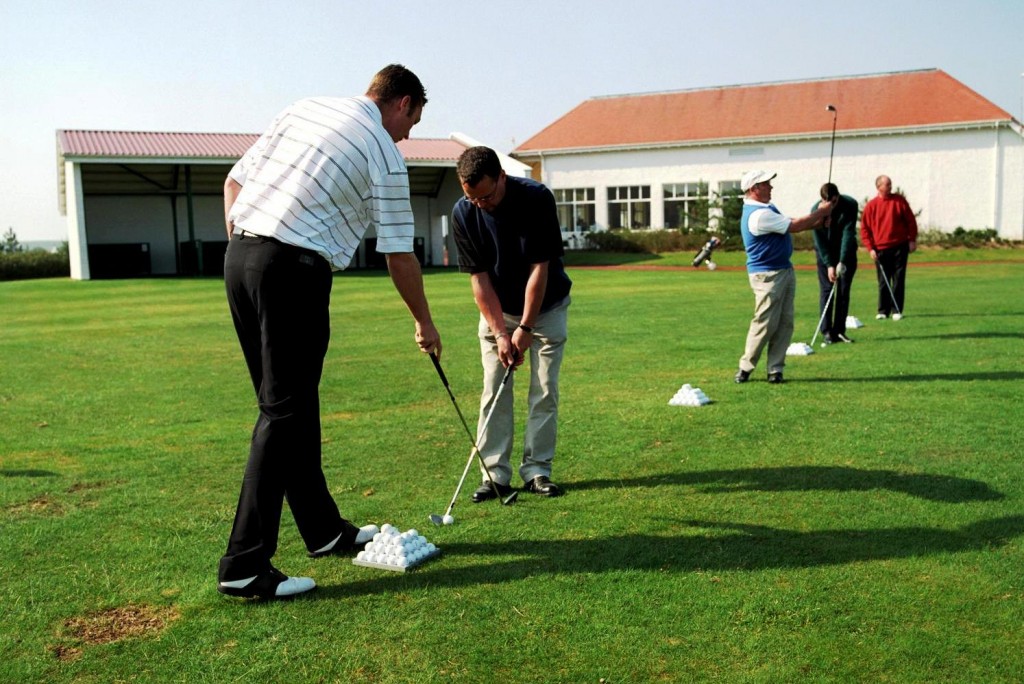 In truth, the knockdown shot hasn't really been required–the weather has been beautiful and the wind relatively mild.
I played today with old friend Jeff Wallach on the Kintrye course, pitted against Euro captain Pete Simmons and Kevin Ferrie (left to right below). Neither the Englishman nor the Scotsman, unfortunately, showed any ill effects from last night's dissipation. And while Jeff and I were driving the ball well, neither of us could finish off holes with any great aplomb. We each won or halved our share, but our share wasn't big enough.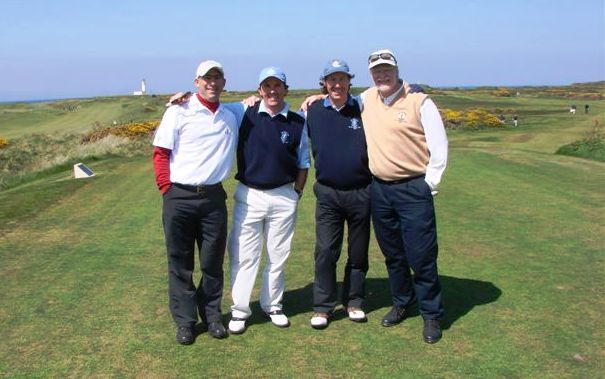 Though teammates Emmon Lynch and Josh Sens were prevailing in their match, the rest of the North American squad was faltering, and at the end of the day we'd received a fair pasting. The record shows that the Euros took the Ailsa Cup by a 5-3 margin. Too bad, although no one seemed completely crushed by it, nor were the Europeans crowing unduly. (At least, I haven't received any such reports; I had to miss the next day's round at Prestwick and the official awards dinner that night.)
But this evening we ate at Souter Johnnie's Inn, a thatched pub and restaurant on the site of the school Robert Burns attended. It seemed only fitting, as we pondered some of the lessons that will be meted out on the Ailsa Course at next year's Open Championship.
Beyond that, we simply waxed poetic:
And there's a hand, my trusty fiere!
And gie's a hand o' thine!
And we'll tak' a right guid-willie waught,
For auld lang syne.
Related Posts: TAP Beer of the Week: Ailsa Amber Ale
TAP Beer of the Week: Cup O' Kyndnes