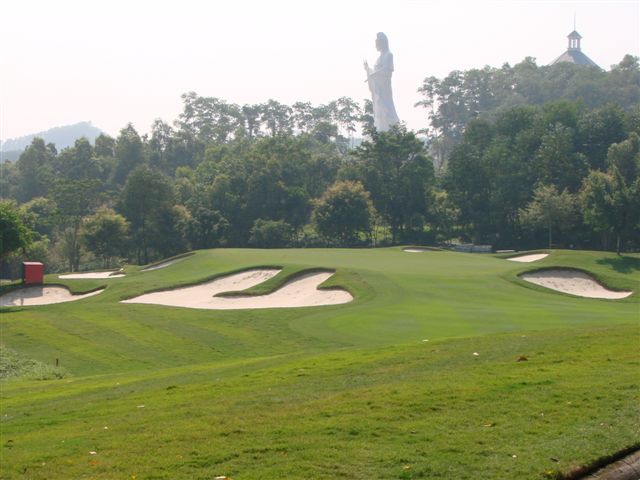 It is fitting that a statue of the Buddhist Goddess of Mercy and Compassion overlooks the eighteenth hole of the Olazabal Course at the Mission Hills Golf Club in Shenzhen, China. Fitting, in that golfers can always use a little mercy. Fitting, too, in that the representation of Guanyin towers over 80 feet tall, and like everything else at Mission Hills, is outsized to stunning proportions.
Mission Hills, about a half-hour north of Hong Kong, entered the Guinness Book of World Records in 2004 as the world's largest golf facility, when it had a mere ten courses. In 2007, two more opened.
The courses are named after greats of the golf world, several making their design debuts (Annika Sorenstram, David Duval, David Leadbetter), though most were done in collaboration with golf architects Lee Schmidt and Brian Curley out of Scottsdale.
"There are eight courses at Pinehurst, build over 80 years," said Curley. "We did ten in about nine years, a pace and a scale that still amazes me. We basically did five courses at once in one year, with 2,000 people working in two ten-hour shifts, 750 dump trucks moving more than 30 million cubic meters of dirt. Nothing like this has ever been done before."
Building the pyramids may compare, the difference being that this time the workers were paid. Putting five Central Parks together would approximate the size of the more than 4,500-acre resort, and probably look about as patchwork. Though it's all contiguous, there's no real way to go directly from one side of the complex (emphasis on complex) to the other except through near-jungle. Consequently, there are three clubhouses, one on the eastern (Shenzhen) side to serve five courses, one in the middle section for two courses, and one on the western (Dongguan) side for five courses, and it takes about a half-hour to get from one to the other.
The newer Dongguan clubhouse perpetuates the Mission Hills trend toward the superlative: it's the largest clubhouse in the world at 650,000 square feet, fronted by the beatific Guanyin. There are seven restaurants at the luxury resort, 51 tennis courts, three spa locations, two swimming pools and not one but three golf academies.
Mission Hills is the vision of David Chu, a Hong Kong native who largely raised his family in Toronto, but returned to invest in mainland China in 1979, making his fortune running the country's largest corrugated packaging company. He opened Mission Hills in 1994 with the Jack Nicklaus-designed World Cup Course, promptly deemed one of the best in Asia, and which indeed hosted the World Cup of Golf in 1995.
(Mission Hills hosted the Omega World Cup of Golf again in 2007, and will continue to do so through 2018–curiously, not at the World Cup course, but the newer Olazabal Course.)
According to Chu's son, Ken, "We didn't build 12 courses for the sake of setting a record. We built them because of demand." The population within a two-hour driving distance of Mission Hills is close to 200 million, though few of them golf. But Chu estimated there were about three million golfers in the country, and only 376 courses. "Demand exceeds supply, and demand is growing."
There's little question that the next boom in golf is likely to be driven by China, and Mission Hills is the engine. Schmidt-Curley Design recently opened up an office in Haikou on Hainan Island in the South China Sea. "We have 20 projects in the works in China," said Curley.
Mission Hills is essentially private, although play is open to the increasing number of international travelers who stay at the resort. There are 10,000 members, many from all parts of China, since the more temperate south permits play all year, unlike courses in Beijing and Shanghai. There are different levels of membership, but a full 12-course membership cost about $175,000, and there have been takers.
"People become addicted to golf," said Ken Chu. "It's the green opium."
I have no idea what he meant; all I knew was that when I'd received an invitation to travel to China for a week I immediately began pacing the floor, wondering if I'd actually be able to play all 12 of the Mission Hill courses.
Golf Gone Wild
Two courses were quickly eliminated, the Olazabal Course being readied for the World Cup, and the Ernie Els Course closed for conditioning. Ten were left, but our golf dependent crew of journalists was doomed by a succession of seven-course lunches and interviews. Our routine was simple–up before six, a leisurely breakfast, eighteen holes, luncheon banquet, eighteen holes, dinner banquet, fall asleep on our feet, and the same routine the next day. The Annika Sorenstram and Vijay Singh courses fell by the wayside.
We sampled the myriad dining options this way, and some of us tucked in happily while others eyed the more jellied options with suspicion. As Eamon Lynch, an editor at GOLF Magazine, put it: "I love Chinese food–just not real Chinese food."
We also met members of the Chu family and others involved in the running of Mission Hills, an impressive feat of human engineering. There are 7,000 employees at Mission Hills, all held to a high standard. "There's no room for failure," said Ken Chu, who appears to work as hard as anyone else, and even plays his golf at a dead run. He once clocked a round of 18 holes on the Singh Course in 56 minutes. ("But it's the flattest and therefore quickest," he said modestly.)
I was happy that my first swing in China landed in the fairway of the Leadbetter Course, since that was the one I was playing, though I was still adjusting to travel fatigue and the sheer impact of the Mission Hills logistics. There was a sense of incongruity, as well, pondering the opulent surroundings and lavish homes surrounding some of the courses (selling for up to $20 million) being in China at all.
The uniformed, red-clad ranks of caddies ranged at attention near the golf course staging areas seemed more of a piece, if still exotic. The 3,000-strong caddy force, all women in their mid-twenties, is a vital part of the golf experience. Each player is assigned a caddy who rides on the back of the golf cart and is indefatigable in her duties, if usually a little shaky with English. (Still better than my Chinese, of course, although I did learn "Kàn gíu!" for "Fore!")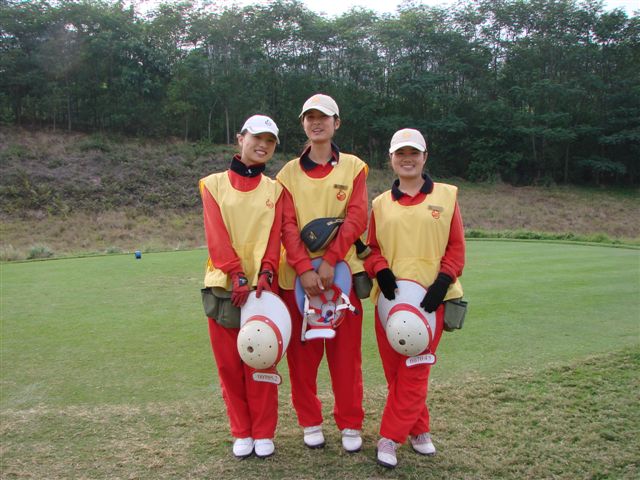 There's nothing quite like it for a typical hacker hearing a quartet of young women murmuring and then breaking out into, "Oh, good shot!" after a booming drive. Hearing the one-word judgment, "Rough," was another matter, since the rough at Mission Hills is more of a low and leafy vegetation that effectively swallows balls whole. "Rough" really meant, "You're screwed; better drop and hit another."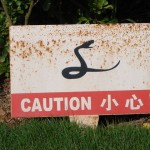 Aside from the caddies, once out on the courses themselves, it's just golf, naturally, with some fecund tropical vegetation and snake warning signs added for spice. But the impressiveness of the achievement remains, because the courses themselves are of such distinct and agreeable character.
Brian Curley suggested that the Nick Faldo and Olazabal courses are emerging as favorites. The Greg Norman Course is one everyone wants to play (at least once) because the mandate was to build one of the toughest courses in Asia, and it is–beautiful, but death to high handicappers. I played it with the writer Ed Schmidt (no relation to Lee Schmidt), and we deemed it "Golf Gone Wild," a judgment that could pertain to the entire enterprise.
I should say the golfer formerly known as Ed Schmidt; he now prefers the sobriquet Ace, since he put one in the cup on the par-3 thirteenth hole of the World Cup Course–while we were teeing off simultaneously, I might add, as we were running out of light that afternoon.  This is a story that begs to be (and will eventually be) gone into further.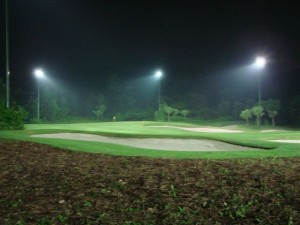 Four of the courses are equipped for night golf, so we tackled the Jumbo Osaki Course well after sundown one evening, although I can't remember if it was before or after our seven-course dinner banquet. We played a few holes of the Duval Course with executive director Tenniel Chu, and enjoyed some of the classic golf hole replicas on the par-3 course, the Zhang Lian Wei (named after China's highest-ranked golfer, pronounced, oddly enough, like "John Elway"). Only the Pete Dye Course came in for brickbats from our group due to its extreme mounding and odd strategic choices.
According to forecasts by the World Tourism Organization, China should overtake France as the world's top tourist destination by 2020. Mission Hills strongly suggests golf will play its part.
Indeed, while giving us a tour of the Olazabal Course, Andre Dupont, a Canadian lured out of retirement to oversee Mission Hills tournaments, could barely contain his own astonishment; "I've never seen anything like Mission Hills, because there is no place like this. It's a city, really."
And yet, Dupont said, there were plans afoot for Hainan Island that would make Mission Hills look puny. This amazing aside, alongside the news that the Schmidt-Curley team had opened that office on Hainan Island, soon fed the rumor that the Chus were planning a complex of 36 golf courses!
No one would remotely confirm this, but no one out and out denied it, either. Thirty-six golf courses in one place? Goddess of Mercy!