[Some of the numbers are a little dated in this 2017 piece, but the jitters one feels in playing the seventeenth hole at TPC Sawgrass remain in full.]
Open for debate is whether it helps to have a look at the famous island green at the TPC Sawgrass Stadium Course the day before one plays it. It all depends on just how much anticipation one's mental faculties can handle.
It's probably enough to tee off on the course where the Player's Championship is held annually and knowing that No. 17 is lingering about four hours away. But on a January trip to Ponte Vedra Beach and its Florida environs a few writers had a tour of the course and the fabulous clubhouse a day preceding our round there.
So naturally we heard all about the some 140,000 balls that frogmen retrieve each year from the pond surrounding the course's largest green, PGA Tour pros obviously not exempt. Since the Tour started counting in 2003 the pros have dunked 701 shots, and poor Bob Tway still holds the record for drowning four in one round in 2005, on his way to a 12 for the hole. (To add insult to injury, he three-putted.)
This year's tournament [2017] was May 11-14, and it's a compelling draw. About 215,000 attended last year, and few tournaments are set up so fully with the fans in mind. "It's a six-month project to put it up and take it down," said Sawgrass general manager Bill Hughes. "We start building this city early in January."
Attendees this year found easier entrance and exit routes, expanded food service areas, and a one-third sized replica of the 17th hole to try—a 33-yard shot surrounded by 80,000 gallons of water.
They also found sight lines on the course improved, as it underwent a major renovation following last year's tilt, the newish course just opening in November. The pros contended on resurfaced TifEagle Bermudagrass greens and faced reconfigurations of holes six, seven and 12. The latter has actually been shortened to 302 from 360 from the back tee, giving the pros a risky chance to drive the par-4 green.
[That's exactly what 21-year-old Si Woo Kim did on Sunday this year, on his way to becoming the youngest winner in the tournament's history, finishing at -10 and three strokes clear of runners-up Ian Poulter and Louis Oosthuizen. For the record, 67 balls went into the drink at 17.]
Designer Pete Dye always contended that the sixth hole was the most beautiful hole on the course, but that mounding between the sixth and seventh holes obscured it. So that mounding has now been removed.
Taking the Waters
The only problem with attending the tournament is that one can't then play at the Stadium course. But with 70 other tracks in the area (including Dye's Valley Course at TPC Sawgrass), finding an open tee is not a problem. And as Gary Player once said about the World Golf Hall of Fame, "If you love golf, you've got to go," and indeed one should, as it's a half-hour south of Sawgrass.
We had a short but in-depth tour of the Hall from golf historian Dr. Tony Parker, and he pointed out that one could whiz through the 35,000 square feet of exhibit space in a half-hour. But even the mildly golf obsessed will be glad to hear that a ticket is good for two days, because there's that much to soak in. I imagine I could have spent an entire day in the Members Locker Room, where some of the 155 members of the Hall have filled lockers with their golf bags and other memorabilia pertinent to their careers. Those who somehow get a little misty-eyed at seeing a shriveled glove once worn by Arnold Palmer know what I mean.
Then there's the chance to take a few swings at the Hall's outdoor Challenge Hole, a 132-yard swipe over water to a green that bears more than a passing resemblance to 17 at Sawgrass. (I was 1 for 2 on this warm-up.)
Non-golfing options are legion just a little further south in St. Augustine, sometimes called a small drinking town with a fishing problem. St. Augustine is virtually built for tourism, with 450 years of inhabited history to call upon, and historical sites ancient and modern criss-crossing with head-spinning regularity. Which is why one of the hop-on hop-off trolley tours that cruise around the town are a good way to start one's investigation.
Some 6.3 million visitors arrive annually to St. Johns County (including Jacksonville and Ponte Vedra). They head to the beaches, the golf courses or to some of the 60 historical attractions and sites in St. Augustine alone. Aside from the sprawling and fascinating Castillo de San Marcos National Monument, which the Spanish began constructing in 1672 to protect their interests in La Florida, one can always drop into the Ponce de Leon's Fountain of Youth Archaeological Park for a sip from the fountain itself. This seemed like a great idea the day before I was going to play Sawgrass, as long as I realized the Park's tagline is "Where Legend Meets History."
For a chaser one can head north to Jacksonville and set out on the JAX Ale Trail. For a craft beer fan like me (or beer snob, as my wife puts it), visiting Florida was once more of a penance than a pleasure. Those days are over, and the Sunshine State is now clearly adding its share to the ever-expanding roster of artisan breweries. I had no problem finding terrific beers at Green Room Brewing, Aardwolf Brewing Company, Intuition Ale Works and Zeta Brewing Company, as well as finding others by Engine 15 Brewing Company and Veterans United Craft Brewery.
I was clearly infused with sober wisdom after all this, and chose the 6,086 yard white tees at the Stadium course, still a fearsome 140 slope. The better golfers in my group moved back a tee, and yet I was the only player of the foursome to keep it under 100 (if barely).
And on 17? I actually moved back to the blue tee, a 128-yard shot this day. It was mild and sunny, the wind light, as opposed to its often swirling quality here. Obviously there's no Goodyear blimp view from the tee. The landscaping is a riot of flowers, and the shot doesn't look that tough. It's not that tough, really—but there's a lot of water, and that gets into one's head.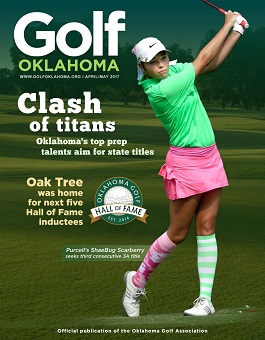 I pulled out a nine iron, but hit it a little thin. Still, I managed to plop one down into the small pot bunker on the right front of the green, managed to blast out and still keep it dry, and had a routine two-putt for a bogey. No problem.
Actually, while still on the tee, I took a second shot so the forecaddie for our group, doubling as a photographer, could take a mulligan on figuring out my phone camera. So with no pressure I launched a second shot. Rinsed.
This piece originally appeared in the April-May 2017 issue of Golf Oklahoma magazine, in slightly different form.