I sort of wish I could begin every beer review this way, but there is a point to this classic introduction to many a J. Arthur Rank Enterprise film:
The point being, what does this have to do with Banana Bread Beer?
It's a closer connection than might be expected. The man banging the iconic gong is Billy Wells, better known as Bombardier Billy Wells, famed as a British heavyweight boxing champion, but also a descendant of Charles Wells, who founded the Charles Wells Family Brewery in Bedford, England in 1876, all for love.
Wells was a merchant seaman, but he fell in love with a local lass, Josephine Grimbley, whose father forbade the pair to marry if Wells was going to be constantly away at sea.
So Wells bought a property on the banks of the River Ouse that included a coal depot, a brew house, and 35 local pubs, and set about creating a brewery and a family. Five generations later, both are still going strong, and still using the water from a well the founder sunk in 1902.  The brewery has moved from the original site, but is still in Bedford.
Three Wells family members are still involved in the enterprise, which is now called Wells and Young's, after the 2006 merger with Young's and Co. And the following year the company also took over the Courage line.

Wells Bombardier Bitter is the flagship brand, and according to head brewer Jim Robertson, "The beer is a tribute to the British Royal Artillery, which the Wells family has a history of service in. But it was really named after Bombardier Billy Wells, and as film buffs know, Billy was the man who banged the gong at the beginning of the Rank Organization films."
I'm not too sure that many film buffs really do know this. Especially since there were actually four men who greased up for the Rank films logo sequence. Wells was the second who swung the hammer, but a further bit of history suggests the gong was never actually struck, since it was made of papier-mâché. The sound was dubbed in by a percussionist named James Blades. No known beers named after him.
The brewery introduced its Banana Bread Beer in 2002, but I only recently heard about it. Now that I have, there seems to be a growing amount of buzz about it of late, and it's certainly an attention-getter, beginning with the label that shows a glowing glass emerging from peeled banana skins.
There's an inviting–one is tempted to say cake-like–amber color to the beer. A mild but sturdy head gives rise to the unmistakable and inescapable aroma of banana bread.  I'm a banana bread fan, so no worries for me there.  Those less keen on banana bread, or bananas at all, should stand clear.
My wife picked up some licorice aromas and as the beer warmed I began to think of (and crave) those old circus peanut candies–which had nothing to do with either circuses or peanuts, other than that the marshmallows were molded to look like large orange peanuts, and then artificially flavored with banana.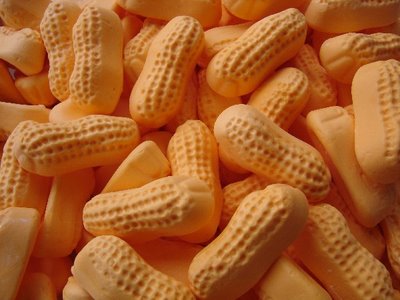 Indeed, while this particular beer is brewed with bananas (and Fair Trade Bananas at that), banana flavor is also added, and that's probably where a majority of the aroma comes from.
The pleasant surprise is that the beer is really quite tasty, certainly sweet, but not overly so, and mainly from malt, not fruit.  The beer doesn't try to be any more wacky than what it is, an English ale brewed with bananas and some banana flavoring. There's some mild hop bite at the finish (Challenger and Goldings hops), and it's all in all quite agreeable–if you like bananas. Or circus peanuts.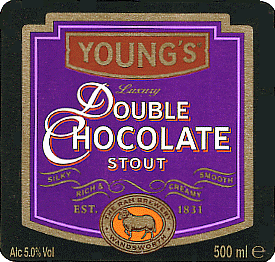 One of my Twitter friends–and I'm not sure she knew that the brewery produced both the Wells and Young's portfolios–has suggested that it might be interesting to blend the Wells Banana Bread Beer with the Young's Double Chocolate Stout.  Well, now, it might, mightn't it?
Name: Well's Banana Bread Beer
Brewer: Wells and Young's Brewing Co., Bedford, England
Style: Specialty Ale
ABV: 5.2%
Availability: Nationwide
For More Information: wellsandyoungs.co.uk or belukus.net