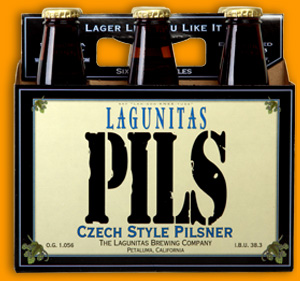 (Feb. 1, 2010) Drinking a pilsner in the dead of a Vermont winter isn't the most seasonally targeted drinking I could be doing; strong dark ales are better suited to the long dark nights of the colder months.
But I was actually returning from the PGA Show in Orlando, where it was shorts weather for a few days; driving back from the airport, I stopped for gas in Northampton, Massachusetts, not far from the Table & Vine selections at the Big Y supermarket there, and the sirens called:
As Lagunitas isn't distributed in Vermont, I picked up a few bottles from the Petaluma brewery.  (The company began its brewing days in Lagunitas in 1993, and the name has stuck.)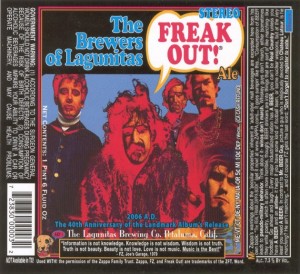 I'd heard a lot about the brewery, particularly its creative label writing and imaginative seasonal offerings and one-offs, such as the plan to release beers commemorating the 40th anniversaries of each album release by Frank Zappa.  (There were five, from Freak Out Ale to Reuben and the Jets Imperial Stout, before the Zappa Family Trust zapped the plan.  Too bad: I'm curious what the brewery would have done with Burnt Weenie Sandwich.)
The Pils and the IPA are among the year-round brews pouring forth from Petaluma.  The former is called a Czech Style Pilsner, which naturally begs comparison with Pilsner Urquell.  It doesn't suffer thereby, though it's lighter in both color and flavor, if stronger in alcohol.  It's straw-colored, appropriately floral, nicely bitter, if a bit thin overall.  I owe it another try in warmer weather.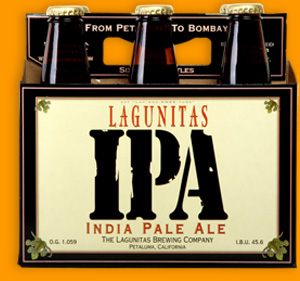 The IPA was certainly a nice chaser.  The brewery claims this is the best-selling IPA in California, and enough inertia has set in that I'm not going to check.  It also claims that it is a "homicidally hoppy ale," and here I respectfully disagree. I'm still walking.  There is plenty of citrus character from the Cascade and Centennial hops in the mix, but even non-hopheads might find this a good go-to beer.
The Pils is a lager, the IPA is an ale.  What's the difference?  You have to love a brewery that explains it so clearly on the bottom of its six-pack carrier: "Where an ale might hit you over the head and take your wallet, lagers donate to charity and adopt stray cats.  While an ale might steal your car or try to date your daughter and keep her out all night doing who-knows-what, a well-bred lager would offer to clean your house while you're on vacation and leave fresh scones and coffee for you when you return…."
Any questions?
Name: Lagunitas Pils, Lagunitas IPA
Brewer: The Lagunitas Brewing Company
Style: Bohemian Pilsner, India Pale Ale
ABV: 5.3%, 5.7%
Availability: Both year-round, primarily in the west, but now in about 30 states
For More Information: lagunitas.com