[Aug. 18, 2011]  I came out to Seattle this week for the launch of SIP Northwest, a new magazine devoted to the heady libations of Oregon, Washington and British Columbia, with a soupçon of Idaho and Alaska. The debut issue includes pieces on barrel-aged cocktails, the merlots of Walla Walla, Portland's raging coffee scene, and one I wrote on 15 essential craft beers, which I'll post here soon.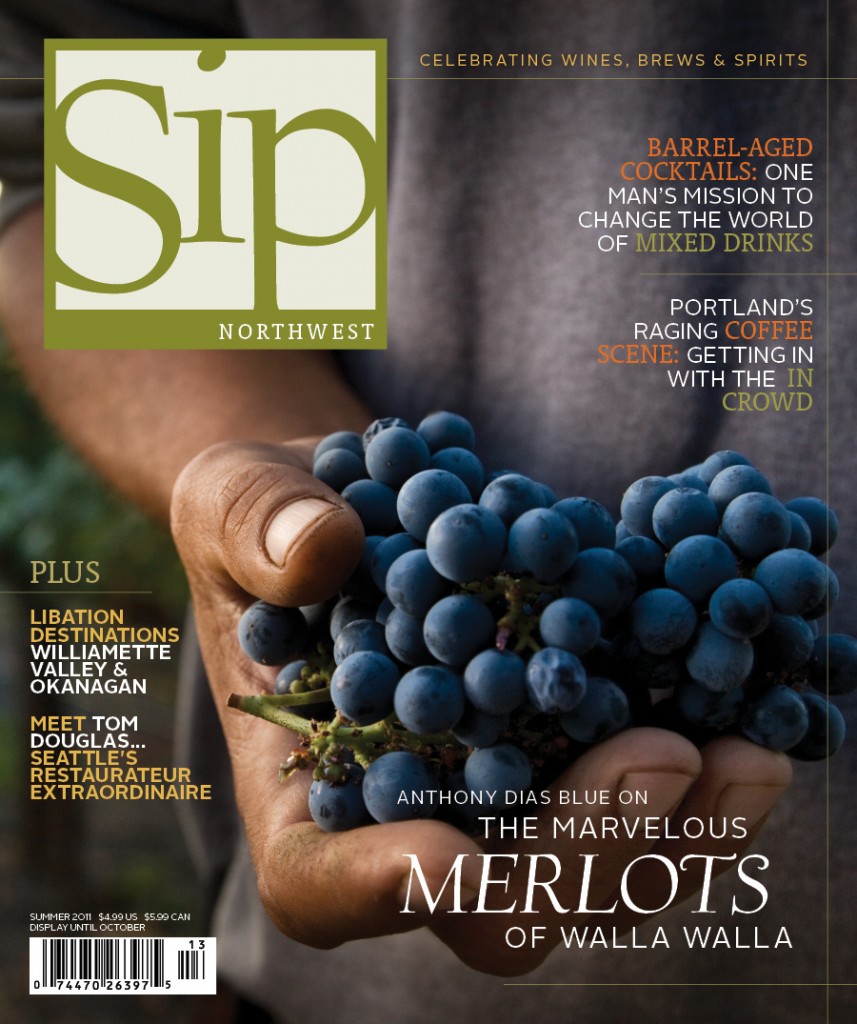 I included the Pike XXXXX stout, so I had every intention of downing one (at least) at the brewery. But with a late arrival from the east I remained in the outlier district near Sea-Tac airport my first night in town, venturing no further than Sharp's RoastHouse, a busy BBQ joint within walking distance.
Sharp's sported a respectable 26 taps of mostly northwest brews, 23 more than I could handle in one sensible night.
While passing the time with other transients bellied up to the bar I soon acquainted myself agreeably with Fremont Interurban IPA (6.2% ABV, and belonging to that slim genre of beers named after outdoor sculptures), Maritime Pacific's Nightwatch Dark Ale (listed as 7% ABV on the Sharp's menu, but 5.5% on the brewery website) and a Flyers Pacemaker Porter (5.5%).
The latter brewery hews to an aviation theme in naming its beers, which seemed apt as I was talking to two commercial pilots at the time. Phil Spencer of Delta, who lives in Honolulu, was in town for an annual golf jaunt with friends, this year to the Sunriver Resort in Oregon.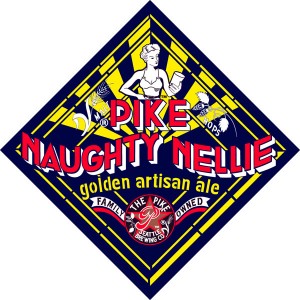 I didn't even bring my sticks on this trip, even though SIP's editorial director, George Fuller, and I go way back more in terms of golf than spirits. But we restricted our exercise on this trip to elbow-bending, meeting up yesterday to grab lunch at Pike.
We had hoped to run into Charles and/or Rose Ann Finkel, but as they were busily getting ready for an imminent trip to Africa, we had to content ourselves with Naughty Nellie, a 4.7% blonde ale that seemed well-enough behaved to us.
George and I took a lengthy break to tour the Pike Place Market and along with the rest of the tourists watch a fish or two go flying. But in a few hours we were back in the same booth at Pike's Brewing with SIP writer Jacqueline Pruner and designer Randi Karabin, swapping mostly Pike beers from different samplers. This included the XXXXX Extra Stout, a regular in the portfolio after an on-again off-again history, not unlike that of the Finkels.
It's tough to overestimate the impact of the couple on the contemporary beer scene; they had a major hand in getting it all rolling in the first place, that place being the late 1970's, through their seminal beer importing company Merchant du Vin, begun in 1978.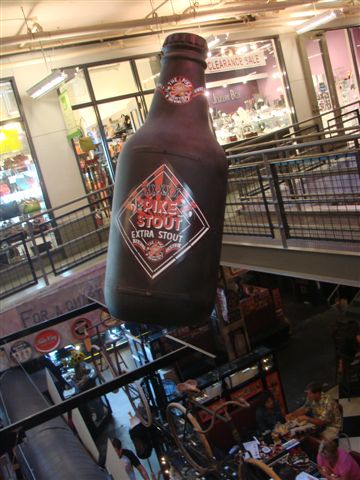 I have a bit of that history here. Not only were the Finkels helping to revive nearly lost styles, they were doing much to educate U.S. palates. Eventually, they decided to do it themselves–enter the brewing company in 1989.
Broadly curious and eager to try their hands at new endeavors, the couple sold both companies in 1997. But after wandering in the wilderness for a few years, the old yearning returned, and they reacquired Pike Brewing in 2006. It looks like they're now here for the duration, as is the XXXXX Extra Stout, which floats above the brewery/restaurant action in a giant inflatable bottle.
The XXXXX is a no-frills stout's stout, black as night, suffused with roasted malt aromas, chocolate, licorice and coffee flavors. It's all balanced well with Chinook, Willamette and Goldings hops, for a smooth, chewy and filling pint. Well, it was after I drained the insufficient sample glass and ordered a pint to dive into, as the beer deserves.
The launch party was held at the Wine World Warehouse, and the emphasis was indeed on wine, varietals served up from Barnard Griffin, Cooper Wine, Swiftwater Cellars, Terra Blanca, Gordon Brothers, sparkling wine from Treveri, cocktails from two different Maker's Mark blends, chocolate from Forté and other goodies.
But Daniel Lee of Seattle's Odin Brewing Company was there as well, saving the day for beer nuts with a Kölsch-style Freya's Gold (4.5%) and the juniper berry laced Odin's Gift, a 5.4% ruby ale.
It was a grand event, but we weren't finished yet, as most of the SIP folks present went off for a late bite to eat at Murphy's, said to be the first Irish pub in Seattle. Naturally, there was Murphy's and Guinness on tap. But I went with the cask-conditioned Diamond Knot IPA (6.2%), since I'd already had my stout for the day.
Name: XXXXX Stout
Brewer: Pike Brewing Company, Seattle, Washington
Style: Stout
ABV: 7%
Availability: Year-round in WA, OR, ID and MT, sometimes AK, and in select Total Wines stores on the East Coast.
For More Information: www.pikebrewing.com