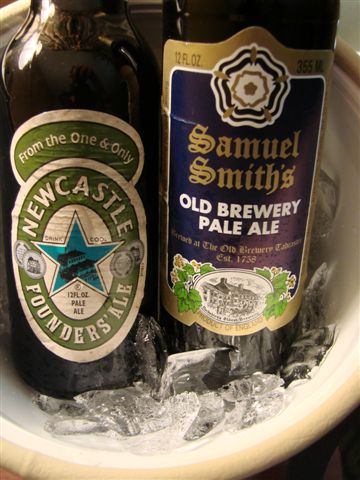 For once in this recent "versus" series we actually have two beers in the same style, pales ales from some venerable English names. And we have a clear winner, too, as Samuel Smith pretty well stomps on Newcastle.
Not to say I wasn't mildly excited to find the Newcastle Founders' Ale in the local Newfane Market recently. I'd managed to not hear a thing about the beer, and so running across something new from a company that has sent us only Newcastle Brown for years was titillating.
Newcastle Brown used to be titillating itself years ago, when there wasn't much else on the horizon. Hell, even Heineken used to be titillating back in the desperate 1970's and early '80s. (Corona was never titillating, however. Negra Modelo, Bohemia, yes. Corona, never.)
Actually, if I have my beer mergers and acquisitions up to date (no sure thing), Heineken UK now owns Scottish & Newcastle, which took over Caledonian Brewing. Which means Newcastle is actually a Heineken product.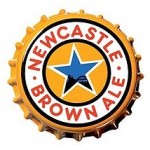 It's hardly been a go-to beer for me in recent years in any case, not that there's anything wrong with it. Still way better than a sharp stick in the eye, it just seems a little bland in the current beer landscape. But I say this not having had one in awhile, and maybe I should, whilst paying attention to it.
Newcastle's Limited Edition Ales were introduced last year about this time, and has run through three other seasonals which eluded me completely: Summer Ale, Werewolf and Winter IPA.
The Founder's Ale had a nationwide release in February and will be wrapping up its allotted time by the end of April. Presumably the Summer Ale will then reappear.
The front label has a blue five-pointed star said to represent the founding brewers, that presumably of the original Newcastle Breweries in the latter half of the nineteenth century, and not the originator of Newcastle Brown in 1928, one James Herbert Porter. The brewery shown inside the star is that of Newcastle upon Tyne, but according to the back label this batch was brewed by Thomas Hardy Burtonwood Ltd in Burtonwood.
There's a neck label which calls it, "A Blighty Good Brew." No idea what this could actually mean, though the beer is certainly drinkable. There's a faint caramel nose which follows through with a mild caramel flavor. There's a vegetal touch, but the beer is thin on the palate with little mouthfeel. The Styrian Goldings hops do give it a drying finish. But overall, to paraphrase Gertrude Stein, there's not much there there.
Compare the color of the Founders' Ale, on the left in this photo, with the Samuel Smith's Old Brewery Pale Ale on the right, and at least one of the differences in the two beers is apparent.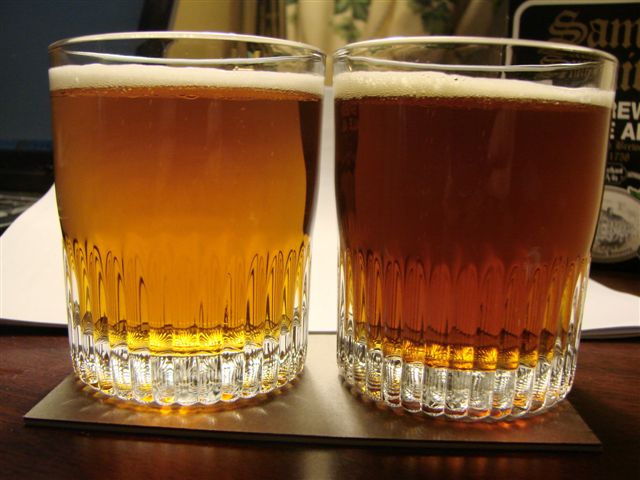 By further contrast, aroma is pouring out of the glass of the Smith's beer–a whiff of butterscotch, a bit of plum. There's a fuller mouthfeel, a toffeeish flavor–a malt-accented beer to be sure, but with a finish that feels better balanced as well.
I just happened to notice that the beer is now in a brown bottle, too, whereas it was once dangerously in clear bottles. When did that happen?
The Old Brewery Pale Ale is hardly a new or seasonal beer. More like an old friend that you haven't seen in awhile, but always agreeable to run into again.
April appears to be the month for the second annual Samuel Smith Salute, an acknowledgement of this and the influence the brewery and its beers had on the U.S. craft brew movement. I did something of the same in a post about the company's Yorkshire Stingo, and suggest clicking here for some of that history and information about the Yorkshire stone square fermenters still in use.
Name: Newcastle Founders' Ale
Brewer: Heineken UK at Thomas Hardy Burtonwood Ltd, England
Style: Pale Ale
ABV: 4.8%
Availability: Nationwide through April
For More Information: www.newcastlebrown.com
Name: Old Brewery Pale Ale
Brewer: Samuel Smith, Tadcaster, England
Style: Pale Ale
ABV: 5%
Availability: Nationwide, year-round
For More Information: www.merchantduvin.com