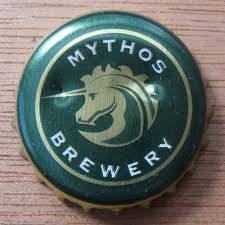 What was I saying in the last post about a long travel day? It may simply be that Turnberry isn't the ideal jumping off point for a golf holiday in the southwest Peloponnese region of Greece, at least not until the high speed roads are finished most of the way to the Costa Navarino resort in Messinia. (A project that should be completed in a few months, our band of golf journalists was told.)
As it was we left Turnberry about 10 in the morning, and after two long drives and one flight in between we arrived at Costa Navarino after one the next morning. What with an early tee time the next morning it was even too late for a beer (although I had no problem tucking into fruits, nuts and sweets spread out in my luxurious Westin suite).
But I sort of knew what was coming. Once off the plane, into the Athens airport and onto the road, I saw the signs, posters, billboards for the mainstream Greek beers—Mythos, FIX, Alfa. And ultimately these were all the beers I managed to find on my first visit to the country.
Costa Navarino, an opulent outpost in every way, certainly suggests that the glory that is Greece may well now extend to golf. But the country still has a long ways to go as far as brewing is concerned.
[Click here for a more extended piece on Costa Navarino.]
Alfa Beer is a 5% ABV lager produced by the Athenian Brewery, and it is utterly forgettable. FIX and Mythos are similar 5% ABV Continental lagers, both cleanly made, but with all the excitement another Heineken or Carlsberg engenders. (And Heineken is the largest-selling beer in the country.)
I probably would have fainted if I had found Mythos Red, a Vienna-style amber, or the FIX Dark, a black lager newly introduced to the market in February. But I didn't.
I knew from posts by Martyn Cornell ("Greece gets zythophilia") that I wasn't far from the Messinian Brewery (though there was no sign of its main offering, Neda, a pale German-style lager), and that micro-brewing life in Greece is indeed stirring.
Beers emerging from Santorini Brewing Company, Septem Microbrewery, Craft Brewery, Corfu Beer and others are beginning to rack up points on beer tasting sites.
None of which helped me at the time. I was on a bit of a travel leash, albeit a velvet one. So any suffering I was experiencing in the beer-drinking department was made up for in otherwise sybaritic living.
Considering that Greece was mired in an epic economic crisis, about to vote on a critical foreign loan agreement in parliamentary elections, the sumptuous Costa Navarino experience was like living in a parallel universe, as though we were Eloi with no Morlocks about to snatch us away. This was clear every time we sat down to a meal.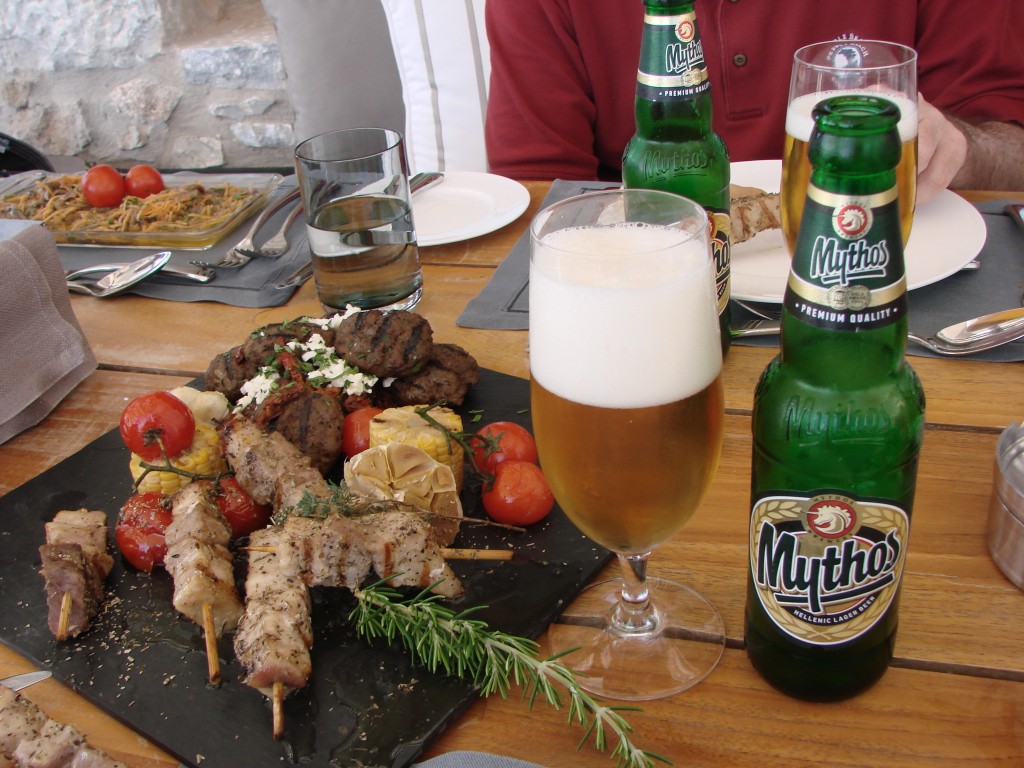 After a morning round at the resort's Dunes Course we had a luncheon that must have rivaled the banquet that old King Nestor spread before Telemachus when the son of Odysseus passed this way in ancient days.
Plates mounded with Greek specialties arrived in never-ending waves—skewers of lamb with rosemary and feta, lamb sausage patties, mammoth shrimp, octopi, talagani cheese, mousaka, pita with tsatziki, Greek salad, various breads, honeyed sweets… all that was missing were the dancing maidens.
And there was also my first, but hardly last Mythos Beer. After 18 holes on a warm day, the Mythos was certainly quenching enough. But it's pretty much like a million other pale lagers you've had. Think Carlsberg in this case, since the brewery is part of the Carlsberg Group since 2008.
Mythos was created in 1997, and has since become the largest selling Greek beer. It is exported to about 30 countries, and is in 34 U.S. states, although I've rarely (if ever) seen it on market shelves. Best bet for the curious—head to a Greek restaurant.
I had the FIX at an ingratiating outdoor restaurant right along the beach in the town of Gialova, in view of the town familiar to Homer as "sandy Pylos." My heart rate rose when I saw FIX Dark on a menu, but when it came to the table it was FIX Hellas, another pale lager of similar pedigree.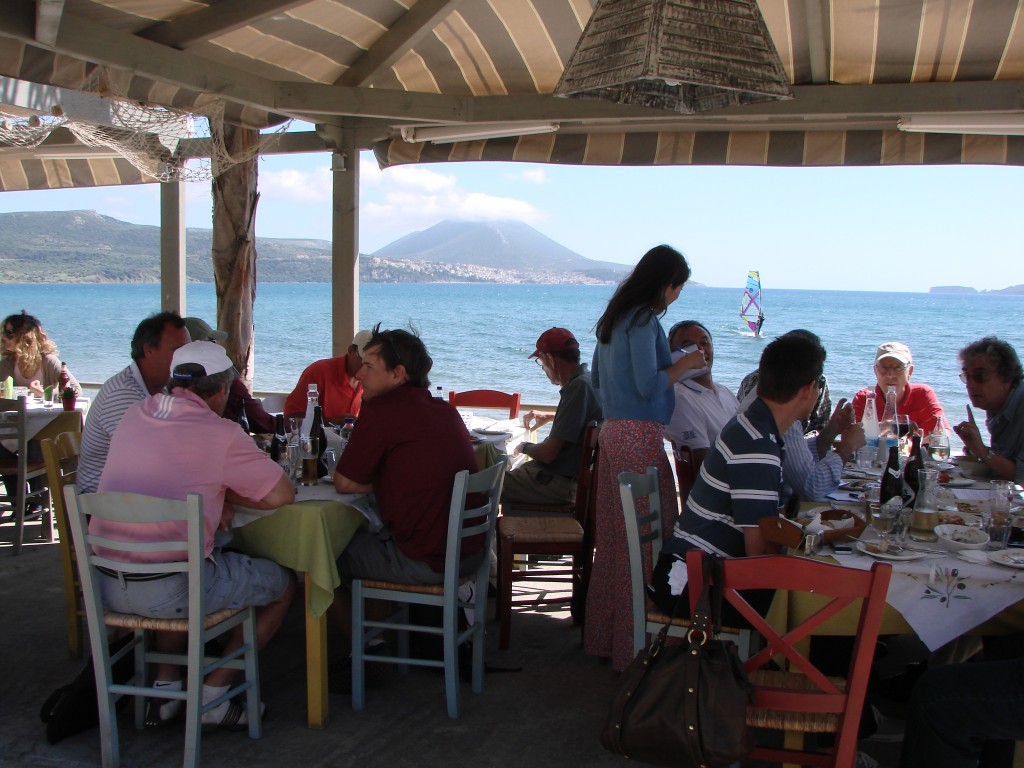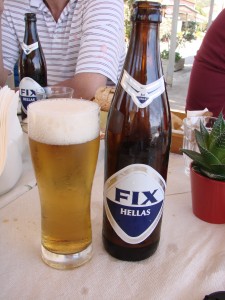 FIX has some history, in that a brewery of that name was founded in Greece in 1864 and had the game pretty much to itself for over 100 years. But its fortunes began to decline in the latter part of the 20th century, and it extinguished the brewing fires in 1983.
The Olympic Brewery started up after purchasing the FIX trademarks in 1995. After a false start and a sale the company steadied itself and FIX reappeared in 2010, trading on the historic note but apparently trying some new recipes, which is encouraging.
The lunch was another trencherman's extravaganza, so that one's subsequent attentiveness on a tour bus was not of the best, conscious sort. It was all right. "Even Homer sometimes nods," Horace wrote.
Ultimately we went for a hike in the hills overlooking the stunning Gialova Lagoon by what is purportedly one of the world's great beaches, Voidokilia. One can wonder whether Aristotle ever stood near the spot when he pondered, "In all things of nature there is something of the marvelous."
Aristotle was born about 35 miles east of Thessaloniki, home of the Mythos Brewery. There's probably nothing worth pondering there, but I'm thinking about it.
Name: Mythos
Brewer: Mythos Brewery, Thessaloniki, Greece
Style: Continental Lager
ABV: 5%
Availability: 34 states, most likely in a Greek restaurant
For More Information: http://www.mythosbeer.gr/?lang=en