[March 15, 2010]  There's still snow on the ground here in Vermont, and Wednesday is St. Patrick's Day, so it's still time to be drinking dark, stout-like beers, even if they may not be on the top of the pour list at the Brattleboro Brewers Festival.
This, our third beer in a 12-pack aimed at previewing the brewers at the May 22 festival, comes from the North Coast Brewing Company in Fort Bragg, California, which began brewing in 1988 and has just been solidifying its reputation year after year, beer after beer–from its Red Seal Ale, Old No. 38 Stout, Brother Thelonius Abbey-style Ale, to its Acme series of session beers, or two beers definitely slated to be poured at the Festival, the Scrimshaw Pilsner and the Le Merle Belgian-style Farmhouse Ale.
Its Old Stock Ale, a 12.5% ABV behemoth of a beer, is more notable for its smoothness than its strength, and I think the same of Old Rasputin, which is an extremely drinkable beer for a style that could be hard to handle.
I use the latter term advisedly. Reportedly poisoned, shot, clubbed, castrated and finally drowned in 1916, that Russian enigma Gregori Rasputin was said to have had a behemoth of a member, which may or may not have been discovered by a maid cleaning up after the grisly assassination. The, uh, item found its way to a group of female Russian expatriates in France, who worshipped it as a fertility object, until it was claimed by Rasputin's daughter, Maria, who died in Los Angeles in 1977. After that the object d'art was sold at auction, and the owner had it sent for analysis, wherein it was determined to be a sea cucumber.
The story doesn't stop there. In 2004 a museum of erotica opened in St. Petersburg, Russia, claiming to have the pickled remains of Rasputin's 12-inch penis in a jar. (I won't include a photo, but the curious can link to one here.)
Now that I've slipped down this dubious avenue, I might as well talk about Catherine the Great and her penchant for copulating with horses, which, goes one persistent legend, is what killed her, when the harness contraption she used to accomplish this amatory feat broke and she was crushed by the horse.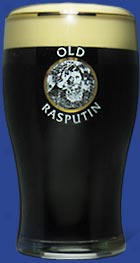 None of this is true, although Catherine did appear to have a voracious sexual appetite for males of her own species. She also had quite an appetite for Russian Imperial Stouts, so named because stouts brewed in England for the Imperial Court had to be made to higher gravity and alcohol levels to withstand the journey in the early 1800s, and so the style has come down to us today. I'll go into the history of it in more detail if–at grave risk of further double entendre–I ever get my hands on some A. Le Coq's Imperial Extra Double Stout.
Back on American soil, North Coast's founder and head brewer Mark Ruedrich commenced operations eleven years after Maria Rasputin died, and brewed his first batch of Old Rasputin in 1996. The last few years he has released small anniversary batches of the beer aged up to a year in bourbon barrels, available only at the brewery.
This year, Old Rasputin XII, the aging ratcheting the ABV up to 11.2%, is making the rounds in somewhat wider circulation. Those who find this beer should not drink it, but immediately send it to me for safekeeping.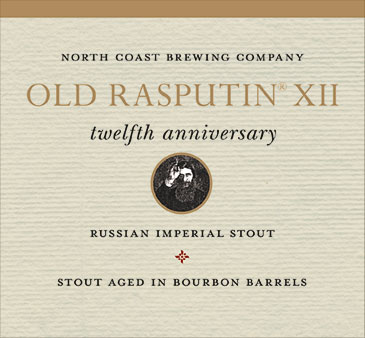 It's easier to find the regular bottled version and here, too, great contentment should ensue. The beer pours out with a frothy tan head that would make Starbucks envious.  It's loaded with chocolate and coffee aromas, some roasty notes and bready yeast.  It's a rich mouthful, sweet, even luscious, but nicely balanced by the hops.  Mostly, it's smooth, and goes down real easy.  Nothing like the actual Rasputin.
Name: Old Rasputin Russian Imperial Stout
Brewer: North Coast Brewing Co., Fort Bragg, California
Style: Russian Imperial Stout
ABV: 9%
Availability: Year-round, nationwide (except for AK, WV, RI).
For More Information: northcoastbrewing.com