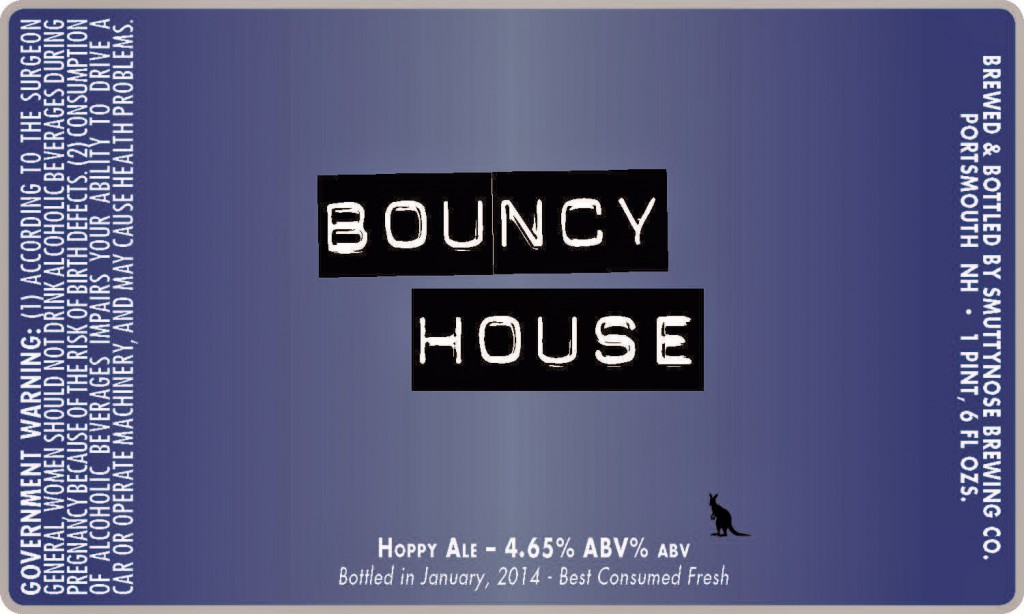 [Feb. 24, 2014]–Full disclosure here—my daughter and son-in-law, Jennifer and Glenn Brunetti, took the plunge last year and opened up Wildwood Barbeque in Hadley, Massachusetts. Life has had a bit of a smoky tinge to it ever since.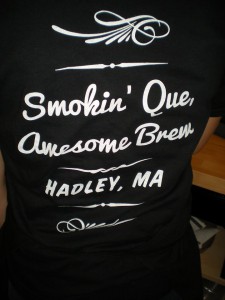 I have no financial interest in it, only familial, and lent what hand I could in terms of beer. With help from Gary Bogoff of the Berkshire Brewing Company, we steered Glenn away from serving any crap beer. Now there are eight craft beer taps running all the time, and as it says right on the Wildwood t-shirts, "Smokin' Que, Awesome Brew."
I expect to be there on Wednesday, March 5, when the Smuttynose Brewing Company takes over the taps from 5 to 8 pm, the first of a Tap Takeover Night series. Good for beer-lovers, good for BBQ fans, heaven for the barbeque-loving beer nut. Current plans are to set aside the first Wednesday of each month for the Tap Takeover Night. Nothing is set in stone yet, but the tentative schedule so far:
April = Berkshire Brewing Company, Deerfield, MA
May = Element Brewing Company, Millers Falls, MA
June = Peoples Pint, Greenfield, MA
July = Troegs Brewing Company, Hershey, PA
Aug = Lefty's Brewing Company, Greenfield, MA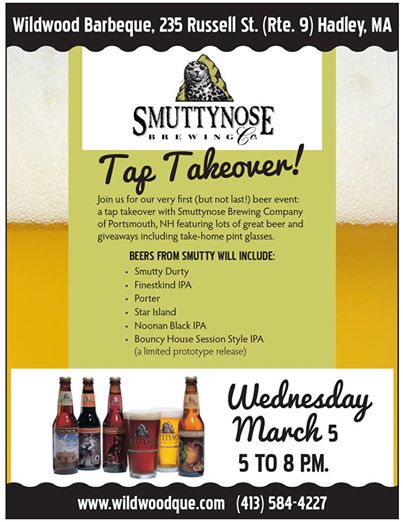 To repeat some of the history I outlined in a previous review of the Finestkind IPA and Star Island Single, the Smuttynose family tree is actually rooted in the Northampton Brewery in Massachusetts, opened by brother and sister Peter and Janet Egelston in 1987, making it New England's oldest operating brewpub.
Portsmouth Brewery was New Hampshire's first brewpub, opening in 1991. And after buying the assets of the defunct Frank Jones Brewing Co., the Egelstons launched Smuttynose early in 1994. (The pair have since split the assets, Janet running Northampton, Peter the New Hampshire properties with his partner Joanne Francis.)
The first Smuttynose beer, Shoals Pale Ale, was released in July, 1994, so the company is actually celebrating is its 20th anniversary this year. And it's celebrating in a big way, by soon opening up a new production brewery a few miles down the road from Portsmouth in Hampton, New Hampshire.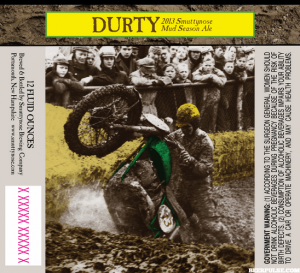 At Wildwood, along with year-round beers Finestkind, Star Island and Robust Porter, Smuttynose will pour its quickly vanishing Durty, a Mud Season Hoppy Brown Ale, and the just re-released Noonan Black IPA seasonal. (More on that next week.)
Of arguably greatest interest to the beer curious is a chance to sample a work-in-progress, the latest prototype of Bouncy House. Perhaps best-described as a sessionable IPA—an ale that packs plenty of hoppy aroma and taste but still comes in under 5% ABV—and is scheduled to become a new year-round regular in the Smuttynose portfolio in May.
According to Jessica Rice, the Western New England Sales Manager for Smuttynose, "The log that Wildwood is receiving is part of a very limited prototype release, as we continue to dial in the recipe." She was kind enough to send a sample my way after I sent a growler down with my wife, who has been doing some bookkeeping at the restaurant.
Bouncy House has made a few previous appearances in New England, and the company itself has, so far, been careful to not quite pin either the "IPA" or "session" label on it, presumably to head off zealots who may argue that it's neither such thing.
What it is in its current pilot batch incarnation is quite promising. It's barely over the presumed 4.5% threshold for session beers (at 4.65%), although we'll avoid that debate for now, too.
Bouncy House 2.0 adds some Carahell to its previous malt bill of North American 2-Row, Crisp Pale Ale, Aromatic and C-60, and tries out a different hopping scheme altogether. An earlier version went with Warrior, Calypso, El Dorado and Citra hops. This time out Magnum is used for bittering (86.5 IBUs), Calypso for flavoring and dry-hopping, along with Saphir for additional dry-hopping.
The result is a wildly fruity nose, redolent of peach, with some hay notes, a mild mouthfeel with a moderate finishing bite. As I say, quite promising, as my sample seemed to vanish all too quickly. But I know where to try some more next week. [Feb. 24, 2010]
Name: Bouncy House
Brewer: Smuttynose Brewing Co., Portsmouth, New Hampshire
Style: IPA (?)
ABV: 4.65%
Availability: Year-round beginning in May, 22 eastern states and D.C.
For More Information: www.smuttynose.com