It's St. Patrick's Day, 2014, which means a lot of stout is being processed today and tonight. I bow to the inevitable, and remain glad that George Eagleson and Hannah Senitt made their more or less annual visit to Newfane, Vermont to visit Hannah's aunt, Mary Ann Clarkson.
Somewhere along the line Mary Ann put me on George's beer radar. This is a good thing, since George is the brewmaster at the F&M Brewery of Guelph, Ontario, which produces the Stone Hammer beers. So he always brings along some for me to try, even if we've seldom managed to be around at the same time to drink any of it together.
We'll fix that someday. Meanwhile, as in years past, Mary Ann delivered the beers to me after the couple had already returned home, and I've been agreeably working my way through them since: some of the brewery's Stone Hammer beers and a few from other Ontario breweries—Wellington County Brewery's Russian Imperial Stout and Kensington Brewing's Baldwin FishEye-PA. Beers we simply can't find here in Vermont.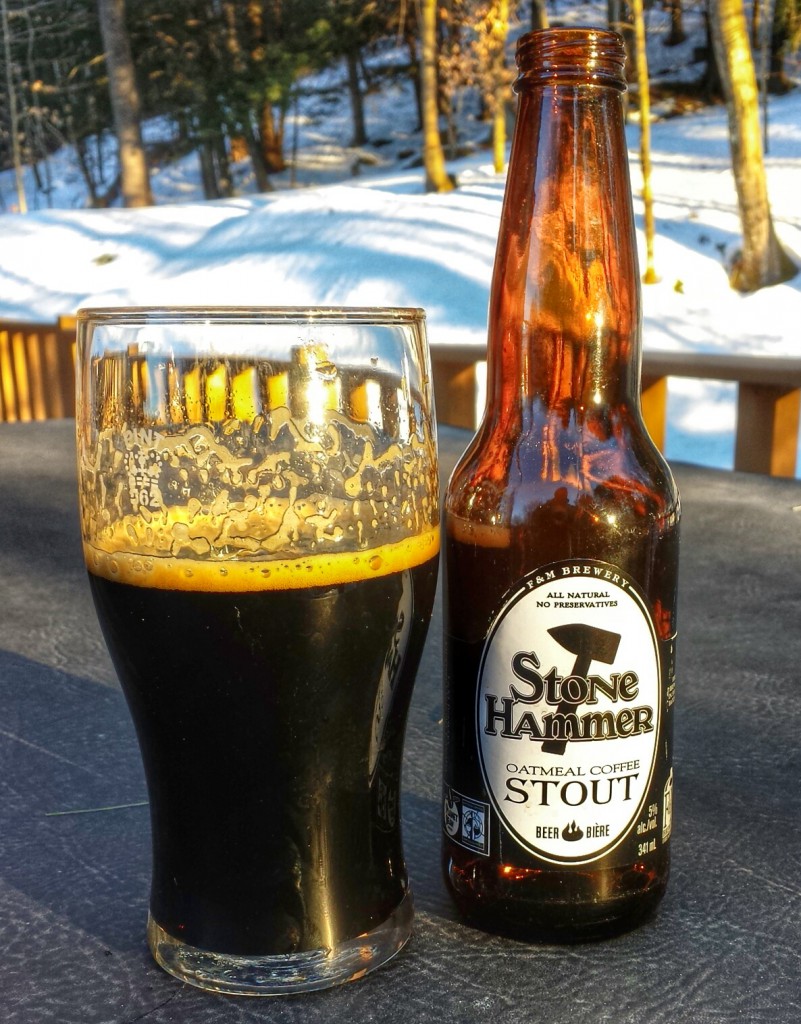 And then there are the mystery beers. Two unlabeled cans, one unlabeled bottle. So I cracked open one of the cans. It was some kind of strong, dark, stout-like beer, quite delicious. Thumbs up, whatever it was.
I was tempted to open the other can tonight, but I went with the labeled stout, the Stone Hammer Oatmeal Coffee Stout, which lives up to the name and then some. The oatmeal is surely what is adding a velvety texture to the beer and the coffee flavor could be right out of Starbucks, except it's out of the Guelph roaster Planet Bean.
Foisting some on my wife revealed a further crack in the wall of her beer resistance. Lynn said, "It's creamy, chocolately, coffeeish—like coffee ice cream. Oh, that's good!"
Progress. And I concurred; the richly dark brew had all sorts of chocolate and raisin notes, a full and creamy mouthfeel, and a moreish aspect, which was too bad since I actually had no more. So I finished off the last of several bottles of the Stone Hammer Dark Ale, a 5% ABV malt-accented brown ale that was also a real treat. Sláinte!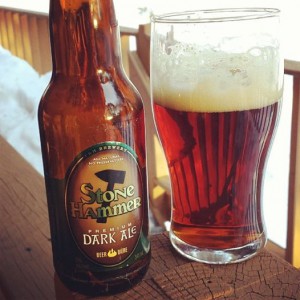 P.S. April 4: A few postscripts–since I first posted this one I polished off the other unmarked can and bottle. Neither George nor Hannah answered my emails or Facebook queries about what the beers might be—they may still be recovering from the annual Georgapalooza, a party for George's birthday, but also a fund-raiser for The Children's Foundation of Guelph and Wellington.
Hannah may be busy with BrewersCRAP, or the Craftbrewers Recycled Art Project, in which she turns otherwise disposed-of stuff from the brewery into useable and useful objects. Or as she puts it, "We take stuff from breweries that would be CRAP and turn it into stuff that is not CRAP."
Stuff like six-pack or growler carriers, wallets, market bags and bookmarks, which can be seen and ordered here.
But I did connect with F&M on Twitter. The genie behind their social media said the cans weren't theirs, but that the bottle probably was, perhaps the Autumnbock. But no–one look at its ruby hue, and one taste of it solved that case–it was the Maple Red Ale.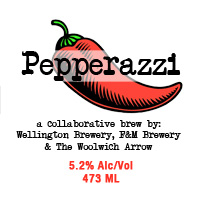 I was also rooting around in the refrigerator and found a nearly forgotten can George gave me a couple of years back. It was Pepperazzi, an eye-opening collaboration between various chili peppers, Wellington, F&M and the Woolwich Arms—the latter apparently one of the great pubs of Canada. I say nearly forgotten, because I then promptly drank it, and decided a trip to Guelph might be in order.
The last postscript is that the Ontario Beer Awards were announced last night, and every beer George gave me won a gold, silver or bronze award. F&M won four awards, including two golds. Not too surprisingly, they were for the best Honey/Maple beer—the Maple Red Ale, and the best Stout—the Oatmeal Coffee Stout.
Name: Stone Hammer Oatmeal Coffee Stout
Brewer: F & M Brewery, Guelph, Ontario
Style: Oatmeal Stout
ABV: 5%
Availability: Winter seasonal, Guelph and environs
For More Information: http://fmbrewery.com/