Walkers gasping for breath as they trudge up the eleventh hole of the Brattleboro Country Club may find it apt that the name "Stiles" is derived from an Old English word meaning "steep uphill path."
For most of its soon-to-be 100 year existence, the Brattleboro Country Club was a Wayne Stiles design. The Massachusetts-born landscape architect redid the original layout—which opened for play on July 1, 1914—in 1930, maintaining only one hole from Tom McNamara's original design, the par-3 first.
And that's pretty much the way the course remained for the next 70 years, until Steve Durkee's design expanded the course to 18 holes in 2000. That took McNamara's hole out of play, but kept all the Stiles' holes intact, a smart move.
Those whose memories stretch back to the last century remember BCC's nine-hole routing, and can still peg the current holes nine to 12 as "the old two through five," and 15-18 as "the old six through nine."
The old routing is still frequently used early and late in the golf season, and the Stiles' holes never lose their appeal, for the simple reason that Stiles was a master from the so-called Golden Age of Golf Design, though he doesn't often get credit for it.
Unlike other practitioners of his time, Stiles regularly failed to toot his own horn. He was well-liked and appreciated by his contemporaries, but he didn't write about his projects like Walter Travis, or court celebrity like A.W. Tillinghast. He was rarely photographed. He knew Donald Ross well, but seemed to consistently walk, uncomplainingly, in the shadow of the more famous designer. Indeed, many of Stiles' designs have often been mistaken as Ross creations.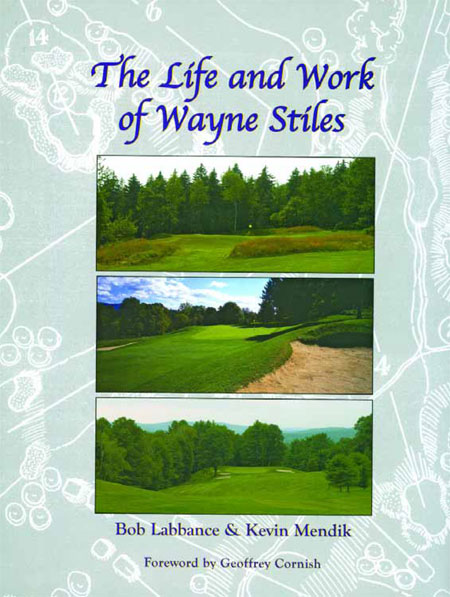 Kevin Mendik and the late Bob Labbance set out to adjust the scales somewhat, in what may have been a steep uphill path of its own. Their 2008 book, The Life and Work of Wayne Stiles, could be termed the definitive work on the designer, except that reports keep filtering into the Wayne Stiles Society website with new discoveries of courses, holes or layout that he may have had a hand in. (The website is www.waynestilessociety.com, and the book may be ordered there.)
"The numbers are a bit of a moving target," said Mendik, "but Stiles, or the firm Stiles & Van Kleek, designed over 150 courses from 1916 on, roughly 77 of them still in existence today."
Stiles did the majority of his work in New England, especially Massachusetts, and we're surrounded by his courses in this area—the Hooper Golf Club and the Keene Country Club across the river in New Hampshire, further north in Vermont at the country clubs of Barre, Rutland and Woodstock, the Taconic Golf Club in Williamstown, Massachusetts.
I did a quick count of Stiles tracks I've played and came up with ten I can remember without going into the scorecard vault. I'm not sure I've played more of any other designer's courses. (Ross, Nicklaus, Dye and Fazio would be the main contenders.)
Stiles was born in 1884. His father was a theater manager, his mother played some golf. Both Stiles and his older brother, Harry, took to the game early on and became proficient amateurs.
Stiles began an apprenticeship at the Boston architectural firm of Brett and Hall in 1902, and by 1905 was a member of the Brae Burn Country Club in West Newton (a Ross redesign). Mendik said, "He was a top amateur golfer at Brae Burn from 1905 to 1916, playing in numerous Massachusetts Amateurs and Massachusetts Opens.  He played against Francis Ouimet and teamed with Walter Travis."
There's no paper trail of his competitive golf after 1915, perhaps because he was busy with his own landscape architectural firm, which he opened in Boston that same year. In 1916 his first course design emerged, the 18-hole Nashua Country Club in New Hampshire.
He married Viola Crouch Small in 1923. A widow whose first husband had died in World War I, Viola had a five-year-old son, Harold, whom Stiles raised as his own. The couple had no other children.
Stiles course design work heated up in the 1920's, and in 1923 he formed a partnership with John Van Kleek, a native New Yorker then living in Florida. The partnership lasted until 1931, with offices in Boston, New York and St. Petersburg. Courses designed in the period are credited to both men, though it's generally assumed that the southern courses are mainly Van Kleek routes, the northern ones mainly from Stiles' hand.
Mendik says there's no way to say with certainty, since they consulted with each other, Van Kleek occasionally traveling north and Stiles south.
The Depression years slowed Stiles pace of work, and after 1930 jobs were more haphazard than regular. But he stayed involved, curious about advances in turfgrass science. He was elected a charter member of the American Society of Golf Course Architects in 1947, but was too ill to attend the first meeting. He died of lymphoma in 1953.
Is it possible to discern a Stiles' style? It may require looking up, says Mendik: "Stiles often sought out the high ground for greens, utilizing many false fronts. His bunkers varied in that many were unseen by approaching golfers, while others were clearly within the line of sight. He often sloped greens to match an approaching fairway slope, making for a challenging shot. He utilized considerable mounding, often to separate holes."
Think the first of his holes on the Brattleboro course, the ninth (the old second), one of my favorites. It calls for a careful but preferably long drive, and then demands a perfectly struck iron to a difficult-to-hold green, indeed on the high ground. A visible greenside bunker nags the player on the left, while the flat and largely invisible bunker awaits a shot that strays right.
It's not complicated. It's merely classic.
In somewhat different form this piece first appeared in the March 19, 2014 issue of The Commons, an independent non-profit weekly newspaper covering Brattleboro and the towns of Windham County, Vermont.
Related post: His Name Was McNamara, the Leader of the Band