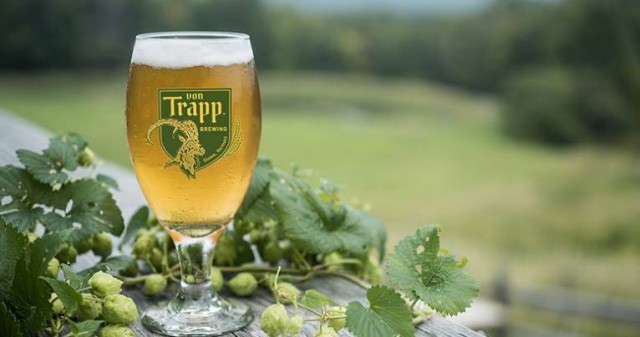 [Aug. 2, 2017]–What with von Trapp Brewing making a return trip Tap Takeover to Wildwood Barbeque on Thursday, August 3, I thought it might be fun to put the brewery's Kölsch-style brew up against the real thing, mainly a Kölsch from the only place that can righteously give its beers the Kölsch appellation—Cologne (Köln), Germany.
But while there will be plenty of von Trapp's excellent lagers flowing at Wildwood (Helles, Pilsner, Vienna, Dunkel and a mighty fresh Oktoberfest), the only fly in the ointment is that the Kölsch isn't going to be one of them; the warm weather seasonal has already sold out its Massachusetts allotment.
But with a few cans of it and the Reissdorf Kölsch on hand, well, here we are.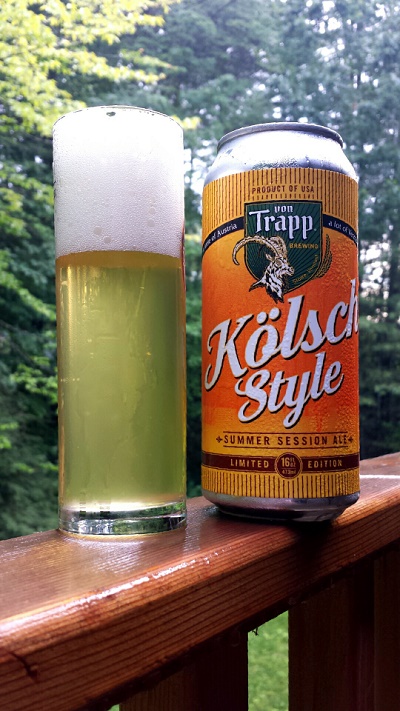 I know little of the Reissdorf brewery beyond what its U.S. importer, B. United International, reveals on its website—that the brewery was founded in 1894, 11 years before Cologne's top-fermented specialties were given the name Kölsch, and is still being run today by a fourth generation of the Reissdorf family in a modern plant constructed in 1998. It's said to be the largest of Cologne's Kölsch breweries.
Kölsch, the style, refers to a beer generally brewed with pale Pilsner malts, noble hops, top fermented with an ale yeast, but then cold conditioned like a lager. It's a bit of a hybrid, like Dusseldorf's Altbiers, though usually lighter in style, and coming in at 4.5% to a little over 5% ABV.
Drinking a Kölsch in Cologne is an experience onto itself. Any lively brauhaus will be patrolled by waiters (Köbes) who typically carry around trays with slots for a dozen small (.2 liter) cylindrical glasses (Stange) of Kölsch that need to be frequently replaced. This the waiters will do without even asking you, until you place a coaster over an empty glass to indicate you're through for the night.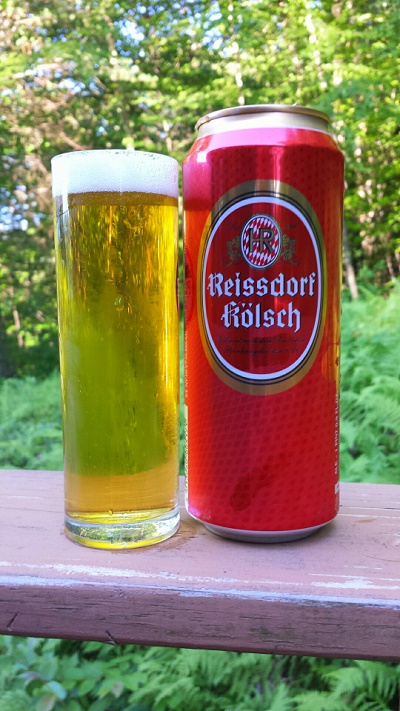 As for our contenders, the von Trapp is a light straw-colored beer with a slight haze, while the Reissdorf is a more golden, crystal clear brew. Both have initial pretty, creamy white heads. Beers don't always taste what they look like, but they come close in this case:
The von Trapp has a grassy, sort of new-mown edge in its nose, with some alluring light perfumy peach notes. The palate has a seductive lemony bite to it, in a beer that manages to be simultaneously light but substantial. And the finish is a bit of a surprise, with a subtle tannic bite appearing and lingering after the last swallow.
The Reissdorf, probably only in comparison to the von Trapp, is a far maltier brew in the nose, with an herbal and green wine grape aroma that seems almost licentious in turn. In the tasting it turns out to be simply apt, an unpretentious clasp of bready grains and a succinct kiss of bitterness. But with the Reissdorf, too, I was surprised by the lingering dry, teeth-tingling bite.
I shouldn't over-complicate these beers; they're pretty straightforward and easy to deal with. But if the von Trapp is more angular with spiky hair, the Reissdorf is more curvy and accommodating. Both are effortlessly attractive, and you'd be happy to have one or both on your arm for the evening, which in either case could safely last for quite awhile.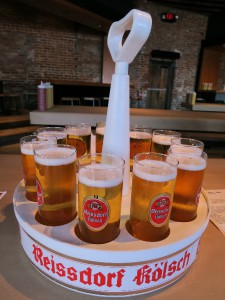 Name: Reissdorf Kölsch
Brewer: Privatbrauerei Heinrich Reissdorf, Cologne, Germany
Style: Kölsch
ABV: 4.8%
Availability: Year-round in all states but NH, UT, ND, SD
For More Information: B. United International
Name: Kölsch Style
Brewer: von Trapp Brewing, Stowe, Vermont
Style: Kölsch
ABV: 5.0%
Availability: Spring/summer seasonal in New England, NY, NJ, PA while supplies last
For More Information: von Trapp Brewing
Related post: TAP Beer of the Week: von Trapp Weissbier