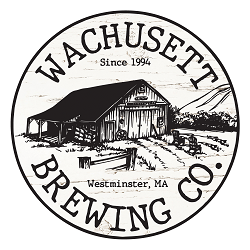 The Wachusett Brewing Company has been in the local news of late for some upcoming taproom expansions in its home state of Massachusetts, one into the former John Harvard's Ale House in Cambridge (expected to open in the fall with an emphasis on sour beer production), and one in the developing Worcester Public Market, also expected to open this autumn.
Both openings should only keep the momentum rolling for the Westminster brewery; it climbed to the 43rd position on the recently released Brewers Association list of the top 50 U.S. craft breweries. Producing about 70,000 barrels of beer and hard seltzer last year, the brewery reported a growth of about eight percent, not bad for a mid-sized brewery founded in 1994.
The brewery took over the taps at Wildwood Barbeque in Hadley on Wednesday, July 10. The offerings included the brewery's best-selling Blueberry Wheat Ale, which accounts for over 30% of sales, as well as a seasonal Strawberry brew. Two specialty beers appeared, the coffee milk stout Latte Da, and what's being called, "A pickle of an IPA," Willy Dilly.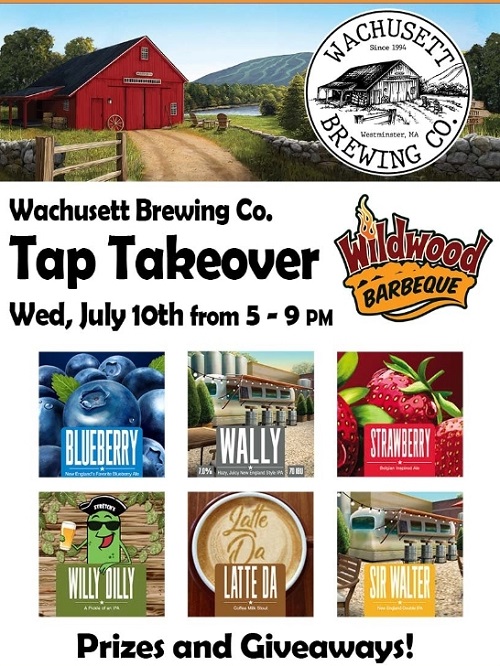 That hardly exhausts the WBC lineup. And with Larry and Green Monsta and Mass Soul and Liquication part of a bulging roster of IPA offerings, the brewery is clearly doing a jig on the IPA bandwagon. Or, in any case, the IPA Airstream trailer.
"We have a custom built Airstream here at our Brew Yard tasting room, with 24 taps," said Kyle Decarolis, the brewery's social media and marketing manager. "We actually have several Airstreams. It's become kind of our signature look. There's one in Boston at City Hall Plaza in the summer months, another in Worcester."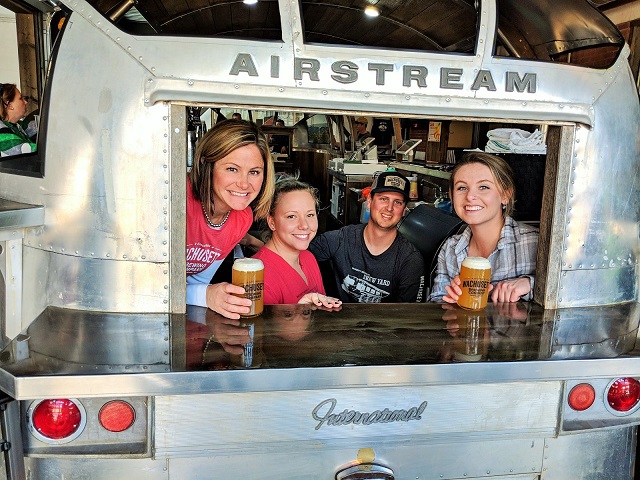 So what better term to characterize a new line of IPAs then "Wally," named after the Airstream company founder, Wally Byam?
Decarolis said, "Wally was first brewed in 2016 and is now our signature hazy, juicy New England-style IPA. It has a real citrus character which is intensified with a two step dry hopping process, which hazes it up as well. Sir Walter is our double IPA version, first brewed last year."
But there's also a Wally Juice, which starts out as Wally and is then infused with blood orange, giving the beer a reddish hue, and Wally Jr., a 4.5% ABV version of its 7% parent. (Both were scheduled to be on tap at Wildwood, but Stick Figure, a Cocoanut IPA collaboration with the band Stick Figure, stood in for Sir Walter.)
According to Decarolis, the Wally family is the company's second best seller. "They don't quite make the 30% mark that the Blueberry Ale does, but they do quite well for themselves."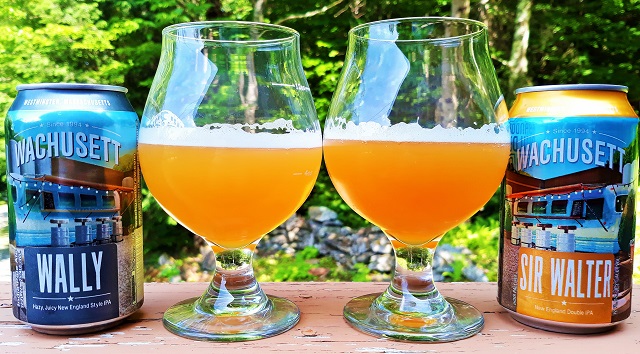 I would expect either beer to do well in a blind tasting with some of the more touted New England IPAs, generally described as juicy, hazy, loaded with aromatic hops but lower in perceived bittering hops than the so-called West Coast IPAs and an ocean away from more malt-balanced British IPAs. I love hops, but I sometimes find the NEIPAs a bit hectoring in their hop forwardness, to the point that they begin to seem seem less juicy and more chalky.
But I quite enjoyed both of these beers. The emphasis in both is indeed on fruit, and juice, but think primarily of orange juice, though not in a pejorative way. The beer even looks a little like orange juice in the glass, but in a more appealing way than some of the dense NEIPAs I've seen that start looking more like sludge than beer. Compact but dense white heads add to the visual charm of the Wallys.
There's plenty of fruity quality swirling around in the nose and flavor of Wally thanks to a troupe of hops: Bravo, Calypso, Citra, CTZ, Simco and the apparently still experimental hop known only as 431. There are four different malts in the mix, some torrified red wheat and oats. Still, the citrus quality reigns supreme here, leaning toward orange with a hint of lemon, but right down to some orange zest and orange pith to put some bite in the finish.
The hop cast is similar for the Sir Walter, with Denali stepping in for the CTZ, but otherwise the beer ups the ante with a bit more orange color and flavor, with a similarly pithy finish.
Speaking of pith, that old caravaneer himself, Wally Byam, is credited with the succinct observation, "If you don't know what else to do, drink beer."
Need more be said?
Name: Wally, Sir Walter
Brewer: Wachusett Brewing Company, Westminster, Massachusetts
Style: New England IPA, New England Double IPA
ABV: 7%, 8.2%
Availability: Both year round, throughout New England
For More Information: wachusettbrew.com