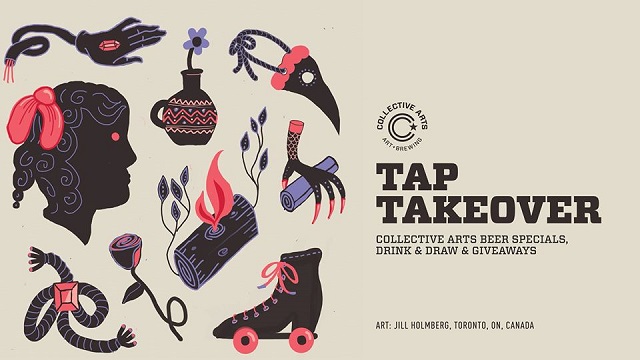 [Nov. 6, 2019]–The last Wildwood Barbeque Tap Takeover of the year is tonight in Hadley, Massachusetts beginning at 5 pm. Sorry to say I'm going to miss this one, as I've been well under the weather for more than a couple of weeks now. But it's worth noting that Collective Arts Brewing will again be on hand, with their wildly decorative and quite tasty cans of beers, sent on down from headquarters in Hamilton, Ontario.
As I noted last year when Collective Arts took over the taps at Wildwood, part of the fun with the brewery is the varied and constantly changing art work displayed on the 16-oz. cans. No exception with the four-pack I picked up to highlight, Jam Up the Mash.
Three different illustrations kept me guessing, from artists Mike Butler ("Kaiju Battle") and Kye Mohammad ("Streamt") of Toronto, and Erek Jones ("Fox and Hound") of Richmond, VA.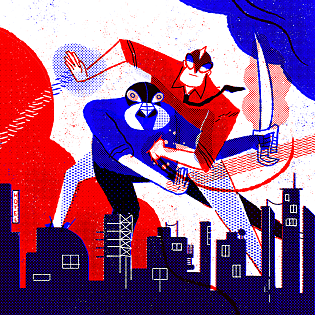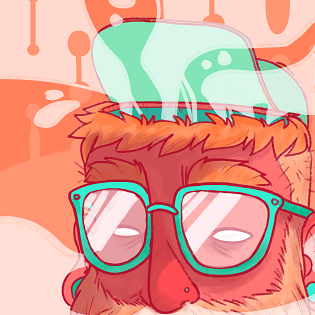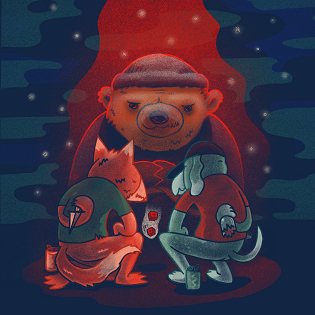 Once-seasonal but now year-round, Jam Up the Mash will be at the Tap Takeover, distinctive from four IPAs and one cider: Life in the Clouds (NEIPA), Ransack the Universe (IPA), Collective Project #11 (Lactose IPA), Collective Project #10 (IPA) and The Nature of Things (Unfiltered Dry Cider).
The pale orange beer is distinctive, too, a mash-up indeed between a funky sour ale nonetheless redolent of hops, in this case, Citra, Mosaic and Vic Secret. Granted my tasting faculties have been sub-par of late, but there's no missing the fragrant hop aromas pouring from the glass.
The funk is pretty evident, too, reminding me somewhat of a used kitchen-sink washcloth. That probably doesn't sound too appealing, but like horse blanket aromas from, say, Orval, the end result is appealing, indeed. The cacophony of flavors somehow resolves itself melodically; the brusquely tart bite of the sour mixes with the fruity wave of hops and it's a thrill ride to shore from there.
While on the surface perhaps more of a warm weather refresher beer, I can see this one gracing a table laden with fish or poultry. Maybe for one of those holiday meals coming up soon?
Name: Jam Up the Mash
Brewer: Collective Arts Brewing, Hamilton, Ontario
Style: Dry-hopped Sour Ale
ABV: 5.2%
Availability: Year-round, across most of Canada, New England, NY, PA, IL, VA, TN, WI, MI
For More Information: collectiveartsbrewing.com
Related post: Tap Beer of the Week: Collective Arts Stranger Than Fiction Porter