[Oct. 18, 2010] I previously mentioned this beer in my Perfect Brews for Fall nine-pack as a companion to Shipyard's Pumpkinhead beer, part of its regular seasonal lineup, available in September and October.
The Pumpkinhead is pretty popular in these parts, not in the least because of its label art, with a jack-o'-lantern grinning Headless Horseman, fresh from Washington Irving's "The Legend of Sleepy Hollow" story–at least as Disney re-imagined the old tale about Ichabod Crane's misadventures.
Pumpkinhead is no slouch of a beer at 5.1% ABV. I like having a bottle, but one might do it; for my taste the nutmeg and cinnamon are too forward, too much of a pumpkin pie spice assault. I feel like I should be adding a squirt of whipped cream or vanilla ice cream to it. Might as well just have a slice of pie.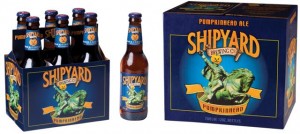 The Smashed Pumpkin is a different story, as well as a clever name. As many irritated homeowners know around this season, it is indeed pumpkin smashing time, and short of lawn motion detector alarms there doesn't seem much to do about it–the pumpkin smashers ye shall always have with you. Might as well just have a beer.
My wife and I live in a remote enough area that in 18 Halloweens we have had exactly one trick-or-treater. For years Lynn went through the motions of buying candy just in case, which I found agreeable since I always wound up eating it. Now she doesn't bother. Still, there are better than even odds that if we put out a pumpkin, it will eventually be smashed.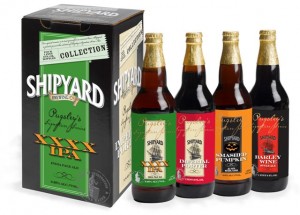 The Smashed Pumpkin beer is certainly a more peaceful option. It's part of the brewery's Pugsley Signature Series, meaning it gives brewmaster Alan Pugsley a chance to flex his muscles and come up with some bigger beers than the brewery's typical offerings, including an Imperial Porter (at 7.1% ABV), a Barley Wine Style Ale (8.5%), and a XXXX IPA (9.25%). This entire quartet is available in a 22-ounce bottle four-pack, for any creatures of the night looking to bring something special to this year's Halloween party.
Actually, for those able to stop by the Shipyard gift shop in Portland, there are still some bottles left of a year-old cellar-aged limited edition of Smashed Pumpkin.
The beer has an appropriate orange tint. The spice aromas come through faintly in the nose, but it's really more of a boozy, malty aroma. The spices really come through in the flavor, but not to the blunt degree of the Pumpkinhead. Smashed Pumpkin is a more sophisticated and heady beer in various ways, not only in its increased strength, although that's a major factor, making it a sipping beer that would be welcome at the dinner table.
The bottle label suggests, "Smashed Pumpkin pairs well with sharp cheeses, nuts, lamb, hearty stews and desserts like flan or pumpkin pie." It also suggests cooking with the beer in a dish like braised short ribs, or mixing it with the brewery's Blue Fin Stout for a "fall warmer."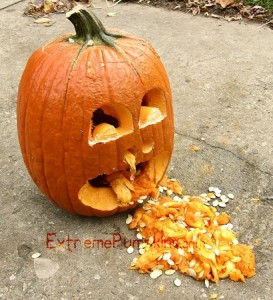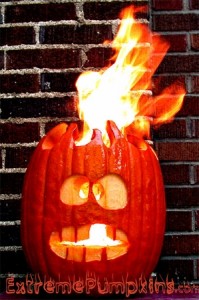 Just don't devour it like candy corn, or even a man who is pure at heart and says his prayers at night may become like the unfortunates shown here.
Name: Smashed Pumpkin
Brewer: Shipyard Brewing Company, Portland, Maine
Style: Strong spiced ale
ABV: 9.0%
Availability: 38 states
For More Information: shipyard.com
(Pumpkin photos courtesy of ExtremePumpkins.com)