A few of us recently got to chatting via email about the last course designed by Robert Trent Jones Sr., figuring there were probably a half-dozen that made the claim. But when someone mentioned Anglebrook in New York, it took me back to the one time I played there in 2004, memorably. So here's one from the vaults, originally done for the Spring, 2005 New York Golf magazine.
I was just getting comfortable, fully-inclined in the back seat of one of Sidney Frank's two Mercedes Maybachs, as we made our way toward the Anglebrook Golf Club in Somers, when I made the mistake of apologizing for having a bit of a cold.
"A cold?" Frank exploded. "Didn't anybody check this guy out?"
Frank was wearing an FBI cap, a sweat suit and sneakers. He didn't particularly look like a billionaire, but he was one, thanks to the goose that laid the golden egg–Grey Goose vodka, the brand Frank sold to Bacardi for $2 billion last June, about three months before I wound up in his Maybach with a cold.
When the car developed a flat tire and we had to pull to the side of the Saw Mill River Parkway, I began to feel a little like Jonah with the crew eyeing me suspiciously. But Frank didn't hold it against me:
"I don't like guys with colds. Not you, personally, but I have to be careful."
True. The then 84-year-old Frank wasn't as spry as he once was. Though he still showed up for golf every morning but Mondays (the courses are closed, might as well go to work), he no longer played, instead riding around in a cart well-stocked with fruit, a box full of the mammoth Sidney E. Frank cigars specially made for him by Davidoff, and a defibrillator.
The Grey Goose sale put Frank in the 152nd spot on the Forbes list of the 400 richest Americans. Being one of the country's wealthiest men didn't really alter Frank's extravagant style, but it did make him more thoughtful in other ways. The reason we awaited a rescue posse on the highway was because the other Maybach was in the shop being retrofitted into a bulletproof version. Frank noted, "There have been incidents in New York where a guy comes up to the vehicle with a gun and says, 'Get out of the car!'
"Now I can say, 'Go ahead and shoot!'"
But you can't fight germs, so when we arrived at Anglebrook Golf Club I said to Frank, "I assume you don't want me riding in the same cart?"
"Are you kidding? I didn't even want you in the same car with me!"
Gruff, to the point, usually with an edge of classic New York humor, Frank is an A-1, Genuine, Broke-the-Mold Character with a capital C. A friend of mine once said to me (in a moment of inebriated wisdom), "You know, it isn't easy to be eccentric these days."
Sydney Frank makes it look pretty easy. His demeanor is one thing. His entourage is another. His personal staff at the time numbered 19, give or take, including four chefs, four nurses, five golfers, two lawyers and a personal attendant (also a lawyer), gardeners and household staff.
The golfers were pros, on the Frank payroll, earning about $50,000 a year to play matches while Frank watched, in hopes of improving their games and taking a shot at the tours through Q-School, which Frank was also going to bankroll. On a daily basis, there were incentives: $100 per birdie, $500 for an eagle, one large for a hole-in-one, two for a double eagle.
From my vantage point, it didn't look like a bad deal. All the players had to do was show up at Frank's house at the crack of dawn for breakfast–the kitchen and dining room activity at 7 am the day I showed up was like being in a bunkhouse, the hired hands getting ready to head out on the prairie–and be ready to roll wherever they were rolling to that day.
When on the east coast that can be a number of private clubs Frank belongs to in addition to Anglebrook—Sunningdale Country Club, the Canyon Club in Armonk and Trump National in Briarcliff Manor. ("A tough course," says Frank. "Long. And he's making it longer, turning one hole from 550 to 600 yards so no one will get home in two. But Donald lets me ride my cart right onto the tees.")
I was invited to play at Anglebrook, and after foozling though two holes, Frank paired me with Travis Williams, who played on the Buy.com tour in 1999, and gave me two shots a hole in a scramble format. Well, we couldn't lose that, especially after I began shooting a little better. So Frank cut us back to a stroke a hole, and then later moved us all up to the forward tees.
We still pasted Kris Isackson and Jeff Fujimoto, who played the Nike Tour in 1998, and it worked out well for Travis on the fifteenth hole, normally a short par-4 anyway, 335 yards from the tips. From the forward tees, it was a 125-yard par-3, and Travis put it in the hole. Bonus time!
There were a few other wrinkles in the play. We left the pins in, for example, "So Mr. Frank can see the putts a little better," said Jeff. "We're not playing USGA rules here. We're playing Sidney Frank rules."
Frank would suggest which way putts would break and call out to the pros which clubs to use. "He knows our games better than we do," said Fujimoto.
He began giving me a lesson via noted pro Gene Borak, of the Metropolis Country Club—"Start with the left shoulder, Tom, and everything else will follow"—and called it out to me from time to time as the round progressed.
Can You Say, Jägermeister?
No one has ever written at length about the great taste of Jägermeister, the weird German herbal liqueur that sold over a million cases in the U.S. in 2003. That's because the Sidney Frank Importing Co. markets the drink to be served as cold as possible, mainly so the weird herbal flavor is less apparent.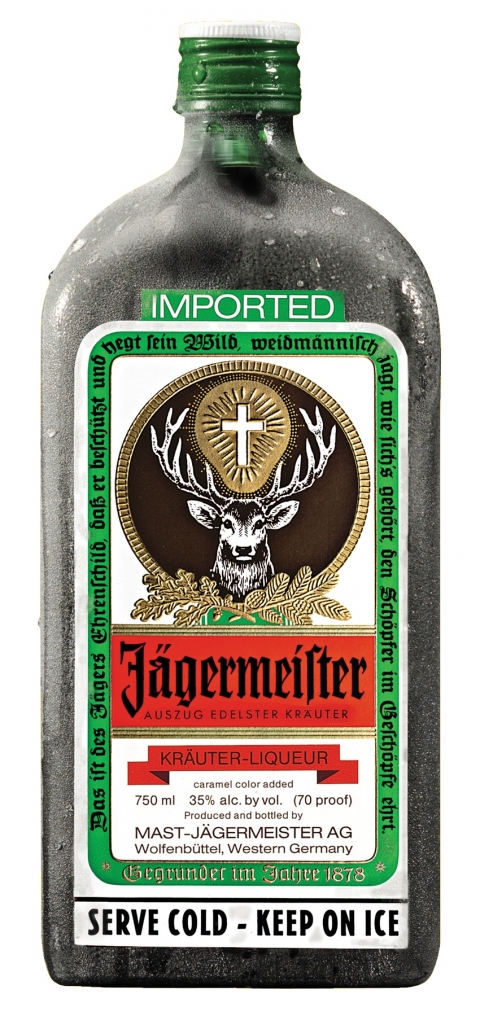 The success of Jägermeister bespeaks Frank's success as a salesman, a marketing meister, whose carnation pink or line green suits suggested his appeal to taste has not always been of the most cerebral order. Indeed, Frank sometimes seems a few steps away from a vaudeville act, but he has been in and out of the liquor importing business since the 1940s.
He knows his stuff, and he knows the effect of spirits often appeals to the more nether regions, and no where was this more apparent than with Jägermeister's hold on hormonal college students.
When Jägermeister put SFI on a profitable footing in the '80s, Frank went upscale with Grey Goose. If the vodka, which sold to Barcardi for more than any other single brand in liquor business history, is now out of his hands, Frank is still in the upscale game with Corazon de Agave tequila. He's also in the hip-hop energy drink game with Crunk!!! "It has pomegranate, ginseng, horny goat weed, ashwaganda, and it creates sexual prowess!" Frank says, while suggesting that Crunk, like Jägermeister, is best served cold.
Meanwhile, "If it's a nice day, he'll be out at the golf course, without question. He truly loves the game," says Mark Mormar, a writer who by early December last year had finished a first draft of Frank's biography, tentatively titled The Two Billion Dollar Man. "The toughest question was always: Where to stop? Part of Sidney would like to see the book keep getting written, as his life continues to unfold."
Mormar, who can do a passable imitation of the Frank growl, said he received the writing assignment in typical Sidney style. Through various connections he was called to Frank's office about writing a book. They had about a five-minute discussion and Mormar said, "It sounds good. Why don't I think about it a bit?"
Frank said, "What's there to think about?"
Mormar, himself a chop, made the mistake of going out with Frank and the pros to play one day and found the ribbing brutal. He decided to stick to the keyboard.
"Sidney is a passionate man, and golf is his greatest passion."
That morning at Anglebrook, as I stood a respectful distance away, Frank told me, "I started playing golf when I was ten, at the Norwich Inn Golf Club in Connecticut. I've been at it ever since. I love the game.
"I was a six handicap once. My best was a 68 at the Old Course at St. Andrews. Thing I liked most about it was that the fairway was as hard as a rock. The ball hits and then you get another 100 yards. But that round was 25 years ago. When I hit 75 I started losing ten yards a year."
He's had two hole-in-ones, both at Sunningdale, on the twelfth and seventeenth holes. But usually in mid-September, when mornings begin to feel a little chilly, Frank heads west toward San Diego, where he's a member of three courses in the Rancho Santa Fe area—The Crosby, The Farms Golf Club, and Del Mar Country Club. And the entourage goes with him.
None of the pros made it past the opening stage of Q-School in 2004, and none of them were getting any shorter in the tooth, so Frank began thinking that the way to go in the future is to sponsor promising amateurs who can't afford to do it on their own.
"That sort of mirrors his new passion, philanthropy," said Mormar. "Frank lacked the tuition to stay on at Brown after his freshman year, so he gave the university $100 million for scholarships for up to 130 students too poor to go to Brown otherwise. It was the largest behest in the University's history."
Now Frank is also thinking that if his pal Donald Trump can open up golf courses, maybe he can, too. I'm staying tuned. I also have a can of Crunk!!! cooling in the refrigerator, and I'm starting with the left shoulder, letting everything else follow.
 – – –
Postscript: Sidney E. Frank died at age 86 on January 10, 2006, sort of in San Diego.
By the time of his death, Frank had dipped to the 164th spot on the Forbes list, with a net worth of $1.8 billion, thanks to his new profligacy, philanthropy.
Those few teeming hours spent in Frank's company that fall day in 2004 certainly answered the penetrating question–what would you do if you loved golf, were semi-retired and, oh yes, had a billion dollars?
Except I don't think I ever asked him a question.
Once we were ensconced inside his Maybach he was off and running with his story, until at some point he said, "I think you pretty well have it now," and indeed I did.
After we'd finished the round we made a rapid retreat from the club, a mad dash back to the bunkhouse for lunch, and then I bid farewell to Sidney as he went in for an afternoon nap. It was about as much fun as I've ever had compressed into the space of five or six hours. And it seemed remarkable that this was pretty much Frank's tumultuous scenario every day.
So I was at least happy to hear that he died with his boots on, so to speak. The morning of the day he passed away Frank had gone out with his current crew of golfers to play the back nine at the Del Mar Country Club in San Diego, his favorite.
Later in the day he boarded a private jet heading toward Vancouver, toasted his loved ones with a shot of Jägermeister and a glass of champagne and went for a nap, which turned out to be the long one.
Give or take a billion, not a bad way to go.