[Sept. 16, 2016]– When I heard that Green Flash was going to release a second beer in its Barrelmaster's Reserve Series on September 17, my wife's birthday, I had the temerity to request a sample from the San Diego brewery.
Since only 600 bottles were going to be available, and only at the brewery's Cellar 3 facility in Poway, California on that day, I wasn't holding my breath. But two bottles showed up today, so I assume only 598 bottles are now up for grabs, along with however much is on tap at Cellar 3. I would suggest grabbing the limit of two as soon as possible after the doors open at noon on Saturday.
The first beer in the series, Lustrous Frumento with Coffee, was a black ale aged in Bourbon barrels with Mostra coffee. It was released in April in similar fashion and every bottle sold out within hours. I missed that one, but a look at the menu of the Cellar 3 tasting room suggests there are plenty of barrel-aged and wild yeast experimentation beers I'm missing by not camping out there.
Along with the Cellar 3 outpost Green Flash has expanded in terms of its acquisition last year of the Alpine Beer Company of Alpine, California, and in its east coast brewery in Virginia Beach, Virginia, which will have its grand opening on November 13.
The Ochre Frumento is grand in its own right, the highest ABV beer that Green Flash has yet released, and the brewery has not been known for timidity in the past. This boozy barleywine, aged in brandy and then bourbon barrels, emerges after six years in the wood with something to say, with the volume turned all the way up to 17.5% ABV.
Luckily, my son was visiting, and I was able to pour him a healthy dram in hopes of staying upright myself. This kind of beer isn't really his thing, though, but he drank it politely and quite soon afterward went to bed. As for a second pour I was on my own. I dealt with it, although I'm beginning to fray around the edges. I have hopes that I can keep the second bottle around for some aging, but there's no assurance of that, since it's tasting pretty fine right now; this kind of beer is my thing. (Though, admittedly, what kind of beer isn't?)
The beer was chilled at first pour, and this is clearly a mistake. Let it warm up to 50º or so and the genie will fully emerge from the bottle. He (she?) will present a rich brown elixir trailing vapors of vanilla and dark licorice and molasses, kissing one with a seductive drenched-in-oak whiskery siren's breath. It's fairly transfixing, sex in a bottle, a fomenter of purple prose. What it's not, surprisingly, is overly sweet or overly incendiary. There's a distinct hop bite and an almost spicy tannic finish, but it goes down with impressive smoothness.
It's all highly thought-provoking, although one's thoughts may be clouded. But it seems to be in a benign fashion, at least in the short run. Drink this one at home, share with friends, have them sleep over, and discuss in the morning.
Name: Ochre Frumento
Brewer: Green Flash Brewing Company, San Diego, California
Style: Barrel-aged Barleywine
ABV: 17.5%
Availability: At Cellar 3 in Poway, California on September 17. Maybe some on tap after that.
For More Information: www.greenflashbrew.com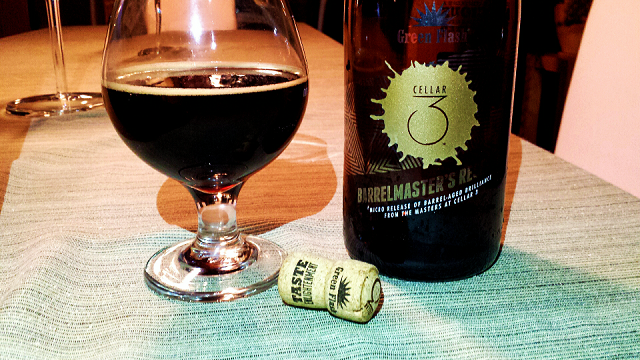 Related post: TAP Beer of the Week: Green Flash Road Warrior