I did a tasting awhile back I called "Dr. Strangebrew, or How I Learned to Stop Worrying and Love the Bombers," the latter reference to the large bottles, often corked with wire closures, being used for the special creations flowing forth from the nation's craft breweries these days.
There are more and more of them, because the world of brewing has become one of wild experimentation, and my tasting was one attempt to satisfy thirsty curiosity.  The Strangebrew part was to cover the angle of beers with stuff in 'em, be the extra ingredients fruit, herbs, flavors from wood barrel aging, chocolate, maple syrup, whatever, as long as it was no-holds-barred brewing.
Brooklyn Brewery obliged with a new series of Belgian-inspired ales, Local 1 and Local 2, the former a strong pale ale, the latter a strong dark ale.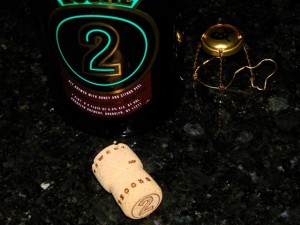 Though it might sound like the beers are inspired by "On the Waterfront" or the AFL-CIO, the labels make the subway line reference plain.  Whatever the allusion, the beer will get you where you need to go.  And while there's no underground connecting Vermont and the great borough of Brooklyn, the brewery will be pouring at the Brattleboro Brewers Festival on May 22, filling the fourth slot in our figurative 12-pack.
I polished off a 25-ounce-plus bottle by myself Sunday night while watching the U.S. House thrash it out over health care, which gave me plenty of sipping time.  Still, when the bill finally passed I emptied my glass in a toast, and felt euphoric in all directions.
Though I haven't seen him in years, I used to thrash it out with Garrett Oliver at homebrew competitions of the nascent New York City Homebrewers Guild.  I may even have bested him once or twice, though I'd have to go into the archives to check.  But whenever my beers did win a ribbon, they were always accompanied by certificates festooned with Garrett's artful calligraphy.  Talented fellow in many directions, that Oliver, who built on his homebrewer days, going pro at New York's first brewpub, the Manhattan Brewing Company, before the Brooklyn Brewery wisely took him on and made him brewmaster.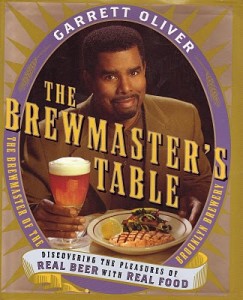 Garrett has since become one of the real celebrities of the craft brewing world, particularly as it pertains to matching beer with food.  His book, The Brewmaster's Table: Discovering the Pleasures of Real Beer With Real Food (Ecco, 2003) is a tour de force of beer styles, history and flavors.
I did ask him recently if he had a model for Local 2, and not surprisingly he was aiming high, at some classics from the Trappist breweries at Achel (the Extra Brune) and Chimay (the Grand Reserve, but the Grand Reserve circa 1988).
Local 2 is a worthy tribute indeed, and it's lucky that the beer is part of Brooklyn's year-round portfolio.  It's made with German Pilsner and English Chocolate malts, Perle, Aurora and East Kent Golding hops.  Some raw wildflower honey from a New York farm, sweet orange peel and Belgian dark candi sugar are the extra stuff, along with a Belgian yeast strain.
The effect is a rich and filling beer, deep garnet with a light tan head, a sweet and fruity nose with complex raisin or prune notes. The flavor is sweet but dry, with a touch of zesty spice, and a nice puckering finish.  Definitely a beer to bring to the table–where Garrett suggests it will pair well with duck, ham, mushrooms.
It goes pretty well with wacky politics, too, helping to make that gumbo a lot more palatable.
Name: Brooklyn Local 2
Brewer: Brooklyn Brewery, New York
Style: Belgian Strong Dark Ale
ABV: 9%
Availability: Year-round, 25 states
For More Information: brooklynbrewery.com