[Jan. 16, 2017]–On this day of observing Martin Luther King Jr.'s birthday, something jiggled my memory, and I went into the cyber attic to find the following piece. I wrote it eight years ago, just after Barack Obama first took the Presidential oath of office, for the old 3 Guys Golf website. It seems like an interesting artifact now–a number of the protagonists no longer with us. But considering what's about to happen this Friday it seemed worth dusting off and putting back on the shelf, for today at any rate, in a mode of remembrance.
Now Stepping Up to the Tee…
Jan. 21, 2009
It was nice to see Tiger Woods at the inauguration concert on Sunday. He spoke mainly in support of supporting our troops, drawing on his own upbringing as part of a military family.
But it was also nice to see the golf world represented at the seismic shift that Barack Obama's inauguration represents in our country's history. Something's happening here, and it's big.
It's better than being small, as Paul Azinger was back in 1993, when the U.S. Ryder Cup team was invited to a White House reception by President Bill Clinton and Azinger refused to go, claiming he didn't want to shake hands with a draft dodger.
Azinger just captained the winning Ryder Cup team, and golf cap off to him for that, although I could sure do without the excessive jingoism that clings to the competition. (Interesting to note that Azinger had no problem heading to the White House to shake President Bush's hand, probably with nary a mention of Bush's own dubious military history.)
In the wake of his victory there was much talk of Azinger being given the chance to captain the Ryder Cup team again in 2010, but Corey Pavin was named, and so Azinger can sink back into the field of the PGA Tour, gearing up for the Champion's Tour in 2010 instead, commiserating over the political situation with his overwhelmingly Republican buddies.
Interestingly, polls show that even Republicans wish Obama well at the moment. Maybe even Azinger. Well, who wouldn't, considering the shape the country is in?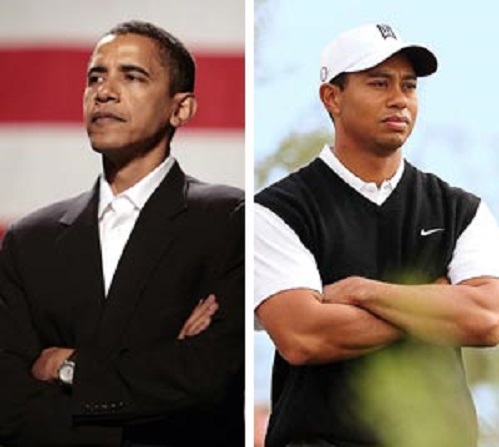 Tiger has never, to my knowledge, revealed his political leanings, but he certainly tipped his hand after the election, when he was quoted about Obama's victory, "I think it's absolutely incredible. He represents America. He's multiracial. I was hoping it would happen in my lifetime. My father was hoping it would happen in his lifetime, but he didn't get to see it. I'm lucky enough to have seen a person of color in the White House."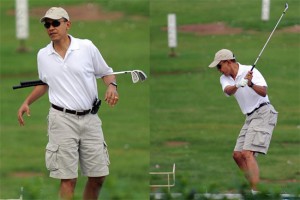 After the election Obama took some R&R time in Hawaii and played a few rounds of golf. A Tiger-Obama pairing is only a matter of time and the bets are on whether it's before or after the mid-term elections of 2010.
Tiger, who cited his late father on Sunday, was asked by CNBC how Earl Woods would have reacted to Obama's election. Tiger said, "He would have cried. Absolutely. No doubt about it."
Aren't we all welling up a bit? The confluence of symbolism, fact and memory are doing a number on me, that's for sure. Tiger in front of the Lincoln Memorial, Barack in front of the Lincoln Memorial, Pete Seeger and Bruce Springsteen singing "This Land Is Your Land" together, it's all almost too much, releasing a flood of sheer emotion, and more hope than I know is realistic.
Last year Martin Luther King Jr.'s birthday observation fell on my actual 60th birthday, so I had mixed feelings about it all, but did remark at the time that the mere fact that Obama was running for President was a pleasing symbol of how far we'd come since King's turbulent days leading the civil rights movement.
Now Obama is the President. I'm still not sure if I ever expected to see such a thing happen. But I have no mixed feelings about it. I'm exultant.
This year, on MLK day, the Northern Trust Open golf tournament announced the Charlie Sifford Exemption, which will open up a playing spot in the PGA Tour event, to a golfer who "represents the advancement of diversity in golf and wouldn't otherwise be eligible to compete."
"This is a great day," Sifford said. "I always just wanted to get a chance to play, and with the help of many I was able to pursue my dreams as a professional golfer. I am honored beyond words to see this exemption help the next generation of top golfers."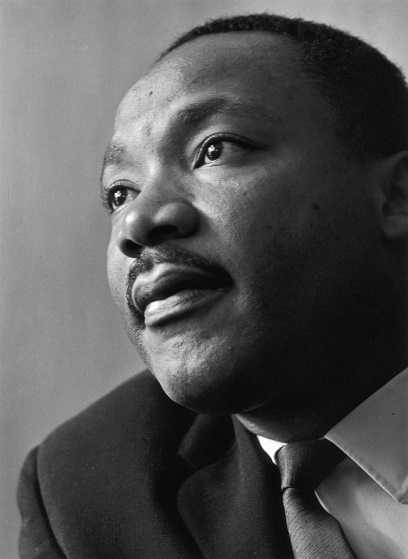 Sifford was the Jackie Robinson of golf, breaking down golf's "Caucasian only" rule when, after winning five consecutive Negro Opens, he became the first African-American to join the PGA Tour, in 1961. He won twice, including the 1969 Los Angeles Open, the forerunner of the Northern Trust Open. In 2004 Sifford became the first African-American inducted into the World Golf Hall of Fame. He won't be the last.
The sometimes lonely steps that Sifford, Robinson and Woods took in the world of sport led, more than merely symbolically, onto the path that Martin Luther King Jr. began to beat down with his eloquent and ferocious determination. But an unknowable multitude of steps led to the moment that Barack Obama stood on the Capitol steps, and took the oath of office on the same Bible used by Abraham Lincoln for his swearing-in on March 4, 1861.
There's almost too much to think, too much to feel. And that's why I'm grateful to Andrew Rooney for his wisdom and pith on a recent "60 Minutes," when he summed it all up best by remarking, "We've come a long way. A good way."