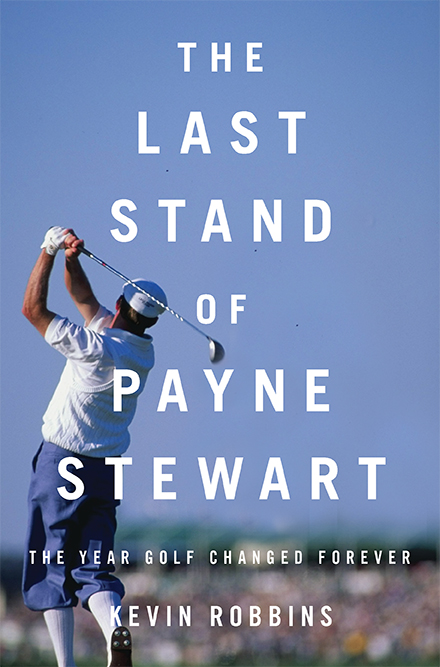 In a professional golf career that began in Asia in 1980, Payne Stewart had 24 wins, 11 on the PGA Tour, including three majors (the 1989 PGA Championship and the U.S. Open in 1991 and 1999). He was made a member of the World Golf Hall of Fame in 2001.
Next to Arnold Palmer, my mother's favorite golfer was Payne Stewart. "Why is that?" I once asked her.
"Because he looks like Doug," she said. Doug was her first grandchild. No further explanation was necessary.
And it was true to a point; both had blond hair, blue eyes, effortless good looks, and a genial sense of bonhomie. Doug didn't play golf, however, or parade around in wildly colored plus fours and a flat cap.
Stewart adopted the plus fours because his father, Bill Stewart, was a salesman who always dressed in bright colors. As he once told his son, "If you stand out when you go to sell somebody something, they'll remember who you are. But if you come dressed in a boring, navy-blue suit, you'll just be another person in the crowd."
Stewart was never just another person in the crowd; throughout The Last Stand of Payne Stewart (Hachette Books, $28) author Kevin Robbins refers to Stewart as "the Missouri showman."
True, some sometimes wished Stewart's young self had faded into the background. He had all the golf tools in his youth, again encouraged by his father, an accomplished amateur. But the son lacked a brake on his often unrestrained brashness that led many to consider him, well, kind of a dick, even into his early years on the PGA Tour. And Robbins doesn't shy away from relating some of the cringe-worthy instances that led people to that opinion.
To mention three, prior to a final match of the Missouri Amateur Stewart barked at his opponent, a former Walker Cup player named Jim Holtgrieve, "Bring your Walker Cup game tomorrow, fat boy." Holtgrieve's caddy barely managed to prevent a fistfight between the two.
After his final round at the 1989 PGA Championship, Stewart acted the buffoon in front of the TV cameras as Mike Reid was self-destructing out on the course to give Stewart the title. He was so boorish in victory that Peter Jacobson later took him by the shirt collar in the locker room and essentially told him to shape up.
He hadn't by the next night when, at a charity event dinner attended by Palmer (whose lack of a PGA Championship title kept him from the career Grand Slam), Stewart lifted the Wannamaker trophy and said, "Arnold, don't you wish you had one of these?" (Had she known about this, my mother might well have soured on Stewart, no matter how much he resembled her grandson.)
Robbins makes plain the due diligence of his research, including many an interview from those who knew and played alongside Stewart. He did not, as far as I could tell, interview his widow, and I'm not sure why, unless Tracey Stewart knew this wouldn't resemble the authorized biography she did with Ken Abraham back in 2000.
But she needn't have worried. If Robbins includes the warts, it's mainly to show that Stewart managed to turn his life onto a redemptive trajectory, both as a player and a person. He became more caring, more wrapped up in his children, more attuned to developing a spiritual life.
He could be enormously generous, such as the time he donated his entire Bay Hill Invitational winner's paycheck of $108,000 for an Orlando facility to assist families of cancer patients. Then there were his consoling words to Phil Mickelson after Stewart's dramatic winning putt at the 1999 U.S. Open at Pinehurst, words which had nothing to do with golf and everything with Mickelson about to become a parent for the first time.
There's a secondary theme at work in the book, as Robbins ponders how the technological advances in golf equipment that were flooding the game toward the end of Stewart's career were changing the very nature of competition and the kind of players who would best succeed.
Stewart, like many of his era, was a feel player with what Johnny Miller called, "a classic swing." E. Harvie Ward, the 1955 and 1956 U.S. Amateur champion, said of Stewart, "He had a swing like a Rolls-Royce. All you had to do was be sure that the water and oil levels were right, and that there was gasoline in the car."
Robbins makes a more or less convincing case that by the time of the 1999 U.S. Open, the bomb and gouge players were beginning to push the finesse players into the wings. Hence the book's subtitle, "The Year Golf Changed Forever," and making Stewart's victory at Pinehurst that year significant in more than just nostalgic hindsight.
But there's no getting away from the piteous fact of Stewart's death at 42. Robbins frames the book with the narrative of the eerie plane crash that took Stewart's life and that of three other passengers and two pilots on October 25, 1999, a flight that had begun in all normality in Orlando, bound for Houston. But relatively early in the flight N47BA lost its cabin pressure, putting all on board into a lethal state of hypoxia and turning the Learjet 35 into a ghost plane.
As Robbins starkly puts it, "N47BA was airborne for three hours and fifty-four minutes, most of that time on autopilot, to a score of bells, alarms, chimes, and claxons that no one heard. It covered fifteen hundred miles over eight states."
Before it ran out of fuel and crashed into a South Dakota prairie, the plane's inexorable fate began playing out over the nation's airwaves, especially when it was finally revealed that Payne Stewart was aboard. It became all too clear what the grisly end would be.
Despite a subsequent 1,542-page National Transportation Safety Board report on the crash, no one could ever determine why the pilots could not or did not respond to cabin pressure failure alarms in time to don their oxygen masks and take action. The sad fact is that for whatever reason, they were quickly overcome, and that was that.
Robbins reminds us that Stewart had another significant closing act after his U.S. Open victory at Pinehurst, the 1999 Ryder Cup at Brookline. Robbins delves into the competition in full, yet deftly manages to divert the focus from the remarkable comeback of the U.S. team, to the closing match between Stewart and Colin Montgomerie.
The voluble Scotsman had been unmercifully baited by the partisan Boston crowds throughout the matches. But with Justin Leonard's resounding putt having secured the Cup, Stewart and Montgomerie were left to finish their last hole in a now meaningless tied match.
Stewart's second shot was in a greenside bunker, Montgomerie on the green with a medium length putt. Stewart might well have halved the hole and the match, but he decided take a loss instead. He picked up Montgomerie's coin as the latter applauded. They shook hands and Stewart said, "That's enough for today, don't you think?"
Montgomerie said, "I'd have to agree."
Considered in the light of what was soon to come for Stewart, this simple compassionate act is just about enough to make you weep. In any case, it did me.
<<<>>>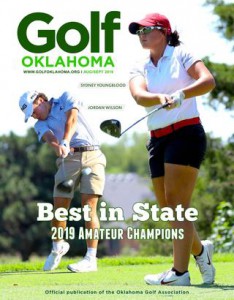 This piece first appeared in the Aug-Sept 2019 issue of Golf Oklahoma, in slightly different form. After it appeared I received a nice note from Robbins, including an answer to the question I had sort of posed in the review:
"…Tracey essentially gave her blessing to the book but declined to be interviewed for it. Her blessing was important. I knew many of the people I did interview (Azinger and Jacobsen for sure, and likely O'Meara, Lehman and Love, among the big names) would talk with me only if Tracey was comfortable with the project. I hesitate to call her approval an endorsement. More like permission, but permission with limits. She told me she had said all she had wanted to say about Payne.
"And that was fine. I had her book, the one you referenced in your review. I had all the interviews she'd granted over the years. And because most of the story takes place in 1999, I figured she likely had nothing significant (or new) to add to that.
"She did read the manuscript. Subsequently, she and I also a long telephone conversation, too, but I never quite considered it an interview. I'm glad we had the chance to talk…."
Related post: Taking Dead Aim at Harvey Penick